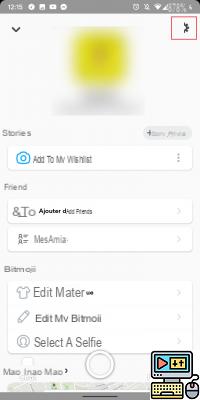 Do you want to end your Snapchat account for good? The procedure is not necessarily obvious. We explain how to do it step by step in this tutorial.
According to the latest figures available, Snapchat brings together 293 million active users every day in the world. In Spain, the number of daily users of the application still stands at 16,6 million. Suffice to say that success is there, many people enjoying sharing (and receiving) these videos or photos that self-destruct after reading. Even to the point of giving ideas to competition like WhatsApp with its ephemeral messages or TikTok with its Stories.
For one reason or another, however, you want to close your Snapchat account. Other services are more suited to your needs or you are just fed up with ghost app. We explain how to end it in this tutorial.
Lire aussi >> Snapchat: how to take screenshots without notification
How to permanently delete your Snapchat account
When you log in for the first time, Snapchat asks you for information (name and surname, date of birth, phone number). So we quickly forget it, but Snapchat did create an account for you when you used the application for the first time. Deleting the latter is therefore not enough to delete your account. Here's how to proceed:
Open the Snapchat app.
Tap your Bitmoji (avatar) icon at the top left.
Touch the gear at the top right.
Scroll down to the heading Support. Then press I need help.
Touch the three horizontal lines at the top right of Snapchat Assistance then go to the section My account and security.
Then press Supprimer mon compte.
Read the information on how to delete a Snapchat account and then go to the section Portal dedicated to accounts.
On the page that appears, write your password and then press Carry on.
Your account will first be deactivated for 30 days during which your contacts will no longer be able to interact with you. During this time, it will still be possible to reactivate it by indicating your username and password when connecting. At the end of the 30 days, the final deletion of your account will be effective.
The editorial advises you:
How to permanently delete your Skype account
Snapchat: how to take screenshots without notification
How to Permanently Delete a Yahoo!
In 2018, Nabilla Benattia-Vergara weaved the praises of Bitcoin and a trading education service on Snapchat. Except that she hadn't indicated that it was a sponsored post. Sa…How to take screenshots on Snapchat without notification? All users have already asked themselves this question and tricks have existed in the past allowing it to be…Snapchat hides a feature that allows you to find the title of any piece of music and directly access the lyrics. This function has been available for a while in the application,…How to best use Snapchat? It's very simple, follow the guide! We detail everything you need to know about the application: photo options, settings, messages, stories, memories……