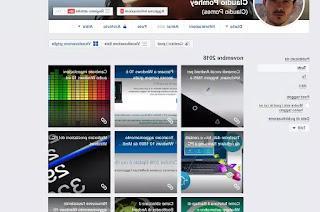 If we are constant users of Facebook, the posts we write every day, the shared links and the published photos form our personal story, which all friends and people we know can see and review from our profile.
Since, however, it is very likely that not all the posts we publish on Facebook are pearls of wisdom or photos that deserve to remain online, it would be better to delete or hide from the diary the less interesting or more embarrassing ones.
To do this, however, it is necessary to have a list of all the Facebook posts on a page, without having to search for them one by one.
The trick that allows you to see all Facebook posts on a page
is to open Facebook on PC and use the
grid view
.
Then open your personal profile and just below the cover image press the Diary button to select the Grid view.
The posts, with this special view, appear in compact boxes, three for each row.
Scrolling down becomes very fast and really allows you to see all the posts quickly, even if they were hundreds.
At the top, in the grid view, the button appears
Manage posts
which allows you to select posts with a flag to be able to delete them all at once or to hide them from the diary.
You can then bulk delete or hide up to 50 posts at a time (you cannot select more at once).
This kind of trick is not possible
from the Facebook app on Android and iPhone
, where however there is the key to display,
manage and delete posts in bulk
.
To find it, you must open your profile in the Facebook app (by pressing the little man key or on your name), scroll down to below the friends section and just above the first post that appears.
You will find, written in small print, the Manage Post button that allows you to quickly scroll through the diary and everything that has been published.
It is also possible, in this mode, to filter posts by year or by tag.
Another way to see all Facebook posts
that we have published is to
use the activity log
, even if in this case the visualization is certainly more inconvenient.
Then press the activity log button on the personal profile page on the Facebook site and then click on Post in the left column.
From the activity log it is possible, on the right side, to choose the year to view in order to quickly reach the oldest posts.
In another article, we saw that for
delete all posts and Facebook "Likes" in one click
, you can use a very convenient extension, especially if the goal is to delete many or all of them at once.
How to see all Facebook posts on one page