Among the most successful streaming services in recent years, Amazon Prime Video certainly stands out, which has thrown its gauntlet to
Netflix
, with a constantly growing catalog (with lots of unpublished content) and a selection of films and TV series much appreciated by the people.
But what I like most about Amazon Prime Video is that it can be used
free for those who already have a subscription
Amazon Prime
, that is, who already pays the
annual fee of € 36 per year
for one-day shipments and other advantages in online shopping.
Let's see what they are together
the advantages of Amazon Prime Video and how to be able to see the contents (even in 4K HDR) directly on our Smart TV
or any other compatible device.
How to watch Amazon Prime Video
Those who already have Amazon Prime for fast shipping and affordable prices just have to open the
Prime Video site
from any PC or Mac, press the access button at the top, log in with the Amazon account and start choosing the movie or TV series you want to see.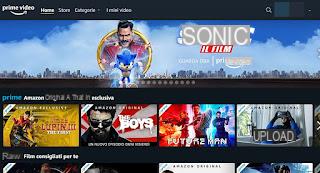 The quality selection is automatic and also based on the current network speed: to obtain the best performance we recommend that you connect to the site from a PC connected to the modem via Ethernet cable or via
high speed Wi-Fi
(i.e. 5GHz). If we notice problems or slowdowns, most of the time they are due to an inefficient or very noisy Wi-Fi connection, particularly if we are connected on a 2,4 GHz wireless network (to be avoided on computers).
Even the choice of browser or dedicated app can make a difference when viewing content: we recommend using Google Chrome or the
new Microsoft Edge
for streaming or, if we have a PC with Windows 10, use the app
Amazon Prime Video for Windows
downloadable from
Microsoft Store
.
How to watch Amazon Prime Video from TV
If we have
a nice 40-inch or larger TV
, it can become the ideal tool for enjoying Amazon Prime Video content! To proceed, open the Amazon Prime Video app among those present in the
Smart TV
, enter the login credentials and view or favorite content.
If we do not find the Amazon Prime Video app, check in the dedicated Store if it is downloadable on our TV; otherwise we can always fix it by connecting a
Amazon Fire TV Stick
, which integrates the Amazon Prime Video app.
As
alternative to Amazon's Fire TV Stick
(in our opinion the best way to access the service, since an HDMI port is sufficient) we can also try a dedicated TV Box, like those seen in our guide to
Best Android TV Boxes for Movies, TV Series and IPTV
.
If we want instead
use the Chromecast to watch Amazon Prime Video
, we will have to transmit the Chrome tab from the PC as seen in the guide
vedere in TV and the movie tramite Chromecast
.
We want to buy a new TV
and we want to find out immediately if it is compatible with Amazon Prime Video? In this case we will have to check the type of operating system present and the variety of apps that can be installed, as also seen in the guide
Best Smart TV for app system from Samsung, Sony and LG
.
How to watch Amazon Prime Video from a smartphone or tablet
In addition to the site and the Smart TV, we can also watch movies by downloading the Prime Video app
for Android
and for
iPhone / iPad
, so that we can use the service even when we are on the move.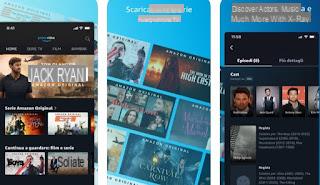 Both apps work very well in all network conditions, automatically adjusting the resolution according to our download speed. Obviously the best possible quality will only be available when we are connected via Wi-Fi to a very fast network.
How to watch Prime Video without an Amazon Prime subscription
Who does not have an Amazon Prime subscription
you can try the service for free for 30 days and then, if you do not proceed with the deactivation before this deadline, you can use Prime Video for a year at the cost of
€ 29 per year
o
€ 3 per month
, which is truly an unmatched price for every other video streaming service.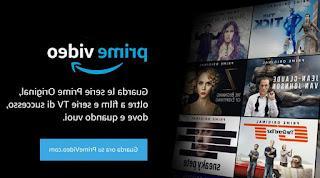 Do not overlook the fact that
the subscription also includes Amazon Prime
, i.e. shipments in one day and all other very useful services related to it.
It is worth signing up even if we do not buy anything on Amazon or do not take advantage of the other advantages for shipping, since the cost is really affordable anyway.
Conclusions
In the face of such a low price, the surprise and initial enthusiasm for this new possibility to watch movies and TV series in streaming legally and with high quality becomes even higher, especially in front of the catalog, with many films also in first run and original and exclusive content. Prime Video must be considered a nice gift for those who are already subscribers, which can also represent a valid reason to subscribe to Amazon Prime if you were looking for an advantageous streaming content service.
To learn how to best use the Amazon Prime Video service, we can read our guide
Amazon Prime Video Tips and Tricks.
If we are interested in the rival Netflix (perhaps to be combined with Prime Video with the money saved on the latter), we recommend you read our guide
How Netflix works with streaming movies and TV series
. To learn about other legal and subscription streaming sites available in the city, just continue reading our article
Online movie rental sites or streaming subscriptions
.
Is streaming Amazon Prime Video or other similar services hiccups or is the quality very low? We can solve most of the problems by reading the tips in our in-depth study on how
Increase video streaming speed to maximum
.
How to watch Amazon Prime Video for free