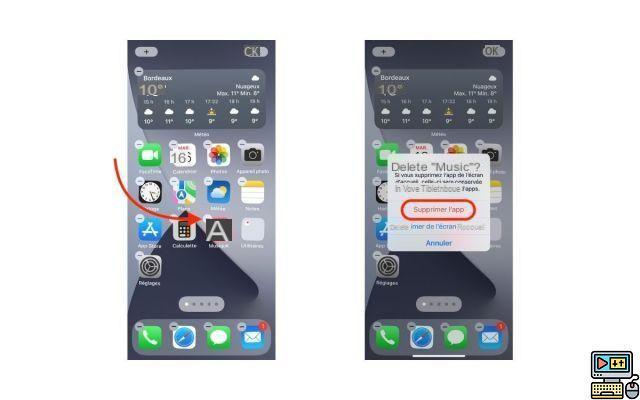 Apple allows, since iOS 10, to uninstall native iOS applications. Previously, the only solution was to hide these apps in a folder. Now, deleted native apps can be reinstalled via the App Store. But then, how?
You can now remove default apps from any iPhone, iPad, or iPod touch running modern iOS versions. Yes, that means you can now remove Mail, Music, Stocks, Maps, Compass, Reminders, Videos, iBooks, Podcasts, Apple Watch and anything else from the pre-bundled default iOS apps coming to iPhone and iPad.
Any default app that has been deleted can additionally be reinstalled at any time, so if you decide it was a mistake to delete a specific app, it's easy to get it back. You'll find that deleting a default app is basically the same as uninstalling other apps on the iPhone and iPad, except that until now you couldn't delete the default apps, they were simply not removable.
How to remove native apps on iPhone?
You will finally be able to replace Apple apps with advantageous alternatives... or simply clean up your screen. No need to jailbreak for this trick, you will simply need an iPhone equipped with iOS 10 (at least) which should not be too difficult in 2021.
Go to the home screen then touch a native application and leave it pressed for a few seconds. Click on Delete the app.
Alternatively, you can select Change the home screen and remove apps by pressing the minus symbol "-" at the top left of each application.
You will find all deleted apps in the App Store. Note, however, that some apps like Phone cannot be deleted. But these applications are not numerous.
How to reinstall native apps on iPhone?
Removing native apps from an iPhone is one thing, but what about reinstalling them? Here's how. Go to the App Store then type the name of the application you want to re-download. Click on the cloud and voila. Your application will be reinstalled as if nothing had happened.
Even without jailbreak, it is possible to make your iPhone do many things. In another guide, we explained to you, for example, how to reduce the brightness of your smartphone beyond what iOS normally allows, thanks to filters accessible via the menu Reduced mobility from your iPhone.
The editorial advises you:
Insufficient storage: how to clean your Android smartphone
How to permanently delete your Skype account
WhatsApp: 20 hidden features that will make your life easier
The 2022 iPad Pro is going to be redesigned and will have wireless charging capability, like Apple's other mobile devices. After the presentation of the iPad mini 6,… All the power of a Mac computer on your eyes: this is what Apple promises in its future mixed reality headset, scheduled for the end of 2022. While the Apple Watch, the 'iPad… Do you have an iPhone and want to change your PIN code? The option, buried in the twists and turns, of iOS is not so easy to find. However, this code ... There are a few options available to unlock an iPhone. Some online services offer to do this quickly for a few euros. The law also obliges operators to do it for free ...