Android now allows you to choose a web browser other than Google Chrome by default. Likewise, it is also possible to choose a search engine other than Google, such as Qwant or DuckDuck Go for example. The net giant is indeed forced to comply with the European Commission's court decision. We explain to you what will change.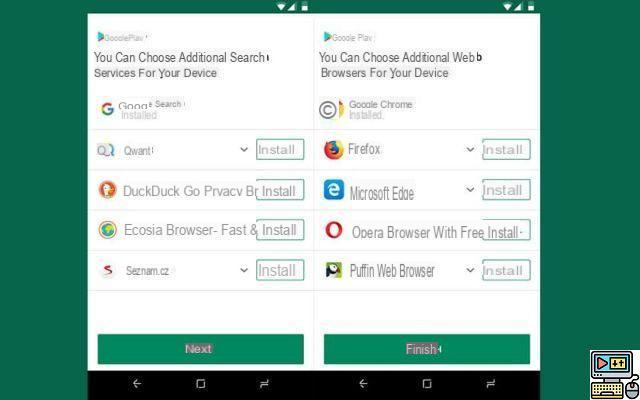 In the coming weeks, all Android smartphones in Europe, except the Pixels, will allow their users to choose a web browser and a search engine, Google announced in a press release. In July 2018, the European Commission indeed accused Google of taking advantage of Android to impose its services. After a fine of 4,3 billion euros, the American firm agreed to make changes to its operating system. These changes are now ready to be deployed.
Read also: Google launches an application to replace Google Assistant on Android smartphones in Europe
Android: Google finally allows you to choose another default web browser than Chrome
When you first open the Google Play Store on your Android smartphone, two pop-ups will appear on your screen. The first will offer you to choose between 5 different browsers. Unsurprisingly, the list includes Google Chrome, which remains installed by default, and 4 other browsers. Android will allow you to choose between solutions like Samsung Internet (installed by default on the South Korean manufacturer's smartphones), Firefox, Opera, Puffin… "Applications which are not already installed on the terminal will be included according to their popularity. and displayed in random order "explains Google.
Then, Google will offer you to choose your search engine. Likewise, Google allows you to select 5 solutions, including its own engine. You can opt for Qwant, Ecosia or DuckDuckGo for example. When opening your browser, Google will ask you to confirm the engine you want to use by default (yes, even if you have chosen Chrome).
Also read: how to use Android without Google
In its press release, Google recalls that "users have always been free to personalize their Android smartphones". For that, on the other hand, it was necessary to go to the Play Store and manually select alternatives to its services. Now it's much easier. What do you think of these novelties? Was it time Google left the choice to Android users? We await your opinion in the comments.