While Apple is always making the work of independent repairers more complicated, they should no longer be able to change the screen of the iPhone 13 under penalty of permanently deactivating Face ID.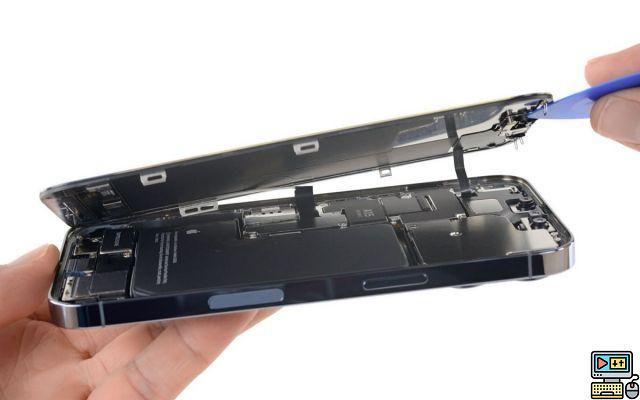 After refusing to help independent stores repair its products by keeping official parts for itself, Apple has decided to keep absolute control over its new iPhone 13. Indeed, if you accidentally break the screen of your new smartphone, it is no longer recommended to have your screen changed by an unauthorized repairer.
The Phone Repair Guru YouTube channel tested an iPhone 13 screen replacement and found that, even if the replacement screen is an official Apple component, Face ID will be disabled. It seems that Apple has directly linked the screen to the Face ID system, and if it detects a new screen, Face ID will be disabled automatically.
To read also – iPhone: Apple refuses to let users fix it themselves for fear of hurting themselves!
You will have to go to an approved center to have your iPhone 13 screen changed
In the video, the repairman attempted to install two original iPhone 13 screens and in both cases, Face ID was inoperative after the replacement. However, after putting the original screen back, he could see that Face ID was working fine.
YouTuber Phone Repair Guru reports that there might be a way around this problem, but it involves performing something that most repair shops simply won't be able to do. Indeed, moving the chips from the old broken screen to the new one could potentially trick the iPhone into thinking it's the same one.
This is a new blow for unauthorized repairers, since Apple will therefore force you to go to Apple Stores or authorized repair centers if you want to replace your broken screen on your iPhone 13. We imagine that few users would agree to lose Face ID, sinceit is the only biometric identification method of the smartphone. As a reminder, changing the screen of the iPhone 13 mini, 13, 13 Pro and 13 Pro Max will cost you respectively €251,10, €311,10, €311,10 and €361,10 out of warranty.