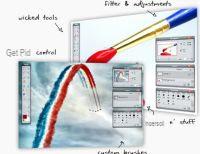 To make changes to the photos, today, there are
really simple automatic tools
which can also be used by inexperienced people and, above all, can be used for free. The best
programs to apply changes to photos
However, they can only be used for free via browser through some web applications that do not download and are not installed on the computer but can be used directly
by Internet
.
Having a program installed on your computer would perhaps be preferable because you would not be forced to use a computer only online but the
photo editing web applications
however, they remain very powerful, above all
to add effects and apply quick edits to photos
, with automatic tools.
In other articles I had already reported some online photo editing sites, suitable for different purposes.
In this case we see the
best free photo editing web apps to make photo edits
when they come bad or
to retouch them with effects and filters
that make them more original and different from usual.
1)
Photor
is the fastest and fastest photo editing application to use, with
easy tools and changes to be made on the fly
on images and photos. Fotor, in addition to being free and full of features, can be used completely and without limitations, without ever having to register.
I had already written about Fotor in the article on
2)
PiZap, the best web app to create funny images
, with lots of effects and photomontages to use immediately and for free.
3)
canva
is a site that should always be in first place when it comes to graphics, with a special web app dedicated to editing photos and an easy-to-use editor, free and very rich in tools.
4)
Photoshop Express
In case you were hoping to find an online alternative to Photoshop, the most natural application is Photoshop Express, the most
rich and professional free suite for photo editing
and image editing. The Photoshop web app is a lot
easy and intuitive
to be used also with advanced functions, with which you can start customizing your photos right away, even without any registration to the site. To get started, just upload the photo you want to edit or paste the URL if it's an online image. You can apply a lot of automatic edits like whitening (for teeth), red eye removal, spot corrections, basic tools for resizing and sharpening photos and so on.
5)
Polar photo edited to enhance photos
and apply filters and color adjustments, is one of the best apps available on the internet, free, easy and professional.
6)
Sumo paint
An online image editing tool can have its limitations and, usually, it may not feel as good as Photoshop can. Sumo Paint could be the exception and maybe it is
the most powerful image editing tool available online, for free
. This web app beats everyone in loading speed, which is essential for a browser-based program. There are a lot of effects, decorations and edits to apply to images.
7)
Pixlr
Pixlr is a free flash application, also in in your languagen, which allows you to quickly retouch images and apply filters and effects to make your photos more beautiful and original. Pixlr, in his
editing tool
, somewhat reminiscent of the Gimp and contains all the tools you would expect from a Photoshop-like program.
8)
Photopea
is an advanced, free, Photoshop-like photo editing tool, already mentioned in the list of online Photoshop and similar online apps to retouch photos and edit images
9)
Ribbet
is an app similar to the old Picnik interface, complete with editing tools, filters and above all with many options to create collages.
10 )
BeFunky
I had already written about this site in the article to apply the cartoon effect on a photo. It is worth repeating as BeFunky is a site that has grown, with a bunch of
editing tools, very fun
and different from usual. The interface is very simplistic but hides a wide range of options and a fast engine that allows you to change a photo almost instantly. Images can be uploaded, downloaded, printed or shared using the respective buttons at the top right. The artistic effects and photo filters are many even if some of them are only available by paying a premium account.
11 )
Mara
is a great collection of easy and straightforward online tools to use including cropping, focus, stickers, vignettes and many more.
12 )
iPiccy
This new web application offers a
free online photo editor
and very innovative photo editing techniques. The options are organized in tabs to add effects, texts, writings, brush strokes and so on. Then there are the various tools for automatic changes, to rotate, crop, resize, for color adjustment and sharpness. There are various painter, vignette, pencil, sepia, black and white, color tones, advanced effects such as unsharp mask, image equalization and much more to discover.
13) Fotojet is an online editorial tool for those who need to create images to publish, which also includes a modern photo editor to edit images online and for free. You can, quickly and with presets already set or to be customized, do photo editing operations such as adding text on photos, editing borders, color, brightness, cropping, frames and adding various effects to make a vintage touch or with different light.
14 )
Lunapic
it is a combination of old and new, with a Windows-style interface, a bit heavy and with many menus, but also with many effects, effective adjustments and animations to be applied immediately.
15) The list ends with
Psychopaint
, an application that turns photos into paintings, one of the best applications to paint and draw on pictures with a brush.
15 photo editing web apps to make photo edits