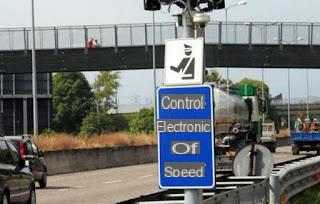 When we are in the car or traveling on any vehicle we drive, we must always respect the speed limits, but with modern cars it is very easy to go over 130 km / h or any limit imposed on other roads without even realizing it, since we do not always find a speed limiter or adaptive cruise control. It takes very little and we exceed the limits, with the risk of receiving a fine at home. In addition to always trying to go slow and stay informed about
speed limits
, an application on the phone that warns us when we are in the vicinity of a speed camera may be useful.
Let's see together in this guide which are the best free speed camera apps with which to get speed camera warnings, real-time speed warnings (complete with digital speedometer) and how to know the new speed limits set by law enforcement or in the vicinity. of construction sites.
Best free speed camera apps
On Android smartphones and iPhones there are several apps to get free speed camera maps
to keep under control capable of
warn us, both when we exceed the limit and when a speed camera is reported
further down the road. Maps point out
fixed speed cameras and also mobile ones, tutors, checkpoints, traffic situation and controlled traffic lights
which can be reported by the users themselves or through the updates provided by the law enforcement agencies themselves on fixed speed cameras.
Waze
The free app
Waze
, available for Android and for iPhone / iPad, offers the possibility to report speed cameras and roadblocks, thanks to the reports of users in real time.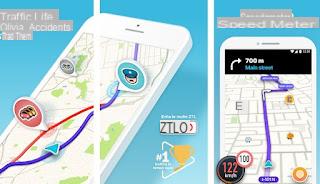 The peculiarity of this GPS navigator is the sharing of information on traffic and road conditions, thus giving more up-to-date information than any other. To use Waze as a speed limiter you have to activate the speedometer in the advanced settings of the application, so as to receive an audible alarm every time we exceed the speed limit detected on that road; in addition to this we can also activate the warnings on fixed and mobile speed cameras, so as to be able to slow down in time (and safely) avoiding the heaviest fines. Waze is one of the few compatible with the Tutor and Vergilius systems, thus offering information even in areas with sensors for average speed control.
Google Maps
The Google Maps app (available free for Android and for iPhone / iPad) can also be used profitably to detect speed limits during our journey and fixed speed cameras on the motorway network or on the main roads.
With this app we will be able to immediately find out if there are speed cameras along the route and, thanks to the dedicated alerts, avoid exceeding the speed limits set on the road we are traveling on.
To learn more we can also read the guide
On Google Maps, Speedometer (odometer) and speed limits
.
TomTom Friend
TomTom Friend
is an application available for Android and iPhone born as a free and independent tool from the well-known GPS navigator.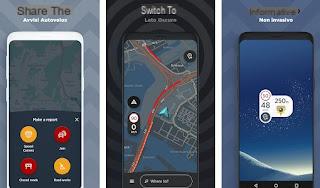 It is a very convenient and well designed application that works with user reports. During a trip TomTom Speed ​​Cameras tells us which way we are and the speed limit to keep. Furthermore, when we are close to a speed camera, this is signaled with an audible warning. Although it does not work as a navigator where to find streets and routes, this from TomTom is also a convenient application to know the traffic situation on the road in real time and to focus only on the presence of speed cameras, especially if we already know the road very well . It is also one of the few that works with speed cameras on in your languagen roads and also in other countries including Croatia, France, Germany, Ireland, Portugal, Romania, Spain, United States, England and many others.
Other free speed camera apps
In addition to the apps seen in the previous chapters (which we believe without a shadow of a doubt the best for reporting speed cameras), we can still test and try on the roads we travel every day, so as to test if there are any speed cameras that escape or that do not come. seen from the other most popular apps.
Fixed and mobile speed cameras is the name of a popular application for Android and iPhone that shows the map of fixed speed cameras throughout the city and also in many other countries around the world. You can use the application in the car to check the speed limits on all roads and to be warned if a speed camera is detected. In addition to detecting the position of traffic light cameras and speed control Tutor of the Highways, usually used locations for mobile speed cameras are also reported.
Sygic GPS Navigation for Android and for iPhone it is an app similar to TomTom, with speedometer in real time, detection via GPS of our route, reporting of speed limits and speed camera warnings. Sygic shows clean and clear graphics and has a database of the most updated and complete, which identifies fixed and even mobile speed cameras, also accepting reports from users.
Speed ​​Cameras!, for Android and iPhone, is a free but limited app that requires paying for the premium version if you want to receive real-time alerts and unlock other features. The app is able to detect fixed speed cameras, mobile, tutors, controlled traffic lights and then also works as a speedometer to detect the speed of the car via the phone's GPS. This is one of the oldest apps to find Speed ​​Cameras, but today it is not, for me, the best as there are really good alternatives.
Radar detector only for Android is another great application, light and simple, but updated and that works all over the world, to know where the speed cameras are on the road and to receive a warning in case we are exceeding the speed limits. This way you don't have to keep the phone on all the time, but it can also be kept with the screen off or with the app running in the background.
City speed cameras, available only for Android, is one of the best choices to check if there are any Speed ​​Cameras hidden in the streets. The best feature of City Speed ​​Cameras is that it can be integrated into Google Maps, so as to combine the effectiveness of both apps and navigate safer. The app can also report roadblocks, traffic lights with cameras, accidents and traffic in real time. Although the name spells city speed cameras, this app works all over the world (at least in countries where the use of speed cameras apps is allowed)
.
Conclusions
Using these apps can really make the difference between a hefty fine and a quiet and peaceful journey, but we must never abuse them or trust them blindly: it is useless to go to 200 KM / H and then slow down when approaching a speed camera (very dangerous! ), as well as we must be very careful when we go abroad, since the laws on speed limits can be even stricter (in Germany, for example, the use of any speed camera app is prohibited, under penalty of a higher fine than the limit. same!).
To check traffic in real time or to use a navigator with offline maps (without internet), we recommend that you read our guides
Viability and traffic in real time on in your languagen roads from PC and mobile phone
e
Best Android apps with free offline maps and navigators
.
App with speed cameras, limits and road warnings