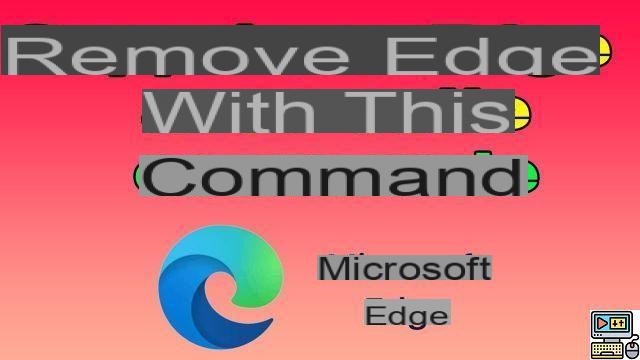 Windows 10 integrates the Microsoft Edge web browser. And even encourages users to use it. However, some users of competing browsers like Google Chrome, Firefox and even Safari cannot feel Microsoft's browser. So how to remove it? Because yes, integrated or not, it is possible!
Microsoft Edge has long been touted as Microsoft's replacement for Microsoft Internet Explorer. And yet, if we leave aside the Metro/Modern UI interface, it's not really a revolution, especially from the point of view of security vulnerabilities. Surprisingly often the same as Internet Explorer. With some anachronisms, such as the lack of OGG Vorbis support.
On the other hand, if Internet Explorer and its rendering engine are still necessary for the normal functioning of Windows, the Edge application is not. And if, like many users, you use Google Chrome and don't like keeping a bunch of useless apps, you may have already tried uninstalling the browser.
By default, unfortunately, this is not possible. Windows 10 does quite the opposite to encourage you to use Edge on its system rather than competing browsers. An example: activating parental controls puts Chrome and Firefox on the sidelines (we have a trick to remedy this).
In short, if all this annoys you, follow these few steps to remove this browser from your installation forever.
How to remove Microsoft Edge
As always, before you start, we suggest you think about backing up your system. This guide will help you set up regular automatic file backups in Windows 10. To simplify the task, we will use a small utility created by the developer Michal Wnuowski and a small cmd script that we have translated.
Download the install_wim_tweak.exe program from GitHub by clicking here
Download the automated .cmd script from our Google Drive by clicking here
Place both files in the same folder
Right-click on uninstaller_edge.cmd then click Execute as administrator
A cmd window with messages like this should appear:
When prompted, restart Windows 10
To read also: how to reinstall windows 10 without unnecessary software
That's it, Microsoft Edge should never bother you again. Be careful however: the program being integrated into the system, it is possible that you will find here and there some broken functionalities. This can affect for example the display of web applets included in the system. To go back, you just need to recover an earlier Windows 10 restore point.
The editorial advises you:
Windows 10: How to turn Windows Defender on or off
How to install Windows 10 on any Mac very easily
Windows 10 won't start? Several reasons can cause problems when starting Windows 10 for the first time or after an update: Bad BIOS settings,... The battery is one of the essential parts of our laptops. Like smartphones, battery life is a crucial factor for a good experience. Some applications act…Creating a WiFi access point on Windows 10 in order to share your Internet connection is done in two steps, three steps. We explain the procedure to you in this… On Windows, there are several ways to update the drivers. Generally, these update automatically. But it is sometimes necessary to force the maneuver,…