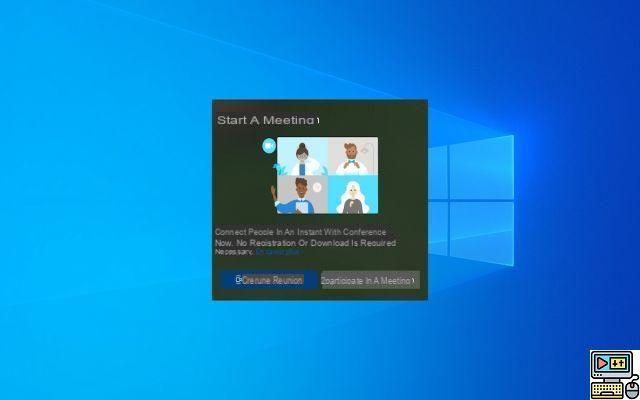 Since the latest Windows 10 update, a new icon for launching a Skype meeting has been integrated into the taskbar. Here's how to remove it.
Some will have noticed: for a few days, a new icon appeared in the Windows 10 taskbar. By clicking on it, we see that the Microsoft operating system offers us to "Start a meeting" with Skype. If it is possible to right-click on it and click on "Hide", here's how to remove it once and for all.
Disable Windows 10 Meet Now Icon
It's a small detail that won't bother some people but will annoy others. Why ? Because this new Meet Now icon sits right next to other taskbar icons of Windows 10, right next to the Wi-Fi icon and the sound icon. And unless you regularly use this option on Skype, it won't help you. If you don't plan to do anything with it or if it bothers you visually, here's how to get rid of it.
Select the Start menu, then go to Windows 10 Settings (the gear icon).
Once on the menu, select the Personalization tab.
Under the Taskbar submenu, scroll down to select the Enable or disable system icons submenu located just below the Notification area heading.
A window will then appear, where you will see several shortcuts, including Location, Action Center, Touch Keyboard, etc. You are in the right place.
To the right of Start a Meeting, deselect the button that should normally be in the enabled position. That's it: the Meet Now shortcut should no longer appear.
Remember that this modification is completely reversible if you wish to bring it back.
Microsoft is not at its first attempt in adding features that are often unnecessary and difficult to remove. For several weeks, uninstalling the new Microsoft Edge browser has, for example, no longer been possible through the traditional menus. Let's take this opportunity to remind you that Windows 10 is about to receive major changes next year, in 2021. These include the arrival of Project Latte, and probably the release of Sun Valley.
The editorial advises you:
Windows 10: How to turn Windows Defender on or off
Windows 11: how to download and install the official Preview
How to install a Linux virtual machine in Windows 10
Windows 10 won't start? Several reasons can cause problems when starting Windows 10 for the first time or after an update: Bad BIOS settings,... The battery is one of the essential parts of our laptops. Like smartphones, battery life is a crucial factor for a good experience. Some applications act…Creating a WiFi access point on Windows 10 in order to share your Internet connection is done in two steps, three steps. We explain the procedure to you in this… On Windows, there are several ways to update the drivers. Generally, these update automatically. But it is sometimes necessary to force the maneuver,…