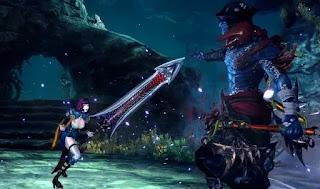 5 Games, because just one is never enough and because there are several alternatives to the famous World of Warcraft game of great quality.
World Of Warcraft
it was for years the most famous online game in the world (before League of Legends came), it has involved millions of players and challengers. Today WoW is still a great game but, being paid (World of Warcraft can be played for free up to level 20), I have always resisted playing it even if reluctantly.
For some time, however, several have come out
WoW clones, very similar
for the game system, which try to imitate the Game Play and the online action with different graphics and story but above all completely
free, free and at no cost
if not to have more customizations, in any case not indispensable or necessary.
After seeing the best multiplayer RPGs we see some
5 more beautiful free tickets
, with story and action united by a 3D graphics system and set in immense scenarios with limitless possibilities.
1)
Blade And Soul
is a free-to-play MMORPG title that looks exactly like World of Warcraft, if not better. In fact, the graphics and play style are so similar to World of Warcraft, which is popularly known as the Korean version of WoW. The game has two playable factions fighting each other, many missions, a huge open world waiting to be explored.
2)
TERA
is another free-to-play MMORPG title from Bluehole Studio Inc., the same as PlayerUnknown's Battlegrounds. TERA is a beautiful game heavily inspired by WoW, a huge virtual world to explore made of beautiful images and dungeons to fight in, even in PvP mode.
3)
Rift
it is certainly one of the most interesting MMOs around, with many features and game modes that lead it to become one of the best alternatives to World of Warcraft. The fantasy style game has two factions that are constantly at war against each other that you can be a part of. It is similar to all the other MMORPGs here with character building and the collection of resources and weapons.
4)
Path of Exile
is set in a dark fantasy world and is designed as a journey of exploration where you can face dangerous dungeons and monster-infested caves, accumulate experience, buy and sell items and also has a player alliance mode and competitive PvP. The game is completely free and you don't have to use real money to gain an advantage over other players. This makes it one of the best free alternatives to World of Warcraft.
5)
Neverwinter
is set in the fantasy world of Dungeons & Dragons where different magical creatures can live. There are dark forces and good forces colliding in every corner, with epic battles and continuous adventures. Those who have played the D&D tabletop RPG will be able to enjoy Neverwinter where they can experience that fantasy world and explore it from PC.
2 Free WoW-like fantasy games with 3D graphics, action and adventures