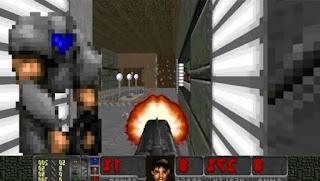 At least once a week I like to report video games and online games, always free and always beautiful. After all, the world of videogames is an important part of computer science and not only children or obsessed ones play with it but all those who work on the computer, be they professionals or technical phenomena. In other articles I was reproached for having always reported online or free games to download only for Windows, forgetting that there are also minorities who use Linux or Mac.
To make a level playing field, below I have compiled a list of (for now)
opensource games that can be downloaded and installed on both Linux PCs, Macs and Windows
. The peculiarity of these games, listed here in alphabetical order, is that they are not only free to download, but they will be free to play forever, precisely because they are open source, not belonging to profit-making companies and developed by volunteers.
1)
Alien Arena
is a fast-paced multiplayer computer first-person shooter game based on the same lines as Quake and Unreal Tournament. With 60 levels, ten weapons and eight-player characters, it's one of the best free games and worth checking out.
2)
Armagetron Advanced
is a multiplayer 3D game based on the movie Tron, where players ride lightweight double-wheeled motorcycles, which run blazing fast and create a trail behind that you can crash into.
3)
AstroMenace
is a very fun and very classic 3D space shooter arcade game.
4)
Battle for Wesnoth
is one of the best known fantasy, open source, turn-based strategy games. There are a lot of things to do in this game and matches last a long time: there are many missions to perform, great game maps, multiplayer and online modes to grow when you get tired of playing alone. The view is from above and graphically it is very clear, without excesses.
5)
Forest Wars
is a real-time war strategy game where you lead combat squads and to beat the enemy you have to be an intuitive and cunning generals.
6)
BRAIN OUT
is a 2D multiplayer shooter, with powerful weapons of all kinds to use to defeat enemies. Even if you don't like 2D games, it's definitely worth checking out. BRAIN OUT is easily one of the best free Linux games around.
7)
Crack Attack
it is similar to Bejeweled or Biotronic or any of the other games where you click to clear the blocks of bricks.
8)
Cube2: Sauerbraten
is a great FPS or first person shooter, open source.
In another article there are i
3D first person open source games for Windows, Mac and Linux PCs
9)
Dota 2
is played by millions of players, with a huge selection of heroes, skills and weapons, where you win or lose solely based on your skills. Starting from scratch such a popular game as a new player may require you to read guides to get competitive right away.
Dota 2 is definitely among the
best RTS strategy games for PC for free
10 )
Dungeon crawl stone soup
also known as DCSS, it is a roguelike game in which players create characters who must go through a dungeon to fight monsters and avoid traps.
11 )
Eat The Whistle
is one of those games that should not be missing on any computer, whether Linux or Windows or Mac. Two-dimensional soccer video game with horizontal scrolling that brings minds back to the fantastic Sensible soccer. You can do the World Cup, the championship and you can manage your career during the game and the various matches.
12 )
Endless Sky
is a clone of the 1996 Escape Velocity game. The 2D space combat game based on the exploration of countless star systems. Driving a spaceship, you have to transport goods to earn money and buy better spaceships. This is one of the best star wars and space travel games for PC and online (free).
13 )
FlightGear
is the best open source realistic flight simulator, among the most popular ever.
14 )
FreeCiv
is another of those free games that have nothing to envy to the paid ones. Basically it is a Sid Meier's Civilization, free and online where you have to develop a civilization, build cities, expand the borders of your state, negotiate diplomacy with other peoples and fight them in continuous and strategic wars. The multiplayer mode allows a match even between 30 players. Free Civ is also translated into in your languagen.
15 )
Freedoom
is one of the best open source computer games, Doom game clone.
16 )
FreeDroid
is a modern futuristic RPG (based on the Diablo series) with an abundance of robots, weapons of all kinds and a wide range of magical attacks. You can also take control of enemies and use them against each other. The game is all in single player mode.
17 )
Frets on Fire
a classic among musical games, similar to Guitar Hero, you play the rock guitar using your computer keyboard and following the combination of keys that scrolls on the screen.
18 )
Sparsely
is a battle to be waged on the playing field using dragons, spells, technologies, knights and soldiers. The graphics are three-quarter in 3D and are very well done.
19 )
Globulation 2
is a war management software that I personally find a bit poor graphically but which, for lovers of the genre, remains one of the best free games.
20 )
Hedgewars, Wormux and Worms clones
are Worms-like turn-based games with cartoonish graphics and fun challenges.
21 )
LinCity is one of the best Sim City clones
. The mayor of the city must think of everything, build infrastructure, develop buildings, build roads, schools, hospitals, police barracks, avoid pollution, employ citizens, build their houses, aqueducts and light poles. In short, a city simulation complete with everything.
22 )
MARS
is an Asteroids-style game, where the spaceship moves in the center and rotates shooting at the stones that break into smaller and smaller pieces.
23 )
Neverball
is a clone of the old Marble Madness, in 3D, where you have to use the mouse to tilt the playing surface and maneuver a ball, without letting it fall and until you reach the finish line avoiding the traps.
24 )
MegaGlest
is a 3D real-time strategy game, with great battles, epic adventures, magic and re-imagined elements of past civilizations.
25 )
Twink
is a Minecraft clone sandbox game, set in an infinite world with limitless possibilities. Each player explores a blocky world and can even become the creator of one of them.
26 )
OpenRCT 2
is a clone of the famous 2002 simulation game RollerCoaster Tycoon 2, where you can create and manage an amusement park with attractions of all kinds, including the Ferris wheel and roller coasters.
27 )
No More Room in Hell
is a very nice, first person 3D zombie shooter game, fun like Left 4 Dead, for Linux, Windwos and Mac.
28 )
Oolite
is one of the best spaceship and space exploration games for PC.
29 )
openra
is a fan-created and continuously improving Command & Conquer: Red Alert clone RTS (REal Time Strategy) game with replay support, civilian structure capture, fog and the ability to stream online.
30 )
OpenTTD
is one of the best open source games in the transport simulation and management genre in the city. Compared to past versions, this game has an improved user interface, local and Internet multiplayer, up to a maximum of 255 players. Additionally, the game has been visually enhanced with sleek graphics, larger maps, new features and more complexity.
31 )
Algodoo
it is the best example of physics applied to a videogame. No specific purpose, only realistic effects and an editor to design natural scenarios and phenomena.
32 )
Red eclipse
, very fun fast first person shooter.
33 )
Robocraft
is a multiplayer customizable robot shooter, fighting with other players online, very fluid, fast and with a futuristic setting.
34 )
Scorched 3D
- A remake of Worms-type turn-based games where you shoot the opponent trying to hit him, setting the trajectory of the blow to do as much damage as possible.
35 )
Secret Maryo Chronicles
is one of the best Super Mario like games on PC
36 )
Smokin 'Guns
set in the old west is a shooter where gun duels and desert dust are the protagonists of the scene.
37 )
Star Conflict
is a space combat MMO where you play as an elite space pilot, spaceship shooter, with PVP and PVE battles and missions, single player and multiplayer campaigns, over 100 types of spacecraft, various tactical roles and much more.
38 )
Super TuxKart
is one of the best Mario Kart-like games, with different racing modes, from normal standard to time trial and egg hunt and football match modes.
39 )
Team Fortress 2
is a free-to-play multiplayer first-person shooter for Windows, Linux and Mac, with lots of fun, easy to get started and with true MMO action.
40 )
Teeworlds
is one of the best open source games, a mix of the classic Quake, Mario and Kirby games. It is a 2D side scrolling multiplayer shooter with physics-based cartoon-themed graphics. You can fight with 16 players and choose from the variety of game modes available, including Deathmatch and Steal the Flag.
41 )
The Saga of Ryzom
is one of the few MMORPG online multiplayer RPGs available as open-source, although it does have a subscription to unlock all of its features.
42 )
The Dark Mod
is another of the best open source games, clone of the cult classic Thief from Looking Glass Studios. The player is a thief who moves in a dark fantasy world and must use various equipment to steal goods while avoiding capture. There are 170 missions available.
43 )
UFO: Alien Invasion
is an open source strategy game where you deploy soldiers to defeat invading aliens.
44 )
Unvanquished
is a real time first person shooter where you fight against monstrous aliens. This game is multiplayer only and lacks a single player mode. The game has monthly updates, although the graphics are a bit old.
45 )
VDrift, Project Torque, ManiaDrive and other car games
they are listed and described on another page and are free and to play online for lovers of motors and racing in the Fast and Furious style. The cars run and skid in very good and fast 3D graphics.
46 )
Vega Strike
is a strategic game where you have to explore space, build a stellar empire and spaceships to fight aliens and enemies.
47 )
Wolfenstien: Enemy Territory
it's one of those pure adrenaline games, in the first person where you only see the barrel of the gun in front of you. It is a war game, set in the Second World War.
48 )
Unvanquished
is a real time first person shooter where you fight against monstrous aliens. This game is multiplayer only and lacks a single player mode. The game has monthly updates, although the graphics are a bit old.
49 )
Wakfu
is a MMORPG (multiplayer online role-playing game) where you can live a life of your own, very fun both in the game and in the graphics.
50 )
Wolfenstien: Enemy Territory
it's one of those pure adrenaline games, in the first person where you only see the barrel of the gun in front of you. It is a war game, set in the Second World War.
51 )
Warsaw
is what one would say, crazy cool. A frenetic and very fast pace of play where you never stop for a moment and where the character never stays still.
52 )
Warzone 2100
is a total war game set in a 3d scenario in the future with lots of destructive weapons and lots of soldiers to be sent to certain death. Multiplayer Mode supports up to eight players.
53 )
Widelands
very reminiscent of an old game called The Settlers. A great empire must be created and the people must develop to make them strong and ambitious.
54 )
Xonotic
is a first person FPS in the arena similar to Unreal Tournament and Quake, with 16 different game modes and many levels to overcome.
55 )
I Frankie!
was covered in another post and is one of the best free and opensource platform games out there. Beautiful fantasy graphics, suitable for children of all ages.
56 )
AD 0
is a game similar to Civilization and, above all, to Age Of Empires. We must therefore develop a people, make them evolve, build structures and avoid being conquered by an enemy nation.
57-60)
Neuiz
/
Tremulous
/
Urban terror
/
OpenArena
are great additional choices to add to your collection of free first person shooter games. Really nice graphics, fast and fun to let off steam on your computer, whatever it is, Linux, Mac or Windows.
60 open source games on Linux, Mac and Windows PCs, free forever