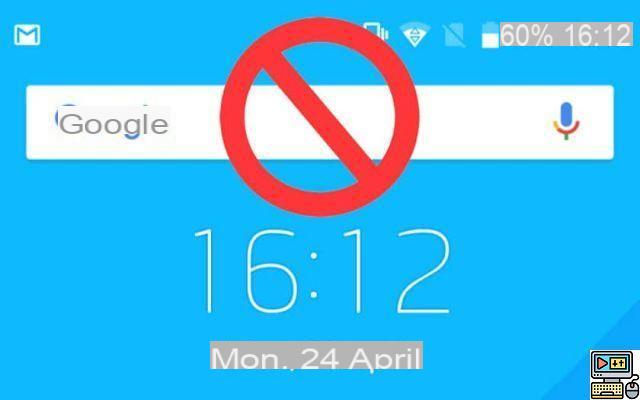 The question seems obvious, as it is easy to remove the Google search bar on most Android smartphones. But the task is not so easy for everyone. Indeed, for those who use a stock version of Android, particularly smartphones signed Google (Pixel and Nexus), this small white rectangle with the logo of the Mountain View firm is particularly rebellious. We will see how to remove it.
There are several advantages to using a stock Android smartphone: the OS is lighter, because it has no bloatware, you benefit from a pure interface without additives. There is really no apparent flaw for aficionados of this version of the system. However, on certain mobiles, those of Google in particular, users are deprived of a small freedom: that of being able to remove google search bar.
If you are using a model with overlay, the problem does not arise. A simple long press and a swipe up or down the device makes the Widget disappear like any other. But if you're using an alternate launcher like Google Now Launcher, the search bar - like Google Pixel, Nexus, and other smartphones - remains frozen to the top of the screen.
Why remove the Google search bar?
It is certainly useful, but not everyone uses it. And knowing that it occupies a certain place on the Home screen, some users prefer to remove it, either to keep an interface of a "Zen" nature, or to free up space for another more useful Widget. And then, Android is so popular for the main reason that it is flexible and gives users a lot of freedom.
How to remove the Google search bar on smartphones running Android Stock
There are a few solutions to remove the Google search bar. The first method is and is the simplest, although it is not obvious to anyone who has never used it.
Long press in an empty area on the home screen
Press on Parameters at the bottom right
Find the option Show Google Toolbar on the Home screen and turn it off
Another method is to deactivate the Google app. But do so knowing that it will not be possible to use this service until it is reactivated:
Go to Settings> Applications
Select Google from the list and press the "disable" button next to the "disable update" button
The third solution is to use an alternative launcher. Do not hesitate to consult our article which discusses 5 of the best alternative launchers to try on Android. With Apex or Nova for example, you can easily remove the Google search bar.
Finally, for those who prefer a more radical solution, rooting their smartphone and installing a custom ROM is another. But this option is only recommended for nerds of the OS to the little green robot.
The editorial advises you:
How to delete a Google account on Android
The ability to speed up or slow down a video on YouTube can be very useful. It was possible to do this in the web version of the platform for a while...Google Chrome includes a reading mode that allows you to consult a page in optimal conditions. The functionality, however, is hidden in the bowels of the browser. In this tutorial,…Google Chrome records everything you do while browsing the web. If you want to browse without leaving traces, here's how to clean up your browsing history. The Messages application on Android offers you the possibility of sending SMS, MMS and also RCS chats from a PC or Mac. To use this feature, just…