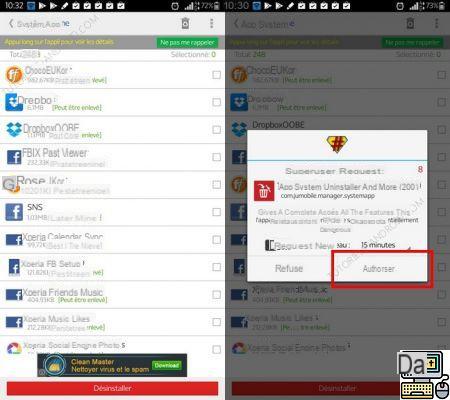 How to uninstall or even delete the default apps on Android? Almost all smartphones come with pre-installed applications from manufacturers or operators. They unnecessarily occupy space and part of the RAM memory. We tell you how to get rid of it.
You have just purchased an Android smartphone. It is brand new. And yet, even before installing the first applications, the device is already full of bloatware and other programs installed by default. The most irritating thing is that it is impossible to uninstall them as easily as one could do for any application downloaded from the Play Store.
However, methods exist if you really want to uninstall default apps in android to free up internal memory and storage space when the smartphone becomes slow.
How do I uninstall default apps on Android?
We will present the two methods which make it possible to do this. The first, which is also the simplest, does not uninstall the default applications, but simply disables them. By doing so, they are not really deleted from the smartphone, but you will no longer receive notifications about them. The icon will no longer appear in the list of applications.
Disable a default app
You have probably already seen it for yourself if you have already tried to uninstall manufacturer or operator bloatware on Android. Instead of the uninstall button, it is rather a deactivation option that is presented. The action is fully reversible. But there's no real default way to remove a natively built-in "system" app. To disable an application installed by default.
Appointment Parameters > Applications (or Application management depending on the version)
Identify and select the default apps that bother you
Then press Disable, then OK
Remove apps installed by default on Android
This is the second method, which is more complete (at the same time more complex) than the first. She allows to delete apps instead of disabling them. This alternative requires your smartphone to be rooted. If you haven't yet, you can check out our article on how to root an Android smartphone. Rooting is not without risk.
It could indeed block the use of certain important features, including Android Pay, or certain applications such as Netflix. But with Magisk, an ingenious root application, you still retain the use of all services thanks to a function to hide the root.
Once the smartphone is rooted, deleting the applications installed by default becomes very simple. All you have to do is install the "System App Uninstaller (ROOT)" application from the Play Store. Next :
Open the app and select the "system app" option from the left menu
Select the "system" applications that you want to uninstall/remove then click on the uninstall button
Be careful though. The selection of applications to be removed must be done with the utmost circumspection. Uninstalling an important system feature could cause serious problems. Fortunately, an indication next to each application makes it possible to know which ones can be deleted without problem and which ones are important for the system.
And finally, if an application is deleted by mistake. There is always the possibility of restoring it in stride. To do this, just tap the trash can icon at the top. Then, select the applications deleted by mistake and then restore them.
The editorial advises you:
Android 12: release date, news, all you need to know
Android: alternative launchers to test urgently
Free Office for Android and iOS: the best office apps on mobile
The ability to speed up or slow down a video on YouTube can be very useful. It was possible to do this in the web version of the platform for a while...Google Chrome includes a reading mode that allows you to consult a page in optimal conditions. The functionality, however, is hidden in the bowels of the browser. In this tutorial,…Google Chrome records everything you do while browsing the web. If you want to browse without leaving traces, here's how to clean up your browsing history. The Messages application on Android offers you the possibility of sending SMS, MMS and also RCS chats from a PC or Mac. To use this feature, just…