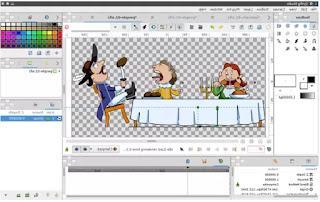 Professionals and simple enthusiasts can create animations, games, animated videos, movies, cartoons, visual novels using a computer and a professional program, which does not necessarily have to be paid.
In fact, different types of
free software to create animations
, which can be more or less difficult to use, powerful or light, fun or professional quality, perfect for any creative.
In this list, we see the
best animation programs for Windows PC, Mac and Linux
that I am
completely free to download and use
, indicating the main features.
1)
Synfig
Synfig is another open source program for creating 2D animations that can be downloaded and installed on Windows, Mac and Linux.
Synfig supports various types of layers: gradients, filters, distortions, transformations, fractals and some others, it has fundamental functions to synchronize animations with the soundtrack using the Sound Layer.
The complete system offers the possibility to create an animation using bitmap images using complex deformations.
As you can see on the official website, you can create real manga cartoons with this software.
2)
Daz studio
Daz Studio is another very popular program among digital drawing enthusiasts, which is used a lot for drawing in 3D and creating animations.
On the internet you can find many artists who use Daz Studio to draw beautiful female avatars and 3D visual novels.
with Daz Studio you can also create animations, 3D Morphing, GPU-accelerated real-time rendering, photo-realistic results and much more.
The program is complex, but you can find a lot of free interactive tutorials by searching on Google.
Daz 3D content can be easily imported into other 3D software modeling tools such as 3D Studio Max, Mudbox and Maya.
3)
Blender
Blender is one of the most powerful 3D animation tools you can find, completely free and used by graphic designers all over the world.
Blender is the free and open source 3D creation suite that supports 3D models, animations, simulations, rendering, motion tracking, video editing and game creation. It is supported by developers all over the world and each version adds more functionality to the program that is on a par with any professional software.
I have written in the past about Blender talking about drawing and 3D graphics with animation, modeling and polygonal objects
4)
Renderman Pixar
This is Pixar's program for creating 3D cartoons like Cars, which you can download and use for free.
5)
Pencil2D
Pencil2D is free, cross-platform and open source animation software for bitmap and vector graphics.
The program for Windows, Mac and Linux allows you to create hand-drawn animations (cartoon) using a rather simple interface, with inside the necessary functions to create the animations.
6)
Clara.io
Clara.io is a complete cloud-based 3D modeling, animation and rendering software, which runs directly in the web browser, without downloading anything.
The web application allows you to create complex 3D models, draw beautiful photorealistic representations and share them without installing any software on each computer you want to use.
7)
Animation Paper
Animation Paper is a powerful 2D animation tool for PC Window, very modern and not difficult to use, where you can draw by hand, which can export animations to avi / mov / mp4 files.
8)
OpenToonz
OpenToonz is free Open Source 2D animation software for Windows that is feature rich, yet easy to use.
Animations can be created in a number of ways, including by scanning hands or even using a simple drawing whatever.
9)
Stykz
Stykz is a different program for Windows PC, which I had already reported in the past for creating simple animations with stick figures.
10 )
Applications to create cartoons online
.
Best free 2D and 3D animation programs