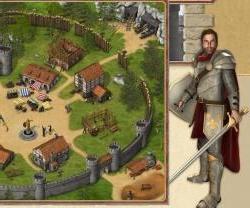 For those looking for quick pastimes, fun games and pure relaxation, here is a nice list of 10 of the best games that can be played on the internet for free and without having to install anything. These are, in fact, browser games that can be played to kill time simply by opening a web page on the browser, whatever computer you use. The Internet is home to Massive Multiplayer Online games or RPGs or MMORPGs, shooters, strategy games and, recently, Candy Crush Saga, the most loved game of the year.
All of these
games are free and can be played on the browser to browse the internet without installing anything
and do not require the Flash plugin.
Drakensang Online is a game similar to the more famous Diablo, where you have to fight in an adventure made up of wizards, dragons and monsters of all kinds. The role-playing game predict the growth of the character who can become stronger, more powerful and more armed. You can meet with other players in the hangouts, develop common strategies, face group challenges and even challenge each other. With beautiful graphics and a 3/4 view from above, Drankensang ensures hours of fun.
Adventure Quest WorldsIn this 2D fantasy internet game you can play as a hero or villain, in real time, battling monsters for weapons, armor, animals and other items. There are new adventures to play every week.
Dead Frontier is an MMO that combines elements of third-person RPG games with the typical action of survival horror games. Players fight for survival in the ruins of a city infested with truly evil zombies ready to eat the last remaining men.
Dead Frontier had already been mentioned in the past as a horror game with zombies and thrills of fear
8 Ball Pool Multiplayer is the best pool game for iPhone, Android and online on PC that I already talked about a few months ago, also fun because it allows you to challenge other players all over the world.
Slender Must Die it's really an original, 3D game where you have to walk and run away from the monster. For the type of atmosphere, it is a decidedly disturbing game.
If you like the genre, I recommend downloading scary 3D games like Slender
Tower Defense is a tower defense game with beautiful graphics, where players must use their strategic wits to defend the castle from enemy attacks, among the best games in the tower defense genre of strategy and defense.
The Settlers Online is a great internet strategy game where you have to colonize, even in in your languagen, where you have to create an empire and expand it with construction, trade and fighting.
Wolfestein 3D is a very old 3D shooter, the first version of one of the best selling games of all time.
This game was included in the list of 7 great 3D FPS games to play in browser without downloading anything
Pacman FPS 3D is the amazing version of the classic Pacman game with first person view. It will be discovered that from this point of view the life of Pac-Man is anything but fun and that going around a maze of dead ends is really anxious (the game is in Unity and now you have to download it on PC from here)
If you like Pacman, you can't help but play on the internet The largest Pacman in the world, with always different mazes to challenge.
Sparta is a strategy game similar to Age Of Empires, free to play in the browser.
Cute the rope is the famous puzzle game where you have to feed a cute little animal by cutting threads and ropes so that the food falls on his mouth, with many levels of increasing difficulty.
Spelunki is an old-fashioned browser platform game with horizontal scrolling and 8-bit pizellosa graphics, a lot of fun for lovers of the genre.
Cross Code is a Japanese RPG game in 2D, very reminiscent of the first Zelda or Final Fantasy, very successful.
Slither.io is the best browser game to kill time, similar to the Snake of Nokia phones, where you can eat the bright spots, stretch the worm and escape the enemies. Play online against dozens of other real players, at any time, for quick matches.

DarkOrbit Reloaded is a space multiplayer browser MMO where you become the captain of a starship, merchant or pirate, even in multiplayer mode to play online with other people.
Doom is the progenitor of 3D shooter games, released 25 years ago, now free on the internet.
Linerider is an online skill game where you have to draw the route track for the cyclist and prevent him from falling.
Missile Game is a beautiful 3D game, where you have to go through a tunnel trying not to crash.
Play Canvas, a simple game to kill time, with nice graphics, where you have to fly a plane to go as far as possible without crashing.
Acura is a magnificent first-person car racing game, in 3D, for free and all to be played on the web browser, without downloading anything. You can also play against a friend, inviting them to a one-on-one match.
The list continues its:
Best Browser Games, Online Role Playing, Strategy, War and Alliance Games
Best internet games to kill time