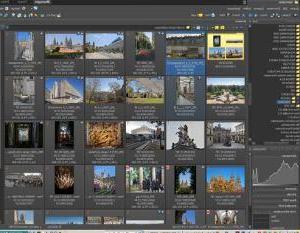 I
image viewers
they belong to a category of software in which the quantity and quality of free programs available makes it difficult to choose a single product to be taken as the absolute best. The only sure thing is that, having a Windows PC, you absolutely must not be satisfied with the standard image viewer and the installation of an external program is mandatory for everyone.
It is therefore worth seeing what alternatives you have and
what are the best free programs
to use
to view, manage and organize photos and images on your computer
.
When you open a photo with the Windows image viewer you are faced with a browser (intended as a browser) of images that is rather slow and inflexible, without additional features and too basic. Average users do not require many additional features, but at least the ability to quickly see the photos of the computer, of any type they are, and be able to browse them using a mouse or keyboard, without making too many clicks.
The characteristics of a good program for viewing images on a PC
are basically those of being able to see them in series without having to open them one by one, being able to change their orientation, being able to read the EXIF ​​data, being able to open any image format including those
RAW, TIFF, DNG and PSD, WebP
in addition to the classics
JPG, PNG, GIF
. Compatibility is a point that cannot be overlooked, so it is also important to use programs that can convert a variety of files without any problems. Some of these programs also support video viewing.
1)
IrfanView
I have reported it several times as the best
program to view and browse images
on your computer. Irfanview is an exceptional free program that also allows you to perform basic photo editing functions such as image resizing and conversion between formats. This is a first-class program, easy to use and very fast, capable of showing the photos of a folder to see them in full screen or in a window and to scroll through the images using the mouse wheel or the space bar. Some of the features (its resizing algorithm, for example) are outstanding comparable to those of Photoshop.
2)
Photos in Windows 10
is the default app already included in the installation, which can still be a good alternative if you don't want to install external programs. The Photos app stands out above all for the synchronization functions on OneDrive and for the ability to create photo slideshows.
3)
XNView
it is probably the most versatile of all image viewers, because it can read 500 file types and convert them. It displays images very quickly and they can be viewed in full screen, as slide shows or as thumbnails. It is also capable of processing images, rotating them, cropping them, resizing them, adjusting brightness and color, applying filters or effects, creating a web page and much more. The preview window is customizable with different layouts and sizes. It also allows you to have several images open at the same time and, as well as Irfanview, also to run multiple instances of the program. XNView is available for Windows PC, Mac and Linux.
4)
EZView
is a portable application for Windows 10 and Windows 8.1 that weighs less than 150 KB, which allows you to open images of different digital formats such as JPG, PNG, BMP, GIF, ICO, CUR, TIFF, DNG, HEIC, DDS, Webp, to name a few. Animated GIFs are also supported, as are Microsoft's HEIF and RAW Camera image formats. The program interface is more simple than IrfanView, with a toolbar (editing options are missing here), a menu bar and view pane and allows you to switch between photos by going back and forth with the keyboard or mouse, in a very fast way.
5)
FastStone Image Viewer
it's another excellent choice.
There are various reasons for choosing this, but perhaps the main one is its superb interface in full screen mode, with several panels that automatically appear when the mouse cursor is moved to the sides of the screen. You can easily access all program functions from this full screen window without disturbance. The zoom system has a very clever feature and zooms to a custom predefined level with just one click. You can then move around the image by holding down the button and returning to full view when released. The photos are displayed quickly and their thumbnails are generated immediately. FastStone suffers a little with larger images, but this won't be a problem for most people. Another notable built-in tool is batch processing, which is quite extensive and really easy to set up and run. FastStone supports all major graphic formats and RAW formats of digital cameras.
6)
ImageGlass
is a modern, versatile, open source, lightweight, super fast image editor that allows you to manage over 70 digital image formats, including GIF, PNG, WEBP, SVG, RAW, AVIF, JP2. Its minimal aesthetic makes it extremely accessible and highly customizable, you can see images in slideshow with transition effects and quickly switch between images.
7)
PicView
is another great image viewer for Windows 10, modern, with the ability to open and browse photos and images even when they are inside an archive. It is an open source software that supports the display of any image format, with also filters to make changes and enhancements of the photos.
8)
Quick Picture Viewer
is an excellent program for viewing photos on PC, minimalist, with a toolbar at the top and a status bar at the bottom, function to view photos in slideshow and also with Picture in Picture mode. Quick Picture Viewer supports image formats: PNG, JPG, GIF, BMP, TIFF, JPEG, JPE, JFIF, EXIF, TIF, ICO, WEBP, DIB, RLE and SVG. Similar to Irfanview, it also has Zoom functions, full screen mode, basic image editing tools (flip image, rotate image and other things), built-in screenshot tool.
9)
WildBit Viewer
is another alternative for viewing photos on a computer, very handy and functional. In addition to the usual functions, it offers easy zooming with the mouse wheel and a very intuitive and tool-rich image editor. There is also a feature for side-by-side image comparison and a highly customizable presentation mode. It supports over 70 formats (including videos, from which frames can be extracted in multipage view) and works on Windows 7 as well as on Windows 19.
9)
Picasa is the perfect program for viewing photos on your computer
for those who want effective image management software. Picasa is also great for viewing RAW images. Unfortunately, it has not been supported for several years.
10 )
ACDSee Free
is the free version of the famous commercial program ACDSee, one of the simplest and most powerful programs for managing, organizing and viewing photos on a Windows PC (described in another post).
11 )
WidsMob
is an all-in-one multimedia management software available in free and paid versions. It offers an incredibly vibrant image viewing experience and supports fast batch processing and conversion between formats.
12 )
Nexus Image
is a simple image visualization program, one of the most beautiful to use. You can change opacity and color and browse files in folders easier than other programs.
13 )
Nomacs
is a free image viewer for Windows, Linux and Mac, completely open source.
14 )
Honeyview
is another lightweight image viewer that also allows you to open GIFs, correct gamma levels, select favorite images and hide some information such as date, time, name and size.
To top it off, let's also remember that
Windows 7 default image viewer can be recovered in Windows 10
, thanks to the addition of a registry key that re-enables it. After installing the activation registry key (which can be downloaded from the HowToGeek website), you can right-click on a photo, go to the Open with menu and then choose the
Windows Photo Viewer
. If you like it and are nostalgic, you can set the old Windows photo viewer as the default program for opening image files on your computer.
Best programs to view images and photos on PC