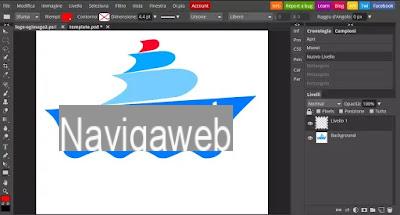 Professional graphics programs and photo editors are not only always paid for, but are often very expensive. Just think that the best known of these software, Adobe Photoshop, can be used today with a subscription of 20 or 30 Euros per month, which becomes a high and prohibitive cost for those who want to learn or those who want to do occasional jobs. Fortunately, in the panorama of photo editors, there is an app that goes against the trend and even if it includes all the advanced Photoshop tools, it is offered for free without even the need to download and install anything.
Photopea is a unique photo editing web application
of its kind, which runs on a Windows PC, Mac, Linux or Chromebook,
like Photoshop, but free and that works inside the web browser
. Both the interface and its feature list are familiar to anyone who has used Photoshop and while it doesn't quite have all the features of Adobe's photo editor, Photopea is powerful enough and feature-packed enough to be considered number one. free photo editing, even if it is not a program to install.
To use Photopea for free
you just need to connect to the website
photopea.com
and then click on the example image of the editor at the bottom.
Even if you can start without registering an account, it is still worthwhile to create a free one on Photopea to be able to use the tool without limitations and with all the settings that synchronize online, so that you can use it on any PC without losing customizations and options. The first option to change is certainly the language option, by pressing the key
More
at the top of the window and choosing as Language:
cityno
. Remaining in the More or More menu, it is possible to change the theme to have a different graphic interface and then press the button for
install Photopea
, so you can save the site
as a Chrome app
.
Photopea's free account offers full functionality of the program online, with unobtrusive advertisements. If you want to remove the ads, you can upgrade to the premium account for 9 Euros per month.
Come Photoshop,
Photopea supporta i file PSD
and then also the GIMP files (
Xcf
) and the CorelDraw format (
CDR
You can then save each project as a PSD file or using standard image formats such as JPG, PNG and SVG. You can use Photopea to make changes to photos, improve them and also to use vector and raster tools without having to download anything (for vector graphics it is really a rare case of a free program).
The appearance of the interface, as you can immediately see, is just similar to that of Adobe Photoshop, with almost the same menus and tool names. Those who have worked with Photoshop in the past will therefore find it easy to find their way around and find all the photo and image editing functions.
Global changes can be made
how to adjust the saturation or brightness of an image and also make more specific changes, such as removing the background from an image. The program works very well with i
file PSD
and with support for editing levels. The buttons on the left allow you to select parts of the image, delete, crop, add text, add frames and much more. To the right is the tool of
modification of levels
and history to undo the changes and go back. At the top is the menu with all the image correction tools, filters, editing tools and those to set the image, size and adjustments.
From the File menu you can open a New file and choose a ready-made template to start a new image or you can open files from your computer or images online via URL. Also from here it is possible
export the image and save it on the PC
and also publish the edited photos on the IMGUR site for quick sharing.
What is most striking about Photopea, besides its resemblance to Photoshop, is that
everything stays in the browser
and it absolutely does not require a download or installation. Even when it is "installed" on Chrome (as seen above), it is not necessary to download anything and the app remains inside the browser even if the editing work is saved on the computer used (in fact there is no cloud server in Photopea).
Even if a professional user probably will not replace Photoshop with Photopea, this free app becomes the best ever for those who want to learn, for casual users, those who make changes to photos and images not for paid jobs and also for professionals when they need to work a PSD file on a computer not theirs, wherever they are, without having to install Photoshop.
While Photopea is currently the number one free photo editor like Photoshop, should it disappear or become paid in the future, there are also
other valid alternatives
, listed in two different posts of this blog:
- Photoshop online and similar apps to retouch photos and edit images
- Best free Photoshop alternative graphics programs
Come Photoshop, my Gratis, ecco Photopea