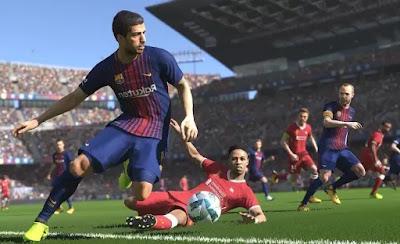 The historic brand of
Pro Evolution Soccer
the
PES discipline
, is renewed these days with a
new free version for PC and Playstation
, to play soccer matches against players from all over the world. PES has been, in the past, the best of console football games, losing the scepter to FIFA in recent years, due to a less realistic and less evolved football simulation.
Just to get more players to play,
PES 2020
was launched in a special version, lite, which
it can be downloaded for free on PC and Playstation 4
.
In fact it is a more limited version of PES (by some detractors it is described as a demo) than the game on sale in stores, which has different game modes especially
online in multiplayer
, which is the funniest and now the only one that deserves to be played (I think there is no longer much pleasure in playing against the computer in this type of games).
In PES Lite you can also play offline against the computer
, but only in training or exhibition matches. The championship, called the
PES League
, you can play in 1 vs 1 multiplayer mode or even in 2 vs 2 or 3 vs 3 teams, with participation in world events as a prize. MyClub mode allows players to field football stars and current legends, such as Diego Maradona and David Beckham, and use them to make their team better.
The gameplay
PES 2020 overall is however of the highest quality, with depth of movement, fluid passages, realistic playing styles and different characteristics for each player similar to the real counterpart. The AI ​​still seems to be improved and also the reactivity of the players who sometimes do not run towards the ball when it remains stationary in the field in a dead zone.
The mode
myClub
is the main one of the game, where you can collect legendary players by creating an invincible team. We therefore start with beginner and poor players who can be improved and replaced with more famous ones.
The graphics
realistic makes this soccer game really nice to play, with the players faithfully reproduced on the pitch that almost feels like seeing a real match.
Like any "lite" version, PES 2020 Lite has the limit of free to play games where those who spend real money buying items and upgrades could get advantages over those who only want to play for free, however there does not seem to be all this gap so, as far as I could note, you can also win many games without spending a penny.
To play eFootBall PES 2020 Lite
it's possible
download free football game for PC or Playstation
from site
Konami
.
Download PES on PC for free and multiplayer with eFootball PES 2020 LITE