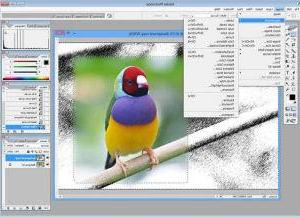 Adobe Photoshop is arguably the best photo editing tool available, better than any other professional program or suite.
Photoshop is a huge program used by professional photographers and graphic designers, requiring months or even years of study before you can master it, with hundreds of options and functions.
Obviously it is a paid program, with a considerable price, not affordable for those who just want to try it or learn how to use it to work on it and become a professional in photo editing.
As can be seen in the
Photoshop official site
, purchasing the latest version of the program requires an annual or monthly subscription to Adobe's Creative Cloud suite, affordable only for schools and universities.
Those who want to try it can only install the
free trial version
, in in your languagen, which lasts 30 days.
However, since in this blog we do not write to make fun of it as it happens elsewhere, if this article has come out it is because
a way to have free, legal and complete Photoshop without limitations on PC and Mac does exist
.
From the Adobe site
you can in fact get a free full version of
Photoshop CS2 free
, with regular license for unlimited use.
Photoshop CS2 is the
version 9
of this program and dates back to 7 years ago.
Adobe, as it no longer provides an activation server for this product and having also terminated its support (there will be no updates for CS2), still allows you to download the full version by providing the original serial number.
The only problem, besides the fact that it is an old version, is that you can only install it for free in English.
However, the original Photoshop program remains, usable not only for photo editing, but above all to start learning it, and then maybe buy the newest version, if you decide to do this job as a graphic designer or photographer.
To download Photoshop CS2 for free, go to this page and log in with an Adobe account.
If you don't have an Adobe account, create it and then log in to the site.
From the Acrobat 7 and CS2 products download page, open the English language section and scroll down the list until you find Photoshop CS2, available for Mac and Windows, respectively, in the two files PhSp_CS2_English.dmg.bin and PhSp_CS2_English.exe.
Next to the file name there is the serial number that will be entered during installation.
In addition to this old version, you can always install the special version
Photoshop Express
,
gratis per iPad, iPhone, Windows Phone, Windows 10
.
Photoshop Express is a simplified version of the original program, adapted for touch screens, not for professional purposes.
Anyone can use this tool to enhance photos, make basic edits, and apply special filters and effects.
We talked about this version when it was still available as a web app, to retouch photos and edit images with Photoshop online.
Per Android e iPhone
and for PC via the web there is also the free app called
Photoshop Express
, more similar to the original PC program, easier, with limited functions.
Keep in mind, however, that Photoshop, even if it is number one, is not the only program for editing photos and doing photo editing.
In another article we have listed several
alternative graphics programs to Photoshop, free and excellent
, which are worth trying and which can also be good for learning since, in the end, the tools are similar and the same.
Download Photoshop for free on PC and Mac