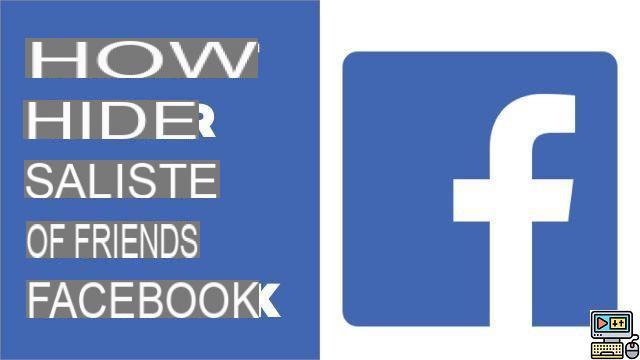 Don't want your Facebook friends list to be publicly visible? It is possible to hide it in the privacy settings, but also to choose who can see it in case you do not want to apply the restriction to everyone. Here's how to do it.
Facebook does not have the best reputation for the way it manages our personal data internally. However, it can hardly be disputed that the social network offers great flexibility to users to manage the confidentiality of their information for the public. If for some reason you want hide your Facebook friends list from other users, it's very simple. Here's how to do it.
How to hide your Facebook friends list
You can hide your Facebook friends list from everyone, make it visible only to those who are already in your circle of friends on the social network, or choose who exactly can access it.
Hide your Facebook friends list on computer :
Open Facebook in a browser and log into your account
From the home page, click on your first name / last name in the menu at the top
On the next page, click on the tab Friends in the menu just below your cover photo
Then click on the three horizontal dots on the far right on the row of the search bar, then on Change privacy
From here, you can hide your Facebook friends list or subscriber list by choosing who can see them. Click on the drop-down menu next to the two options and choose between: Public, Friends, Friends except…, Me only or Personalize (to choose very precisely who has access to the lists).
Hide your Facebook friends list on Android smartphone or iPhone :
The option to hide your friends list is also available on mobile. Open the Facebook app on Android and iOS. Then follow the next steps:
Press the three horizontal lines at the top, far right to access the menu
Completely down, choose Settings and privacy> Settings
Scroll down to the section Privacy Policy and select Privacy settings
Then choose the option Who can see your friends list and choose the privacy setting that suits you.
The editorial advises you:
How to delete your Facebook account
Android: how to hide sensitive apps, photos and files
Facebook allows you to turn off videos from autoplaying in your News Feed. It's very simple, even if the path is not obvious to anyone who has never seen it...Facebook Messenger has been using end-to-end encryption since 2016. To take advantage of it, just start a secret conversation with one of your contacts. Still need to know… When you use Instagram, your contacts can know that you are online, a small green circle appearing on your avatar. Except that you might want to survey the application in all… Instagram allows you to activate double authentication so that you no longer depend solely on the security of your main password. A way to significantly strengthen the protection of your account...