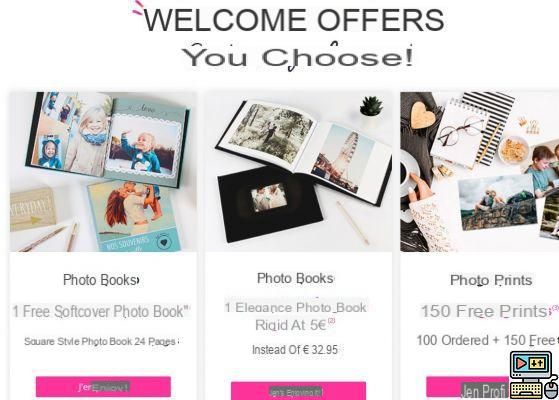 Comment
All the brands that offer free photo prints try to do well by offering tempting offers to attract new customers. How to make your choice? What are the pitfalls to avoid ?
Your free prints! The promise is beautiful - too beautiful? The laboratories are engaged in a real commercial battle and multiply the offers announced as free. In reality, they are not completely. We must add the shipping costs, sometimes also very mysterious ''processing costs''. One can also discover once there that these attractive offers are reserved for new customers: a way of increasing the volume or testing the loyalty of users of other brands. In the end, count rather 5 euros for 50 10x15 photos (although you should favor the 11x15 format: see the box on this subject). Either prints that cost about 10 cents per unit.
Not completely free, but more interesting than other solutions
Despite these hidden costs, printing online is still good business; it's still much more affordable than pulling them yourself. Inkjet printers, the only ones to achieve "photo quality", cost 15 to 40 cents per 10 x 15 cm photo. The advantage is that we have the photos right away, we can share them immediately with those around us: passing friends, a special event like Christmas, a wedding... Keep a printer in a corner, print pictures always make people happy.
Online prints take longer: allow a short week for delivery.
If not, there is another alternative, more trendy, more luxurious: printing your photos in a Photo album. We have an comparative on this subject ; by way of comparison, and even if the books are never alike, the pages cost a little less than 1 euro in principle (except luxury formats), there are on average three images per page. In the end, the cost per photo is around 30 cents - much higher than that of standard paper prints, comparable to that of home prints - but the pleasure of consulting these books is quite different and that exempts you from buying a album, i.e. a saving of around twenty euros. If this option of the photo book tempts you, you can also try the coupons below: there are often also reductions on the spot, of the order of 5 euros, on their books. This further reduces the price difference...
Check what print size your camera allows you
Before cracking on an offer, whatever it is (single print, enlargement, photo book...), make sure of the performance of your device. Typically, making a 30 x 40 enlargement of a superb photo, on paper or on a double page of a book, offers an exceptional rendering provided that your camera is capable of it:
Red: unsuitable
Orange: possible but not recommended, or watch from afar
Green: perfect
Pink: oversized
Now here are the offers available - in bulk. We will add more regularly. Note that they are neither in alphabetical order nor in order of preference. For preference, we will soon be launching a comparison of print qualities. To be continued...
| thead | thead | thead |
| --- | --- | --- |
| [link src="http://clic.reussissonsensemble.com/click.asp?ref=348412&site=4519&type=text&tnb=7"]
100 tirages gratuits[/link] | [link src="http://clic.reussissonsensemble.com/click.asp?ref=348412&site=5010&type=text&tnb=2"]
25 tirages gratuits[/link] | [link src="http://clic.reussissonsensemble.com/click.asp?ref=348412&site=4961&type=text&tnb=13"]
50 prints 10x15 = 5 € all included[/link] |
| | | |
| --- | --- | --- |
| [link src="http://www.pixum.com/lp/gg_75fp/?p_ref=cpc_gg_print75&gclid=CLyl5qe656oCFSUKtAodF3peMA"] | | |
[/link] 40 tirages offerts | [link src="http://clic.reussissonsensemble.com/click.asp?ref=348412&site=4777&type=text&tnb=15"]
[/link] 30% discount on 10x15 | [link src="http://clic.reussissonsensemble.com/click.asp?ref=348412&site=4469&type=text&tnb=1"]
30 free prints[/link] |
| | | |
| --- | --- | --- |
| [link src="http://ad.zanox.com/ppc/?13164082C428058812T"] | | |
[/link] 30 tirages 11x15 offerts ! | [link src="http://ad.zanox.com/ppc/?13164561C1883128932T"]
[/link] 50 tirages photos offerts | [link src="http://clk.tradedoubler.com/click?p=59975&a=1045324&g=16874726"]
With each order, 30 free photos[/link] |
| | | |
| --- | --- | --- |
| | [link src="http://clk.tradedoubler.com/click?p=20395&a=1045324&g=18110266"] | |
30 free photo prints [/link] | |