The price of WhatsApp is really negligible: 89 cents are enough. to use the service for one year. Yet there are still many people who write to me and ask me if it is possible to remedy this "offering" and use WhatsApp for free because they do not want to associate a credit card to the phone, have difficulty with payment or are simply looking for a way to save even where - let me tell you - you shouldn't.
Given the large amount of requests, which actually surprised me too, I therefore decided to deal with the subject, clarify and definitively answer the question that seems to haunt so many people these days: the relative one. to how not to pay WhatsApp after the first year of use. Let me be clear: my main advice remains to access the app settings and pay what is due. Just go to the Account> Payment Info section and choose the subscription to activate (I repeat, a year costs just 89 cents!). But if you are really unable to do so and you have an urgent need to renew your subscription, it is possible to resort to alternative solutions: let's see together which ones.
UPDATE: from January 2016 WhatsApp is free. It is no longer necessary to pay the annual fee of € 0,89 and therefore the information in this guide is to be considered outdated.
Get another person to pay for the subscription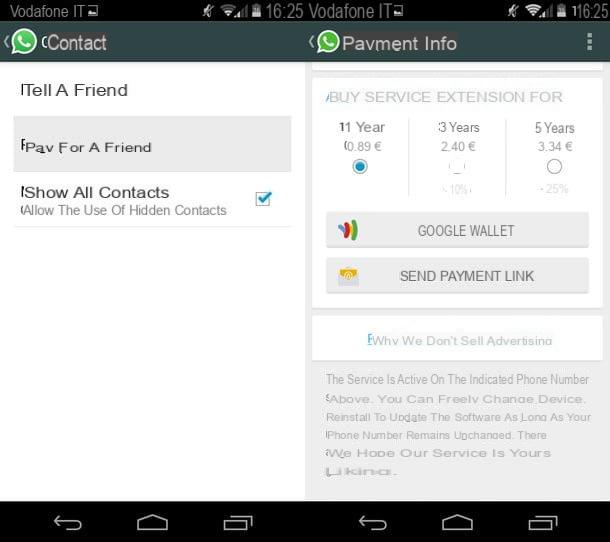 The easiest way to renew your WhatsApp subscription without paying a euro is to get the subscription as a gift from a friend or relative.
Perhaps not everyone knows this but on some platforms, such as Android, the WhatsApp application includes a function to pay for another person's subscription without having to lift a finger. Just go to the menu Settings> Contacts I will select the voice Pay for a friend. It is therefore necessary to choose the contact of the person to whom you want to give the subscription to WhatsApp and complete the transaction using your credit card or your PayPal account.
Alternatively, you can send a link to pay for your subscription to a friend or relative by going to the menu Settings> Account> Payment Info of WhatsApp and pressing the button Send payment link. Once your message has been opened, the recipient can visit the link from a PC, smartphone or tablet and pay for the WhatsApp subscription on your behalf using PayPal.
Restore the license from iPhone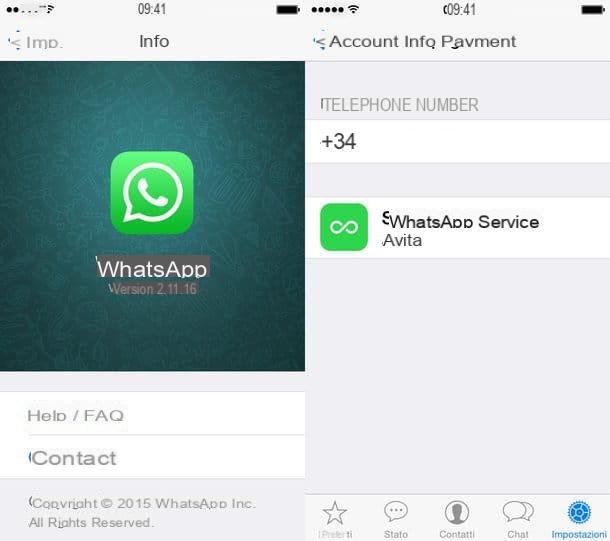 Until a few years ago, the iPhone version of WhatsApp had a peculiarity compared to that for Android or other operating systems: it was paid at the time of download (always € 0,89) and then remained free forever.
If you purchased WhatsApp at that time you are still entitled to a lifetime license for the service. All you have to do is download the application on a mobile phone that mounts the same SIM as the iPhone on which WhatsApp was originally downloaded, the license without expiration will be activated automatically.
Later, you can transfer your account to another number by going to settings of WhatsApp and selecting the item Account> Change number from the screen that opens.
Cancel the account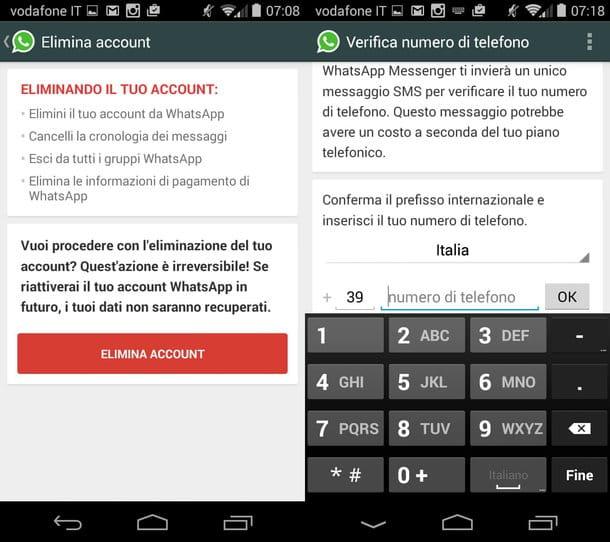 Ultimately there is a measure to be taken into consideration that I would dare to define extreme but which in some cases allows do not pay WhatsApp o extend expiring subscriptions by a few days. I am referring to the cancellation of your account and the registration of your account from another mobile phone. The procedure consists of five steps, here they are in detail.
The first step is to delete your account from WhatsApp. To do this, launch the application, go to the menu Settings> Accounts and select the item Delete account. In the screen that opens, then type your mobile number and press the button Delete account twice in a row.
After deleting the account, you need to delete the WhatsApp application from your mobile.
When the operation is completed, get a mobile phone (with a SIM different from yours) on which WhatsApp is not yet installed, download the application and register using your number (that of the mobile phone from which you have just deleted your account and app). You will receive the verification code on your phone, so keep it handy.
After activating WhatsApp, delete the account and application from the mobile phone you borrowed.
Re-install WhatsApp on your mobile and register as normal with your number.
At this point, you should get one year of free license but - I warn you - the procedure does not necessarily work 100% or last forever. From one day to the next, the system may notice the "trick" and ask you to pay for the subscription.
Also, if you don't save your WhatsApp backup files and copy them back to your phone (as shown in my guide on how to reinstall WhatsApp) you will lose all your conversations, photos you have received etc. In short, is it worth it to save 89 cents a year? I say no, then the choice is yours.
Free traffic on WhatsApp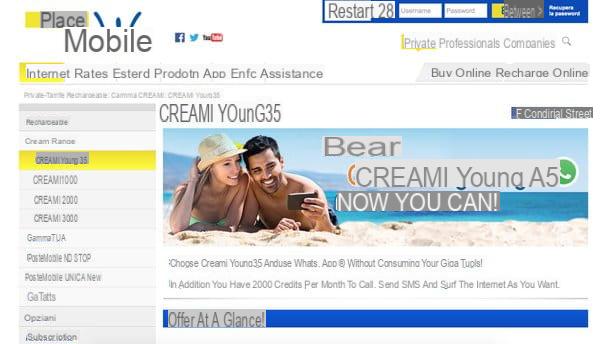 There is also another way to use WhatsApp for free, which however does not concern the annual fee for the service. I am referring to the subscription of telephone offers which include unlimited WhatsApp traffic, that is, that allow you to use the application without eroding the traffic included in your monthly plan.
Among the offers of this type, one of the most complete is Create me Young35 di Poste Mobile, which for 10 euros / month offers 2000 credits and unlimited traffic on the official WhatsApp app. The credits can be used for phone calls, messages and the Internet, each of them worth 1 minute of calls, 1 SMS or 1MB of data traffic.
The offer is reserved for new PosteMobile customers aged between 18 and 35. For more information, consult the operator's website.