What are the most reliable hard drives? Here are the data acquired and analyzed by Backblaze

- hard drive they are used by companies and companies around the world to archive data and backup information. The reliability of hard disks is an element that should not be underestimated if you want to always have your data safe, to avoid complications in case of damage to the hard disk.
To get a good estimate of thereliability of storage media, it is necessary to carry out a statistical analysis by collecting a lot of information on the quality and performance of the discs over time.
Backblaze, a famous company that operates all over the world and which deals with online backups of individuals and companies, has published an interesting report with the details of the main hard drives on the market, evaluating the reliability of each device. The analysis started in 2013 and the latest results have been published recently, and show very detailed and reliable information on the degree of efficiency and reliability of a hard drive.
The report was developed by analyzing the data of the last few years, after beyond 1 billion of working hours of the discs. In practice, numerous details and valuable information have been accumulated, which offer a certain margin of accuracy on the progress of the disks used for backups.
Backblaze has published the updated results in the article showing the reliability of hard drives, with very clear graphs regarding the degree of failure of the drives.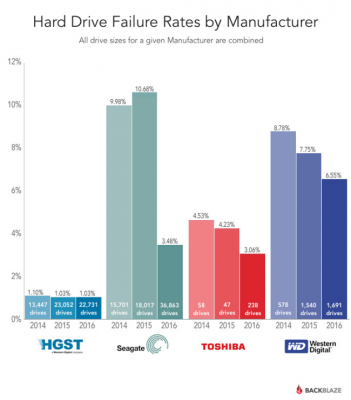 The previous image shows the graph containing the failure rate of HD. As you can see, HGST-branded drives have the lowest margin ever, followed by Toshiba, Western Digital and Seagate. The failure rate of HGSTs is very low compared to the competition, around 1%.
It should also be noted that the failure rate has dropped in 2016, a sign that manufacturers are always implementing new devices and technologies to improve and guarantee the reliability of their discs.
The failure rate reported by Backblaze increases when the disk is no longer read by the operating system, or when the media no longer synchronizes in a RAID system. Another problem can be represented by the negative parameters detected by SMART technology that could lead to the sudden failure of the hard disk.
How reliable are hard drives: conclusions
The data accumulated by Backblaze helps to understand what the main causes are that they can compromising a disk, and also allow you to establish the most reliable brands, thanks to a vast amount of information collected over the years.
It is therefore one really interesting study, updated periodically by Backblaze technicians, which also indicates if there are improvements and optimizations of the hard disks over time, to increasingly reduce the probability of disks breaking.