Preliminary Information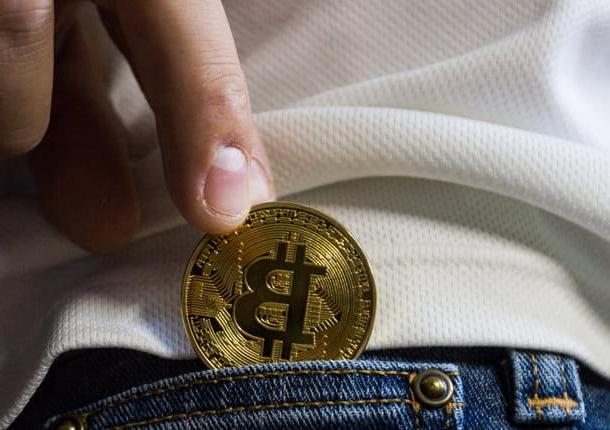 Before explaining in detail the procedure that will allow you to convert Bitcoins into euros, let me tell you briefly about Bitcoin and how this electronic currency works.
You must know, in fact, that Bitcoin is a currency that is part of the family of cryptocurrency: these are currencies generated by the computing power of numerous networked machines, which collaborate to generate new coins by solving mathematical puzzles that guarantee their validity. This process is called mining and is the basis of the security and speed of digital currencies.
Thanks to the distribution of the calculation on different machines (which can be PCs, professional or artisan dedicated tools), Bitcoin is completely disconnected from any bank or institution. It is therefore a currency decentralized based on optics peer-to-peer, that is, based on the exchange of information and results between users of the same level. In other words, there is no central bank capable of influencing the value of Bitcoin or its distribution, which occurs through mathematical rules that are always the same and very precise.
Despite all this brings significant advantages in terms of speed and security, the fact that there is no central institution responsible for controlling Bitcoin has an important consequence: almost no bank offers an exchange service between Bitcoin and euros. In fact, it is not possible to convert Bitcoins into euros in the same way with which, for example, dollars can be converted into euros. So, how to convert bitcoins to euros? I will explain it to you shortly.
As already mentioned, there are no central institutions capable of administering Bitcoin and its value, which is defined by the market and the amount of exchanges in the Bitcoin network. However, there are services on the web that offer very similar functionality, allowing the exchange between Bitcoin and euro based on the market value of the cryptocurrency.
These services are called exchange and in the next chapters I'll show you how to sign up for Coinbase, one of the most famous and reliable services of this type on the Web. Read on, to find out how to use Coinbase and sell your Bitcoins in order to convert them into euros.
How to convert Bitcoin to euro on HYPE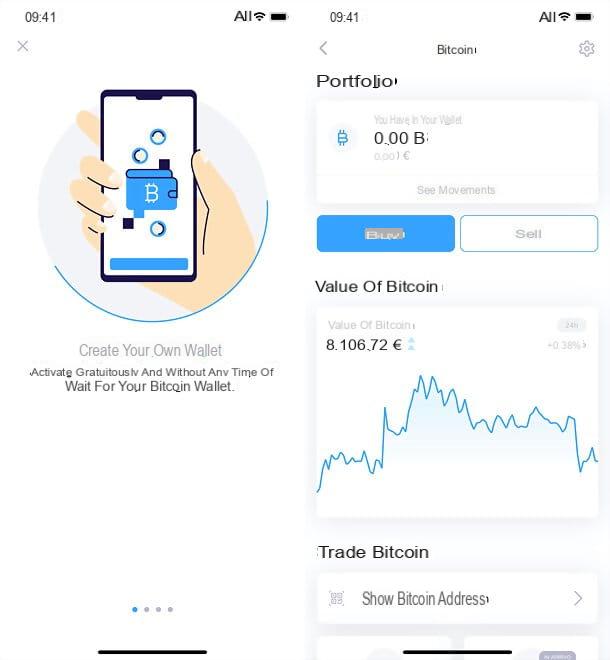 HYPE it is certainly one of the simplest and safest solutions you can rely on to convert Bitcoin into euros. If you have never heard of it, it is an e-money account associated with a Mastercard card, both physical and virtual, which can be managed directly from the app (downloadable for free from the Play Store or from Huawei AppGallery on Android and from the App Store on iPhone), or from PC, through a special web panel.
Among the many functions of HYPE, there are also many related to Bitcoins (available only for users of age). HYPE makes it possible to open a Bitcoin wallet in 30 seconds, for free and without sending documents then having the ability to monitor market trends, buy Bitcoins, send them, receive them and sell them in exchange for euros.
As regards, then, the "traditional" currency, HYPE allows you to make purchases online and in physical stores, with the possibility of using Google Pay and Apple Pay and obtaining cashbacks on over 500 selected online stores; send and receive money from other hyper companies; send and receive wire transfers for free; pay bills / bills; make withdrawals from ATMs and much more.
Opening an account with HYPE is really simple, everything is done in a few minutes: just connect to the official website of the service and follow the wizard, making sure you have a valid identity document at hand. There are several plans to choose from: HYPE Start, which is the basic plan of HYPE with no fixed monthly fees; HYPE Next which instead costs € 2,90 / month (with a € 20 bonus on Amazon using the code AMAZON20 during the registration phase) and breaks down the withdrawal, recharge and spending limits provided by HYPE Start, with the additional possibility of domiciling the utilities and crediting the salary; finally there is HYPE Premium which costs 9,90 euro / month (with a 25 euro bonus on the first top-up using the code PREMIUM25 during registration) and includes all the benefits of HYPE Start and Next plus comprehensive travel insurance (for delays, flight cancellations and medical insurance), free worldwide payments and withdrawals, the World Elite debit card Mastercard and priority assistance (also via WhatsApp).
Once you have opened your HYPE account, you can open a free Bitcoin wallet, simply by going to the section Menu of the app and pressing the button Bitcoin. Read, therefore, the quick presentation of the service, click on the button Activate for free, accepts the terms of the service and, in a few seconds, you will have access to the management page of your Bitcoin wallet with, at the top, your current balance and then the buttons to buy and sell Bitcoins, the graph with the market trend etc.
To convert your Bitcoins into euros, click on the button Sell, insertion l 'amount in euros that you intend to sell, tap on the button Continue and confirm. The operation involves the payment of one Commission, which will be added to the amount indicated at the time of sale based on the current EUR / BTC exchange rate.
The Miner cost foreseen for the payment of the "miners" (Mining Fee) will also be added to the commission in question, ie those people or companies that have the task of entering transactions within the Blockchain network and providing the certification.
For more information on how to sell (and buy) Bitcoin with HYPE, visit the official website. To learn more about the general functioning of HYPE, read my guide dedicated to the service.
More information about HYPE More information about HYPE Next More information about HYPE Premium
How to convert Bitcoin to euros on Coinbase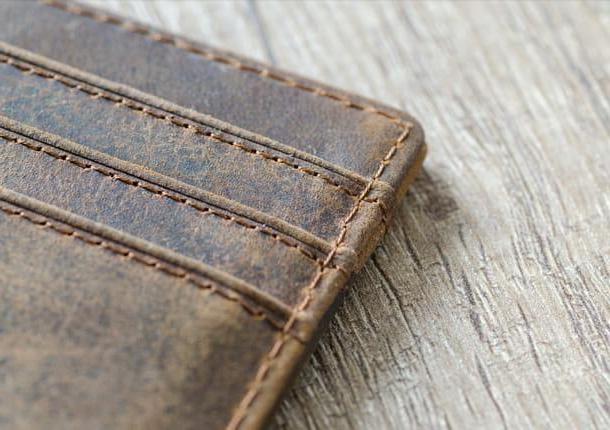 As I explained to you in the previous chapter, Coinbase is a cryptocurrency exchange. It is a service that allows, therefore, the exchange of cryptocurrencies both with each other and with official currencies, such as euros.
In this specific case, Coinbase offers a dual function. In fact, this exchange allows you not only to exchange Bitcoins for euros quickly and safely, but also to keep your Bitcoins and your euros on the site itself. In addition to being an exchange, therefore, Coinbase is also a wallet, a real virtual wallet able to keep your digital savings safe while waiting for the moment you want to use them.
Thanks to Coinbase, in addition to converting your Bitcoins into euros, you can even spend or receive Bitcoins. You understood well! It is possible to make purchases through this famous cryptocurrency even without converting them into euros. I bet you want to know more, am I right? In this case, I recommend reading my guide on how to pay in Bitcoin, in which I explained to you in detail how to perform these operations.
How to sign up for Coinbase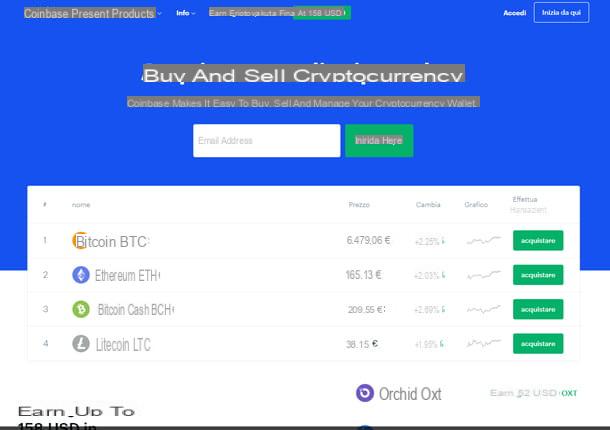 The first step to signing up for Coinbase is to open your browser, making sure it is able to access the Coinbase site. Any modern browser should be fine, but if you want to be sure you can, I recommend using Google Chrome, the navigation program created by Google. If you don't know how to install it, I recommend that you read my guide on how to download and install Google Chrome.
Once the Coinbase home page is displayed, press the button at the top right that says It starts from here, which will take you to the registration page. Then enter the name, last name,email address and Password with which you want to register, check the box I declare that I am at least 18 years old and accept the User Agreement and Privacy Policy documents and press pulsating Create account.
After that, press the button again NEXT, then up Accept (after reading the privacy policy). You can decide to receive the proposed updates or reject them by selecting Si o No on this screen. Now check your e-mail box, where you will find theconfirmation email by Coinbase.
Then open the message in question and click on the item Verify email address to be transferred to Coinbase and complete the registration process. You will be asked to enter the phone number, in order to activate the two-step verification. This is a fundamental operation for your security, since it allows you to have an extremely accurate control of the accesses made to your account.
Enter, therefore, your number in the field provided and press the button Send code, by entering the code received via SMS in the appropriate box.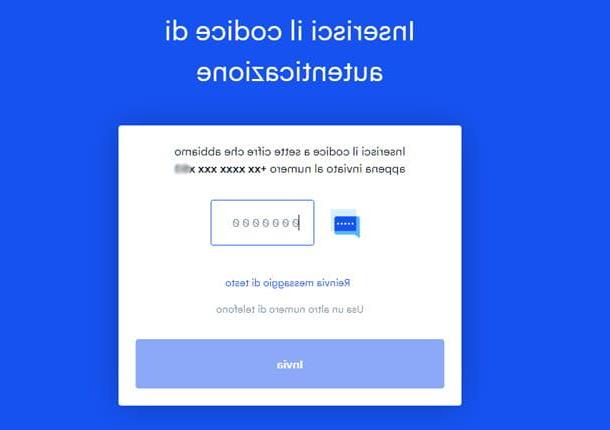 You will then be asked to enter your details, in order to verify your identity. Acting as a sort of bank, in fact, Coinbase applies financial regulations very strictly to guarantee you safety and reliability.
In addition to name, last name and date of birth you will have to enter yours fiscal Code and answer the questions proposed. You can enter in the field What will you use Coinbase for? the option Online Payments, eg. When you are done, click on the button Continue.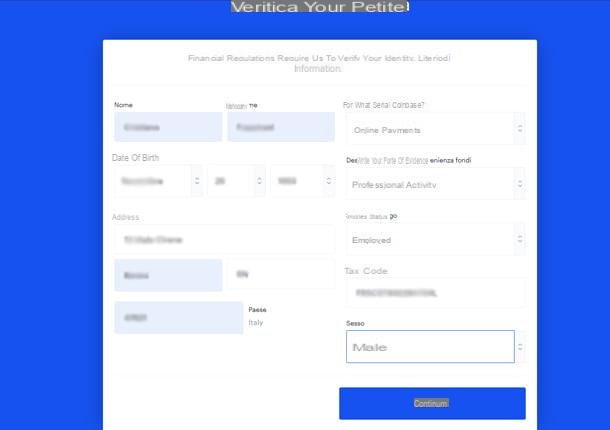 Finally, Coinbase requires the uploading of front and back images of a document. You can decide whether to upload photos you already own or to photograph documents through a webcam or mobile phone camera.
Once this is done, Coinbase will inform you that the verification process may take a few hours. An email will notify you when the process is completed.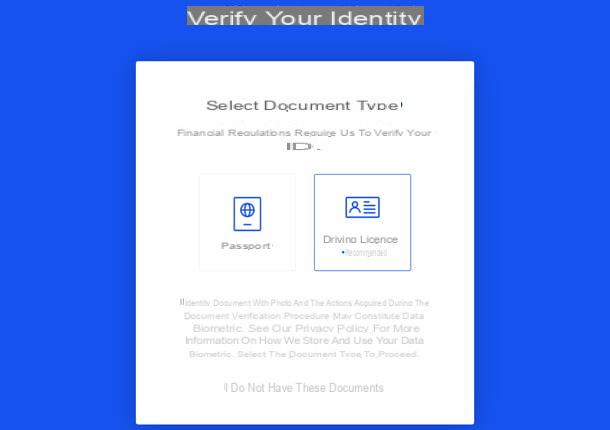 As soon as you have received the confirmation of your account verification, Coinbase will be active and you can follow the procedures that I will show you in the next chapters to convert Bitcoins into euros directly from your Coinbase wallet.
Once your account is verified, you can log into Coinbase by connecting to the Coinbase website. You can log in by pressing the button Log in located at the top right.
On this screen you will be prompted to enter the email address and password used during registration. You can also check the box Remember, so that you stay connected to Coinbase on your computer.
In this way you will avoid having to enter your access data every time. Be careful when selecting this option, never use it on shared devices, because you would allow anyone using the device to access your Coinbase account!
The first time you log in on a new device you will be prompted to enter a code received via SMS, which works like protection for your account against unauthorized access.
Check your phone and enter the received code to continue. In case you are using a personal device to which you have exclusive access, you can tick the box Don't ask for the code for 30 days when I use this computer.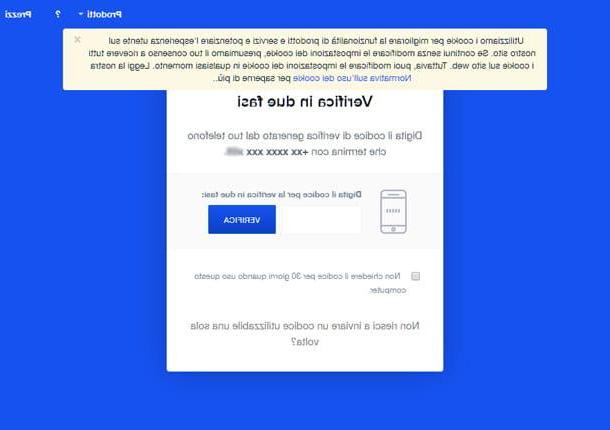 As an additional security measure, Coinbase will send you an email to confirm that it was you who accessed your account. This happens when you use devices or browsers that you have never used on Coinbase or when you first log in.
Once the button is pressed I authorize this computer contained in the confirmation email, you can enter your Coinbase control panel, also called Dashboard. From here you can have one complete overview of your account, with information such as the total amount of your digital currencies and the trend in their value.
How to exchange Bitcoin for euros on Coinbase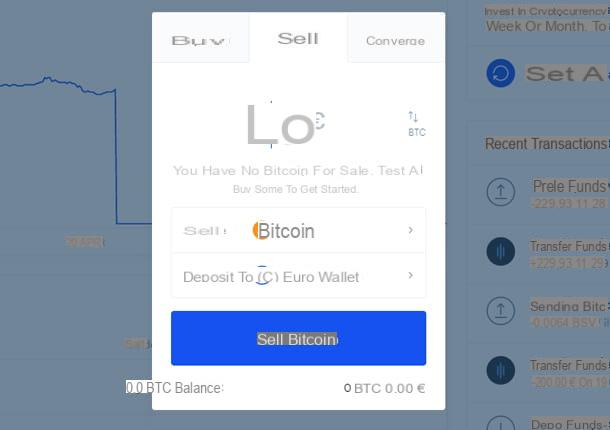 Now that your Coinbase account is active, let me tell you how to find your way around change Bitcoin into euros through this exchange.
First, hit on the menu item Our customers, to access your cryptocurrencies. Although I'm talking to you about Bitcoins, in fact, Coinbase allows you to trade, buy and sell other cryptocurrencies without leaving the site.
Once you have checked the amount of cryptocurrency in your wallet, you can decide to sell some of your Bitcoins by pressing the blue button Make Transactions at the top right. Choose the option now Sell and enter the amount of euros you want to get from the sale of Bitcoins. If it is more convenient for you, you can press the button BTC, on the right, to enter the number of Bitcoins to sell instead of euros.
Premi ora il pulsating Sell ​​now and, on the next screen, press the button Confirm Sale after carefully double-checking the data present. After a few moments, Coinbase will confirm the successful sale of the Bitcoins: you can check your balance in euros by pressing the menu item Our customers.
Remember that the sale operation may take a few minutes to be confirmed by the Bitcoin network, so don't worry if you don't immediately see the euro balance of your operation.
How to transfer Bitcoins to Coinbase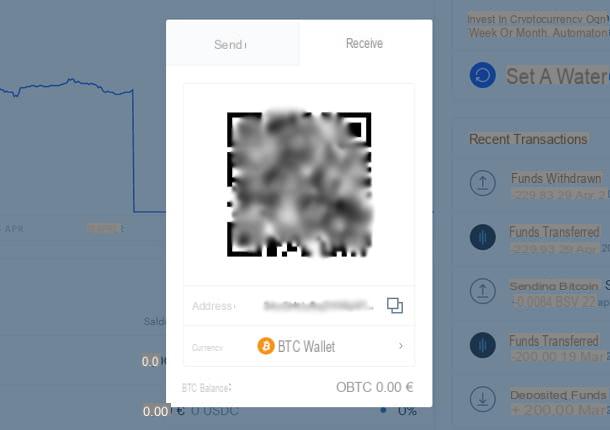 If you have just opened an account on Coinbase, the balance on your wallet will be zero. You're wondering how transfer Bitcoin to Coinbase? I'll explain how to do it right away.
If you already have Bitcoins on other websites or on an offline wallet, know that transferring them to Coinbase is very simple. If, on the other hand, you don't have any, you can easily request them from those who have them and receive them on Coinbase. As I explained to you in the chapter with the preliminary information, in fact, Coinbase also works as an online wallet and is therefore able to receive Bitcoin through a specific address.
Premium, though, your pulse You will recive placed at the top right, then on that I understand and agree and make sure you have selected the item BTC wallet from the menu Currency. What you see now represents the Bitcoin address, in the form of a QR Code and in text form, with which you can receive Bitcoin on Coinbase.
At this point, copy the text address or save the QR Code image. Once this is done, you can use your online or offline wallet for send Bitcoins to this address. In a few minutes, the Bitcoins will be transferred to Coinbase. You can also share your address with other people, to have Bitcoins sent to you from their account or to receive payments in the form of Bitcoins.
How to transfer euros from Coinbase to the bank account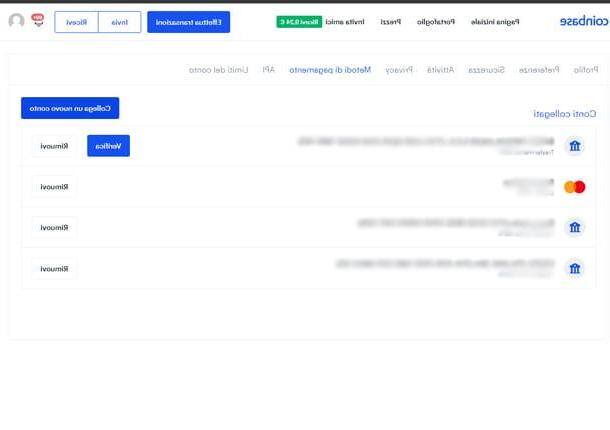 Now that you have sold your Bitcoins and you have availability in Euros, you are wondering how transfer euros from Coinbase to the Bank Account. Don't worry, in this chapter I will explain step by step how to withdraw euros from Coinbase.
First of all, I want to show you the procedure to link your Bank Account to Coinbase. Press theyour profile picture located at the top right, then click on the menu item Settings. In the screen that is proposed to you, select the item Methods of Payment and press on the blue button that says Connect a new account. Then press on the menu item Current account in euros and insertion il name of the bank, code IBAN and the code BIC which you can find on your bank's website or app.
Premi ora il pulsating Verify your account, to proceed. To complete the operation, you will need to send a small transition in favor of Coinbase. Then press the button Check now, in order to receive instructions on the transition to be made.
Make sure you copy all data accurately and follow the instructions to the letter. Perform the required operation and, to finish, press the button I made the payment. In one or two business days, your account will be verified and you can use it to withdraw on Coinbase.
Once your account has been verified, press the menu item Our customers and select the wallet with the inscription euro. Then press the button that says withdrawal placed on the right. On the next screen, enter theamount in euros to withdraw and make sure your account is selected in the menu Pick up. Finally, press the button Continue, to proceed with the withdrawal.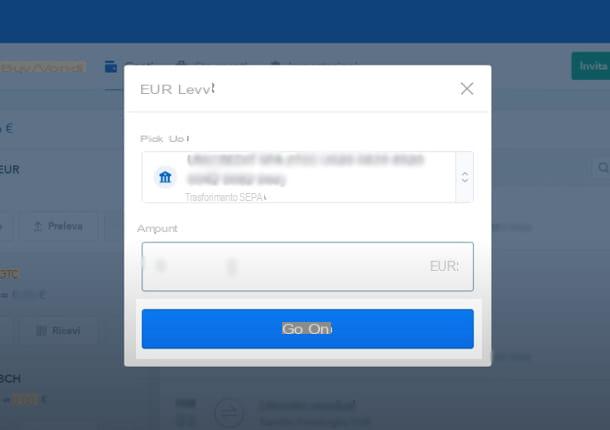 Before completing the withdrawal, Coinbase will offer you a summary screen of the operation. Remember that Coinbase imposes a small fee to be paid on transfers, so pay attention to the summary screen so that you know exactly how much you will receive. Once the data is checked, press the button Confirmation, to complete the withdrawal.
By one or two days, the euros you have just withdrawn will be credited to your bank account. With some banks, on the other hand, Coinbase is able to carry out a instant transfer- If your bank supports SEPA instant transfers, you may receive your money immediately. You just have to check your current account!
Other tools to convert Bitcoin to euros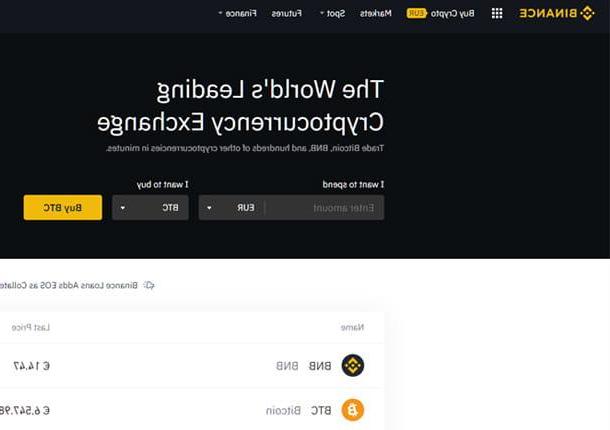 Despite having explained to you how Coinbase works for convert Bitcoin to euros, you should know that there are also other online services that can provide this functionality. I have therefore decided to list them alternatives to Coinbase which I think are more reliable.
Binance - is a platform designed to trade, buy and sell Bitcoin and other cryptocurrencies. You will be able to use it quickly and easily from both smartphone and PC.
Cex.io - is one of the strongest and best known cryptocurrency exchanges globally. Thanks to this platform you will be able to trade, sell and buy Bitcoin and other digital currencies in safety and immediacy.
Creak - is a solid and secure exchange service, which allows not only the exchange between cryptocurrencies but also the sale and withdrawal of Bitcoins directly from its website.
Article created in collaboration with HYPE.
How to convert Bitcoin to euros