Online2PDF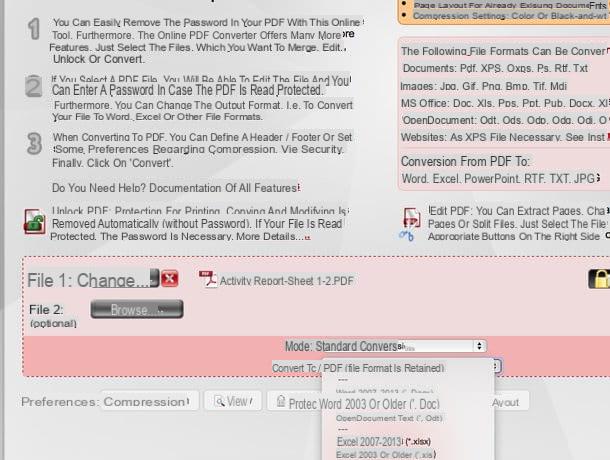 Online2PDF is a very popular online conversion service dedicated to PDF files. It allows you to convert to and from the PDF format in an extremely simple way, as well as free. It supports batch conversion of multiple documents and has an upload limit of 100MB overall (50MB if converting only one file).
To use it, connected to its main page and drag the PDFs to be transformed into XLS or XLSX in the red box located at the bottom (otherwise press on Select files and select the documents "manually"). Then choose whether to obtain files in Excel 2003 or Excel 2007-2013 by setting one of the two options in the drop-down menu Convert to and click on the button Convert to start the conversion first and then the file download.
SmallPDF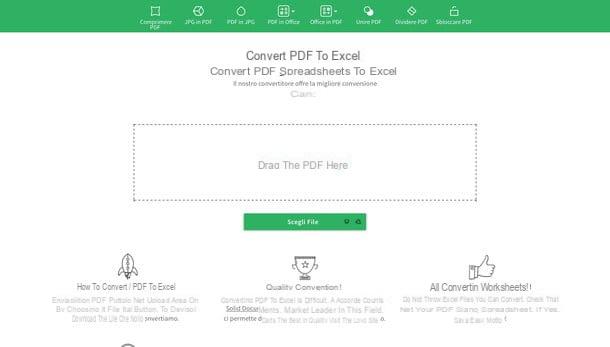 SmallPDF is another online service dedicated entirely to PDF files. It not only allows you to convert them, but also to create them starting from other types of documents and to modify them by dividing or merging them, removing the password protection (owner password) and much more. It does not require registration and has no upload limits, but unfortunately it allows you to work on only one file at a time.
convert PDF files to Excel with the latter, connected to its main page and drag the PDF to be transformed into XLSX (the XLS format is not available) in the browser window. Then wait for the document to be uploaded online and converted and press the button Download the file to download it to your PC.
Docs.Zone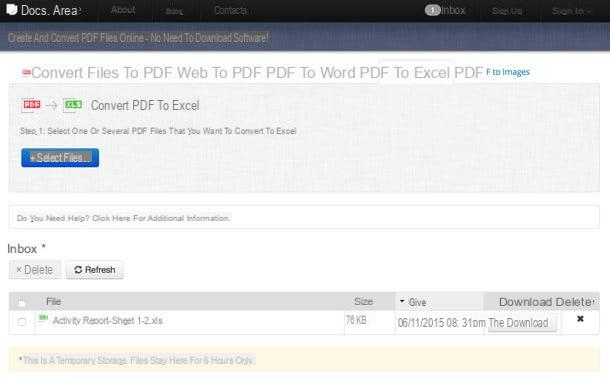 If neither of the two sites mentioned above satisfies you (which is quite unlikely to be honest), you can try converting your PDFs to Excel files with Docs.Zone. Also in this case the procedure to follow is very simple and no registration is required to use the service.
All you have to do is connect to its home page, press the button Select files, select the documents to be transformed and first click on the button Home to start the conversion and then on Download (next to the name of each file) to download the final result to your PC.
ZamZar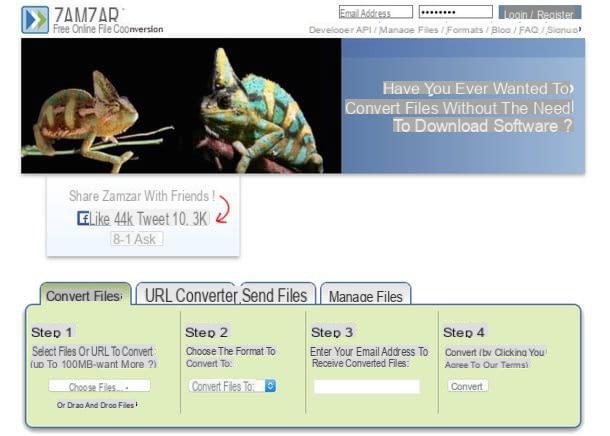 In conclusion, I would also like to talk to you about the very popular ZamZar, a universal online converter capable of transforming all the main multimedia file formats (images, music and videos) together; Office documents; compressed archives; PDFs and much more.
It is completely free, it allows you to work on multiple files at the same time but has a couple of limits that place it a step below SmallPDF and other PDF-centric services mentioned above: it has an upload limit of 100MB and needs to enter an address valid email to start the conversion. In fact, the links to download the files are delivered by e-mail.
If despite these small "obstacles" you want to use it, linked to its home page and drag the PDF files to convert XLS or XLSX in the box under the heading Step 1, then select the item xls o xLSX from the drop-down menu located in the field Step 2, type your email address in the field Step 3 (you can also use a temporary email if you don't want to reveal your real email address) and click on the button Convert.
In a few minutes, messages will arrive in your inbox containing links to download the documents you have just converted.
How to convert PDF files to Excel