From OnlyWhatsApps, we want to give you Information on How to Create Your Own Avatar in WhatsApp. To make your own Sticker or Emoji, you will need to have your Android or iPhone mobile device (iPad and others also works) and you may have to download a mobile application to facilitate the process. Also, we will make use of the Photo Apps already installed by default on your smartphone so you don't have to make the stickers from scratch; stay tuned to find out how!
How to Create/Make Your Own Avatar/Emoji For WhatsApp
Let's get straight to the point and see how to create your own avatar for WhatsApp using several apps suitable for the purpose. Decide which of these is right for you and do it by following the step-by-step instructions below.


Custom Emojis with Your Face
Facebook (Android/iOS)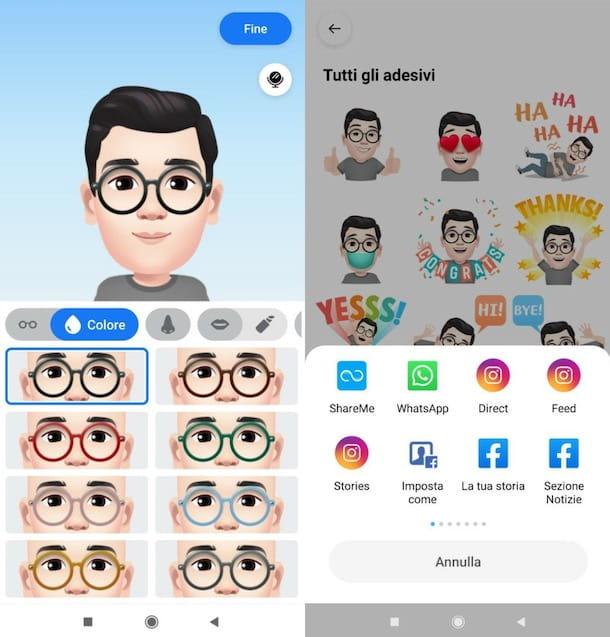 Are you a Facebook subscriber? Then Create Your Own Emoji! You can take advantage of a special feature of the famous social network to create an avatar to share in your WhatsApp chats (although, by default, this will be in the form of an image with a black background and not as an actual sticker) and/or set as your profile picture.
To continue, access Facebook from the official application of the service for Android or iOS/iPad, press the button () located at the top right, press the items More> Avatar> Next and follow the on-screen instructions to create your character.
Then choose the head/face you prefer, press the forward button, set your favoritehaircut and change thecolors by pressing release. Then press on the remaining tabs to customize theface shape,eye shapeand so on.
When you are satisfied with the result, press the end button, thengo ahead (twice in a row) andjump. Finally, proceed to share the avatar you just created: in the new open screen, press the sticker symbol (top right), select one of the stickers created from your avatar by pressing on its preview, tap onother options in the open menu ... and select WhatsApp as an option to share.
Once done, select the contact to send the image to, press thearrow symbol (on Android) or on the forward button (on iOS), click on thepaper airplane (bottom right) and that's it.
If you do not want to send the sticker as an image, but as asticker, you can think about using applications to create stickers for WhatsApp and transform the images obtained from Facebook (to save them in the gallery) in packs of stickers (stickers) for WhatsApp.
Alternatively, if you want to set your Facebook avatar as your WhatsApp profile picture, instead of selecting the messaging app as the sharing option, choosesave to gallery/save image. Once you have saved the image containing the avatar, launch theWhatsApp app and set the newly obtained image as your profile picture by following the steps below.
How to Create an Avatar on Android and iPhone?
On Android - press the three vertical dots icon (top right), tap on yourcurrent profile picture (top left), tap thecamera icon and select gallery. Then tap on thepreview image related to your avatar, crop it (if you think it's necessary) and press onfinal.
On iPhone - tap on settings(bottom right), tap on yourcurrent profile picture placed on the top left, press on editand then press on edititem located on the top right. Now, select the item select photos, tap on thepreview of the image related to your avatar and, after cropping it (if you want to do so), presses on choose located at the bottom right.
Create My Avatar For WhatsApp
Bitmoji (Android/iOS/iPad)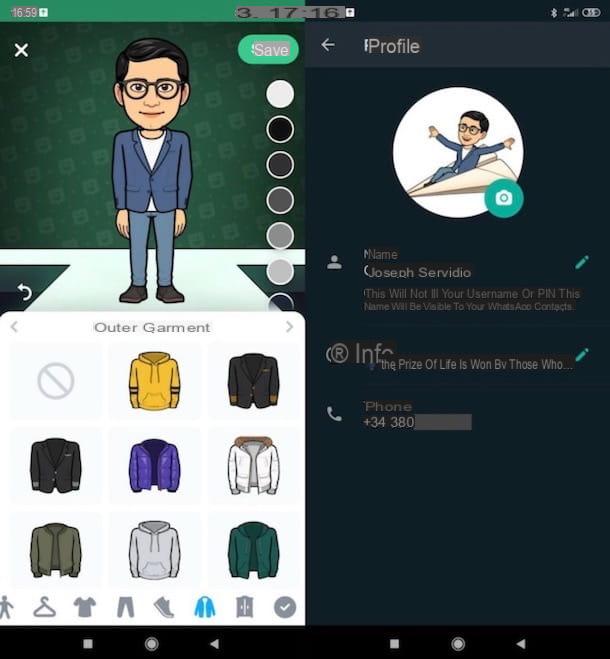 Another solution that I recommend you try is Bitmoji: it is a well-known application available on Android and iOS/iPad, which offers the possibility to create custom avatars from scanning your face or making them from scratch. The final result can be sent to your contacts as a sticker on WhatsApp or can be exported to the gallery, to then set it as a profile picture on the famous messaging app.
To use it, after installing and launching Bitmoji, press the register by email button and provide yourdate of birth, anemail andpassword in the corresponding text fields. Then specify whether you are a man or awoman, press the continue andallow buttons and take aselfie.
In this way, Bitmoji will be able to take the characteristics of your face as a reference to create an "initial" avatar: once obtained, use the editor displayed on screen to customize your virtual alter ego by changing its face,hair,eyes,eyebrows, nose.... Simply use the tabs at the bottom of the screen.
How to Put My Bitmoji on WhatsApp
Once you have created your avatar, you can send the stickers using theBitmoji icon that will appear on the Google keyboard. This possibility, as you may have guessed, is available only on Android (on the iPhone, the Bitmoji keyboard simply allows you to copy the images available and send them as such, with a white background therefore, and not as actual stickers).
To proceed, simply open the chat of your interest in theWhatsApp app, tap on thetyping bar(at the bottom of the screen), tap on theBitmoji icon at the top left and then on the icon of the stickerwink (below). Tap thepreview of one of the stickers representing your avatar, to send it to the open chat, and you're done. Simple, isn't it?
If, on the other hand, you intend to use one of the stickers in question as your WhatsApp profile picture, go back to the Bitmoji app, access the stickerssection of the application, tap thepreview of the image of your interest and presses on save, to save it locally (if you do not see the button in question, scroll through the open menu).
Finally, set the image you just saved as your profile picture on WhatsApp, following the corresponding procedure that I also described to you in the previous chapter of this tutorial. Easy, isn't it?
How to Create/Make my Memoji on WhatsApp for iPhone (iPhone Avatar)
Memoji (iOS/iPad)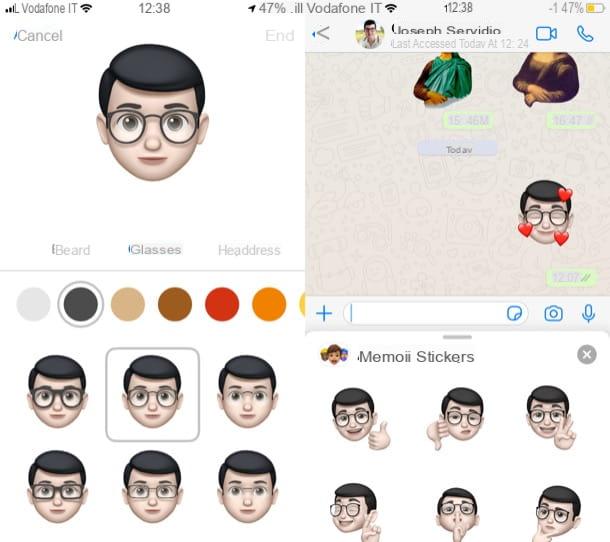 Do you have an iPhone? If so, know that you can take advantage of the Memoji feature built intoiOS/iPad 13(and later versions) and that allows you to create avatars with your own characteristics to send them as stickers and, if you wish, set them as a profile picture on WhatsApp.
How to make a face and how can you make your own Memoji? First, launch the Messages app, tap theleaf iconwith a pencil located at the top right and tap the button representing thethree custom emoticons. Press the (+) button located on the left and continue with the creation of your custom avatar.
Use the appropriate menus and buttons available to configure the face,haircut, eyebrows,eyes,nose,mouth,ears.... When you are ready to do so, press the final button (top right).
Now that you have created your Memoji, you are ready to share it on WhatsApp. How can you do it? After opening theWhatsApp application, find the contact to whom you want to send the Memoji and, after opening the chat with the latter, tap on themessage writing bar (below).
Subsequently, press theglobe icon and, in the open screen, tap the symbol (...), to open the panel called Memoji: stickersand see the full list of all the other Memoji you can send.
If you want to set one of the Memoji stickers as your WhatsApp profile picture, you must first save it as an image in the gallery. The procedure is quite complex. To do this, you need to open theMessages app, send yourself a message containing a Memoji sticker, tap the latter (to open it in full screen) and take a screenshot (being careful to cut it into a square).
Finally, set the image obtained as your profile picture, following the proper procedure that I described to you above.
How to change your Memoji iPhone
Want to edit your Memoji? Do not worry: just repeat the same operation you did to access the new Memoji. Open iMessage, open a conversation, go to Stickers and find the Memoji you want to edit. Select the face and look for the three dots to open the necessary options. Then select "Edit".
Now make the necessary changes to your Memoji.

Do you have to create a Memoji for every expression you want? Not really: the functioning of a Memoji is similar to that of the Animoji. Once we select the face we have memorized, it will begin to animate according to our expression and what we want to communicate. It must be said that in a product unable to follow our face, there is still a list of expressions that are processed once the face is created.

Avatar Making Apps
Other applications to create avatars for WhatsApp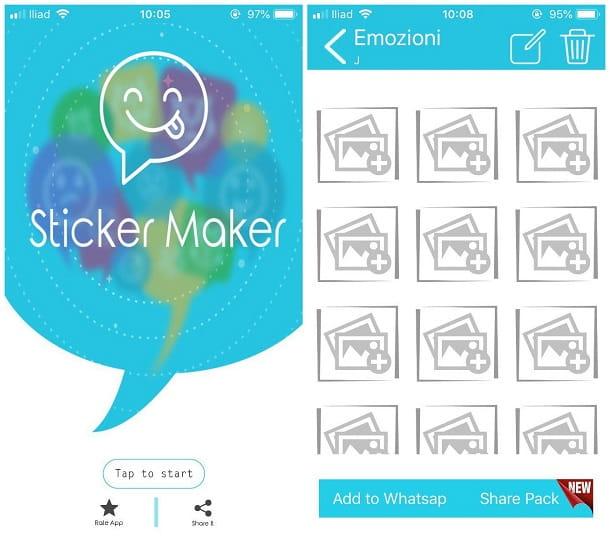 I conclude this guide with a list of other apps to create avatars, for use with WhatsApp and other messaging systems. Since they can be useful, take a look at them and try them out to see if they are really right for you.
WhatsApp Sticker Maker (Android) - this is an app that allows you to create free stickers for WhatsApp from images saved on your device. It's free, but to remove advertising and unlock all features, you need to make in-app purchases starting at €1.19/item.
Mirror (Android): is another Android app through which you can create avatars (but also memes and GIFs) in an extremely simple and intuitive way. It is basic and free, with additional features that are unlocked for a fee, making in-app purchases starting from € 5.49.
Sticker creator for WhatsApp (iOS/iPad): this app allows you to create stickers to share on WhatsApp by "recycling" your photos or creating avatars from scratch. It's free, but to remove ads you need to make an in-app purchase of €2.29.