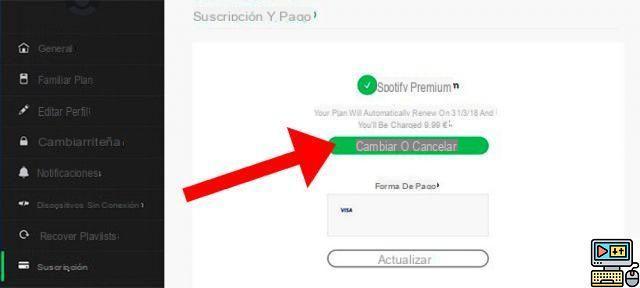 You want to delete your Spotify account but you don't know how to go about it? Do not panic, we detail the procedure to follow in this article.
A platform for listening to millions of songs, Spotify has managed to make its mark on the music streaming market. According to the latest known figures, the application with the green logo has 345 million users, of which 155 million have subscribed to a paid offer. And to caress them in the direction of the hair, it has recently deployed new features. In particular, it is now possible to find a song via its lyrics on Spotify.
But the competition is tough. Deezer, Apple Music, YouTube Music… There are now many audio streaming alternatives. So you might be tempted to look elsewhere if the grass is greener. It's also possible that the urge to stream music has passed you by. Or that you no longer want to spend money on it. At any rate, deleting your Spotify account is not easy when you don't know where to look. Hence the usefulness of this guide.
Spotify: here's how to delete your account
Open Spotify from a browser and sign in.
Scroll down to the bottom of the page and click on the About section.
Under the Customer Support section, access the Contact Form.
Then click on the "I want to close my account" section. You then have two options. On the one hand, you can only cancel your Premium subscription and keep your free account. Or decide to permanently close your account.
If you opt for a permanent deletion, you will have to draw a line under your saved songs, playlists and podcasts. Moreover, you will no longer be able to access the catalog of the application. Finally, your username will no longer be usable.
If you choose the second option, be aware that a free Spotify account gives you access to all of the songs available… subject to the presence of advertisements. It is also not possible to stream audio in offline mode. As for your saved playlists and tracks, they will always be available in your account.
Lire aussi >> Spotify officially increases the price of the Family subscription in Spain
The editorial advises you:
Netflix: how to delete a profile or your account?
How to delete your Facebook account
How to delete a Google account on Android
The summer season is coming to an end. The opportunity for Spotify to take stock of the most listened to songs during the summer. A good barometer to get an idea of…Lately, Spotify rolled out a very useful feature. This allows you to find a song on the application by typing an extract from its lyrics. We detail in this article how…Bad news for Spotify users based in Europe. The Swedish firm has just announced an overall increase in its prices, going up to €3 more per month depending on…Spotify has just unveiled its very first physical product. This is the Car Thing, a small touch pad that easily attaches to the ventilation grilles of a car. His goal…