Index
Differences between the various Minecraft servers
Where to find Minecraft servers
How to join a Minecraft server on PC
How to join a Minecraft PE and Bedrock server
Differences between the various Minecraft servers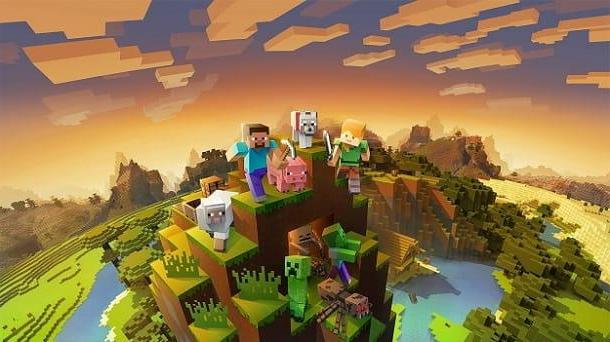 Prima di enter the dettaglio della procedura su how to join a Minecraft server, I think you might be interested in learning more about the type of virtual rooms in the Mojang game.
Well, the main ones minecraft server typology are those listed below.
PvP (Player vs Player) - are the servers where the players fight against each other;
PvE (Player vs Environment) - are the servers in which each player has to fight against the surrounding environment (monsters, animals, etc.), rather than against other users;
Factions - these servers allow players to form groups and challenge factions made up of other users;
Whitelist/No Whitelist - not all Minecraft servers are open access. Those defined as Whitelists allow access only to users who have been added to their "white list". To gain access, you usually need to connect to the server's official site and send a request to the admin. The No Whitelist servers, as can be easily understood, are those that allow access to everyone without relying on "white lists".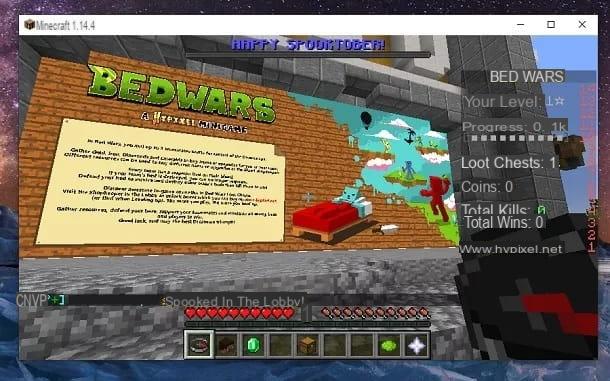 As regards, however, the game mode more common, below you will find detailed information.
Survival - Survival servers put the player's survival at the center of everything, so he has to build a shelter and must do everything possible to resist threats coming from the surrounding environment or from other players;
Creative - we can say that the Creative servers are the opposite of the Survival ones, they focus on the construction of objects and houses instead of the player's survival in the face of various kinds of threats;
RPG - they are servers in which the game mechanics follow those of the RPGs;
McMMO - other RPG-style servers where you need to acquire skills, develop equipment and much more;
Land Claim - in these servers it is necessary to conquer a portion of land and prevent other players from taking it by destroying everything that has been built;
Hunger Games - is a game mode inspired by the literary-cinematographic series of the same name. In servers that adopt it, you have to compete against other players, acquire skills and upgrade objects;
MiniGames - various mini-games where you have to challenge other users. One of the most popular mini-games is the BedWars, in which users have to destroy the opponent's bed, which is located on a floating island;
Vanilla - are the servers where you play the classic version of Minecraft, without mods or variations of any kind.
Where to find Minecraft servers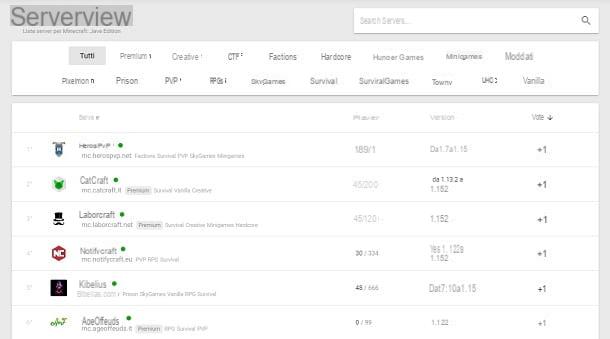 One of the most common doubts among novice Minecraft players is where to find the access data virtual rooms.
A first important resource is the Minecraft Italy website, which collects the major servers linked to our country. The portal makes a subdivision by room type and it is also possible to see how many players are active and which versions of the Java edition of Mojang title are supported.
If you play on PC, this list should already be very useful to you, but to find the international rooms more valid it is necessary to connect to other portals. For example, the Minecraft Server List website is very detailed and collects immense list on server. Think that in some of these they can access up to 10.000 people.
As for servers related to version for mobile devices of the Mojang title, I suggest you take a look at the TopG portal: to understand if a server is active, just take a look at the number of players and in the presence of port number. Another useful source could be the Minecraft Pocket Edition Servers website.
If you need concrete examples, I would like to advise you 2 of the most popular servers of Minecraft, one related to the PC version of the game and one related to the mobile version.
Well, in the first case, one of the most popular virtual rooms for players is that of Hypixel, accessible via the address mc.hypixel.net. Do you think that this is a server that on May 17, 2019 reached the milestone of 15 million unique logins. It is considered as a guarantee by the community.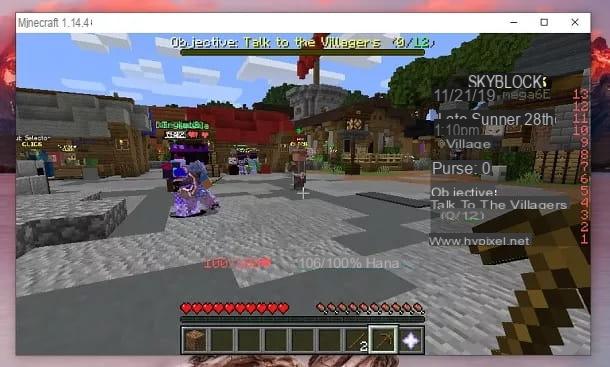 Speaking, however, of the mobile version of Minecraft, the choice becomes more difficult. In fact, the functionality related to Bedrock version server Minecraft is still in an experimental stage, as written by the developers on the game's official website. This means that virtual rooms may not work properly or may not be available at certain times.
In simple terms, the major server creators have not yet landed on this platform (Hypixel had a server for Minecraft PE, but shut it down because it felt it could not deliver a quality experience to its users). However, the community did not lose heart and particularly interesting virtual rooms were born.
For example, after careful research, I came across a server called Rushush, accessible via the address rushnation.net and the door 19132. Many possibilities are available here and there are also the much appreciated BedWars. In short, I recommend that you try to connect to this virtual room, if you have the mobile version of Minecraft.
In any case, I want to clarify that the data I have provided you are in continuous variation and could be changed at any moment, since it is content made by fans. For this reason, if you are unable to access the servers I mentioned, I recommend that you search for others in a "manual" way, also passing through the sources I have provided.
How to join a Minecraft server on PC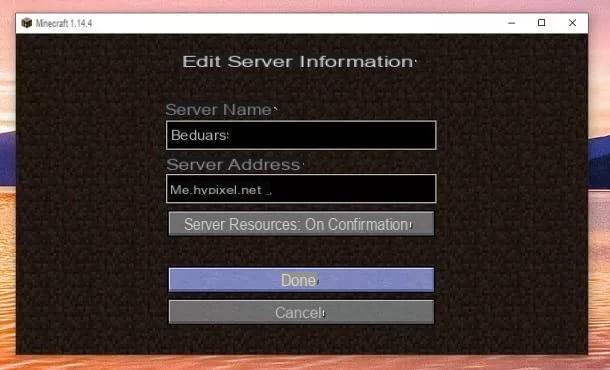 One of the most used platforms to access Minecraft virtual rooms is certainly the PC. In fact, many players use theJava edition of the Mojang title to take advantage of this feature.
Accessing a virtual room is not that difficult: once you open the game, you just need to press the button Multiplayer and in no time his quello Aggiungi a server. Alternatively, if you don't want to "save" the room, you can use the button Direct access. After that, you need to type the name and l 'server indirizzo and click the button Done.
Perfect, the virtual room involved will be saved in main menu and just press the icon Play to start playing. On some specific servers you may be required to perform the registration on first access (and login to subsequent ones).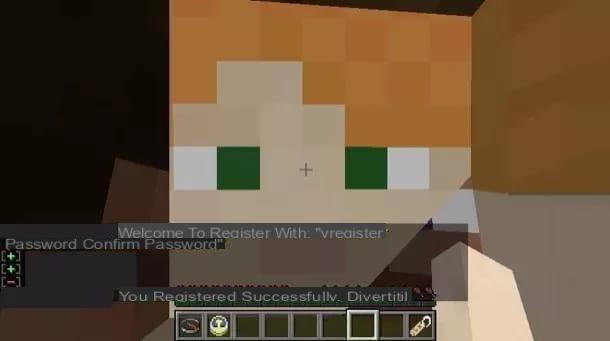 Each virtual room manages user identification in its own way, but that's usually enough open the chat with the button T keyboard and use the command / register [password you want to use] [confirm the password you want to use]. To enter the server the following times you will have to type the command instead / login [password you have chosen], always remembering to press Submit to confirm.
In any case, there are many servers that don't even require registration and virtual room managers usually help new users, so you shouldn't have any particular problems when you first log in.
How to join a Minecraft PE and Bedrock server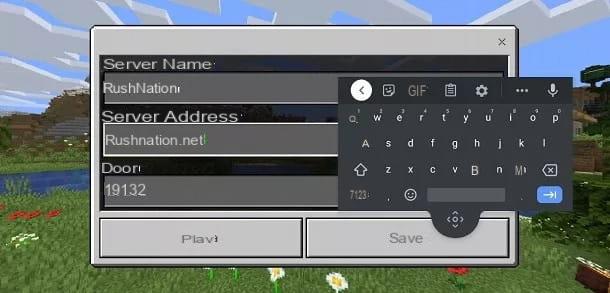 As already mentioned in the introductory chapter of this tutorial, the ability to access servers from the Bedrock version of Minecraft, available for Windows 10, consoles and mobile devices, is currently in an experimental stage.
In any case, if you are wondering how to join a minecraft server on ps4, how to join a minecraft server on xbox one or how to join a Minecraft server on Nintendo Switch, you must know that the menus of the Bedrock version of the game are identical to each other and therefore the indications I am about to provide you, relating to the mobile version of the Mojang title, are also valid for these editions (obviously if the feature is active ).
To see if you can access the virtual rooms from this version right now, simply go to the path Play> Server and see you can use the button Add server.
If this feature is active, you must enter the name,address and server port number (which usually is 19132, but may vary by server). Then just press the button Play to enter the server you have chosen. The application will warn you if the chosen room is not available at the moment.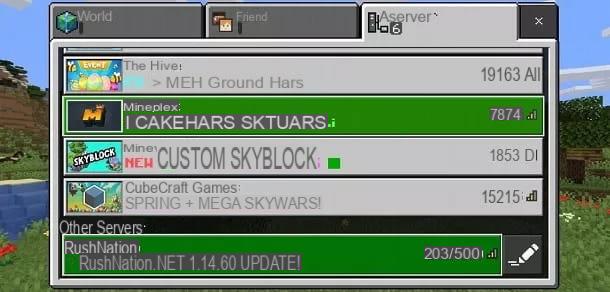 Great: now you have all the necessary information to enter the world of Minecraft servers. If you want to learn more, I invite you to consult my tutorials on how to play BedWars on Minecraft PE, on how to log into Minecraft servers and on the best Minecraft servers.
Also, since you are a fan of the Mojang title, I would advise you to take a look at the page of my site dedicated to Minecraft, where you can find myriads of guides that could be for you.
How to join a Minecraft server