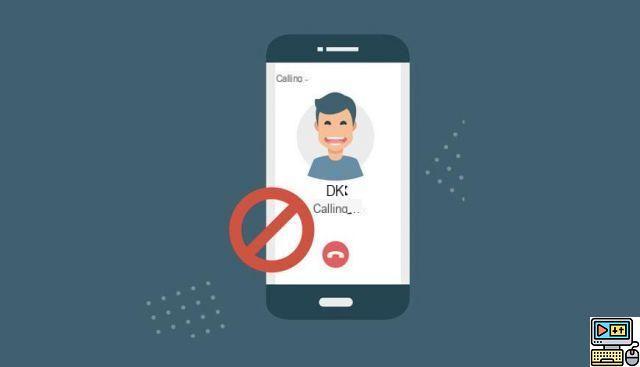 Blocking an unwanted number is the ultimate solution to avoid getting annoyed. But how do you know if your number has been blocked by someone else? If you are unable to reach a contact, there are several tips to quickly check if the latter has put your number on its blacklist.
Telephone canvassing services, relou or ex invaders, several factors can justify the blocking of a number. This is done very easily from a smartphone. You can block a number on Android or block a number on an iPhone in the easiest way. And since no one has a monopoly on this gesture, it could be that your number also ends up on someone else's blacklist.
Find out if your number has been blocked
In fact, it is quite simple. You just have to understand how things work when someone has blocked your phone number. You are automatically redirected to the contact's voice mailbox after one or two tone beeps. For its part, the correspondent does not receive any call notification. His phone doesn't ring.
If you leave a message in the voicemail box, no SMS notification is received by the contact. The message automatically goes to the "Blocked Messages" folder on iOS. On the other hand, if the correspondent uses an Android smartphone, he still receives a voice message alert SMS if the function is activated with the operator. But this trick, although reliable for find out if someone has blocked your number is not specific.
The same can be said in the event of network instability, for example. It is therefore important to try again once or twice with a few minutes intervals. If the call is still redirected after one or two beeps, the confirmation step will be to try to call from another number or to make a hidden number. Enter # 31 # followed by the correspondent's number. If the phone rings, it is now almost certain that your number has been blocked.
What about SMS
By blocking a number, you cannot receive a call or an SMS from it. The same principle therefore applies for messages. If your number is blocked by a contact, it does not receive your SMS even if everything happens at your level as if the messages were delivered successfully. In fact, nothing abnormal is happening. But make no mistake, your recipient will never receive them while your number is on their blacklist.
And finally, don't overdo it with hidden number calls. Most people do not respond to it and if they follow one another this can lead to legal consequences, since it can be assimilated to harassment. Operators can reveal the identity of the caller in the event of a complaint.
On the same type of subject, we invite you to read our article to find out when someone blocks you on WhatsApp. The application does not tell you formally, but thanks to tips, you will be able to determine it with certainty.
The editorial advises you:
How to know if a contact has blocked you on WhatsApp
The ability to speed up or slow down a video on YouTube can be very useful. It was possible to do this in the web version of the platform for a while…Facebook allows you to deactivate the automatic playback of videos in your news feed. It's very simple, even if the path is not obvious to anyone who has never seen it...Google Chrome includes a reading mode that allows you to consult a page in optimal conditions. The functionality, however, is hidden in the bowels of the browser. In this tutorial,…It is easy to know if a contact has blocked you on WhatsApp, but some indicators can also trick you into believing it unfairly. So how do you know...