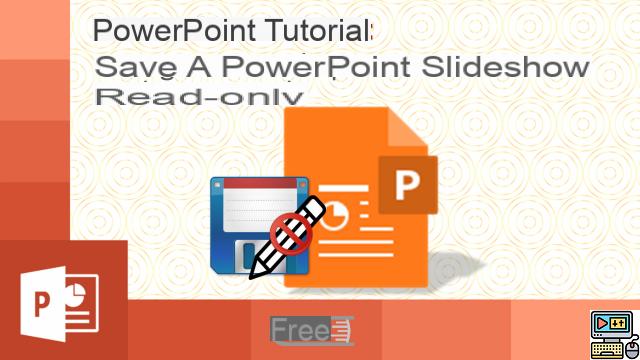 Comment (8)
PowerPoint is a benchmark for presentation generation software on Windows. To ensure that all Windows users can play these files, Microsoft offers an official, free viewer.

PowerPoint is Microsoft's desktop tool for creating dynamic presentations that captivate audiences © Pixabay.com

Microsoft PowerPoint is used in the professional environment to present the results or the strategy of the company as well as in the educational world to illustrate presentations or group work, as well as in the personal sphere to animate photos during events. like a birthday or a wedding.
Easy to learn, highlight ideas using charts and tables, scroll through slides with cool, modern transitions, and insert images, sounds, and videos .
If you do not have the Microsoft Office suite installed on your machine, you will not be able to open a PPT, PPTM, or PPTX file. These are the extensions of documents made with PowerPoint. Until April 30, 2018, Microsoft provided a "PowerPoint Viewer" for free, but this program is no longer available. Instead, the Redmond company offers to save the presentation on OneDrive or Dropbox and open it using the PowerPoint service on the web. Another solution, more convenient for Windows 10 users, is to download the free PowerPoint Mobile app.

PowerPoint is the most widely used presentation software in the world © Pixabay.com

Installing and Using PowerPoint Mobile
Download PowerPoint Mobile
For Windows 10 users, PowerPoint Mobile is the most recommended alternative. As its name suggests, it is intended for use on mobile devices. This does not prevent it from being fully functional on computers. Available for download from the Microsoft Store, it can be installed easily and for free. Selecting the "Launch" button from the Windows Store or opening the Windows menu and searching for "PowerPoint Mobile" runs the application.

PowerPoint Mobile's home page is modern and clean © Microsoft Corporation

PowerPoint Mobile Home Page © Microsoft Corporation
It offers a basic home, containing a "Browse" button from which you can open all types of presentations created with Microsoft PowerPoint. Indeed, the file extensions supported by PowerPoint Mobile are PPT, PPTX, PPS, PPSX, PPTM, and PPSM.
As soon as the document is opened, the window grays out the editing buttons and specifies in a banner that "To modify and save the file, an Office 365 subscription is required". This does not prevent you from reading the content of presentations created from Microsoft PowerPoint. By exploring the "Slideshow" tab and selecting the "From Beginning" button or by using the F5 key on your keyboard, you start playing the presentation in full screen mode.

The presentation is displayed as read-only. A banner reminds that an Office 365 subscription is required to make changes © Microsoft Corporation

The use of PowerPoint Mobile is extremely restricted since without an Office 365 account, it runs in read-only mode. However, it allows to print the presentations and is not limited in number of files. You can use it at will to open all the PPT, PPTX, PPTM and other documents that you receive from your contacts who use PowerPoint.
If you have an Office 365 subscription, the doors to creating easy presentations are open to you. All the main features of PowerPoint are present and designed for a touch interface. One can of course modify and add new slides, insert titles, graphics, images and several audio and video file formats (including AIFF, MP3, MIDI, MP4, WAV, WMA, ASF, AVI, MOV, MPEG, MWV). Compared to the full version of PowerPoint offered in Office 365, it mainly lacks the possibility of integrating content from YouTube or Vimeo into a slide.
Open a presentation using PowerPoint on the web
Microsoft offers a second method for displaying presentations from PowerPoint for free. It is entirely online, you must have a OneDrive account (free or paid, both work) to use it. The first step is to go to the cloud storage service site and authenticate. The presentation must then be sent to Microsoft's servers. To do this, select the "Upload" button to send the file or folder concerned to your OneDrive space.

Sending a file to the OneDrive cloud © Microsoft Corporation

Once the send is complete, just select the document from the OneDrive window to open the presentation in the web version of PowerPoint. This iteration uses the graphic codes and features of the desktop version of the software. To display the slides in full screen, the only way is to go through "View" and "Play from the beginning", since the F5 key refreshes the browser tab.

The web version of PowerPoint even allows you to edit and save presentations © Microsoft Corporation

PowerPoint's only constraint on OneDrive is to require an Internet connection. That said, unlike PowerPoint Mobile, it's not restricted to read-only and it provides free access to all authoring tools, transitions, animations, and media insertion. From the "File" menu, you can print, share or download the presentation at any time.
Using PowerPoint Viewer (Old Method)
If you are not using Windows 10 or you do not plan to have internet where you want to read the presentation, you still have a solution. Until April 2018, Microsoft maintained the "PowerPoint Viewer" software, which was the official tool for viewing PowerPoint files on computers not equipped with the Office suite. If the development has been abandoned, it is still possible to retrieve the installation file from the link below.
Download PowerPoint Viewer

The PowerPoint viewer interface is reduced to the essentials © Microsoft Corporation

The Microsoft PowerPoint Viewer is an extremely basic tool. A single menu is accessible, either with a right click or by selecting the button in the status bar. It allows to navigate in the previous or next slides, to print or copy the slide, to activate the full screen mode or to stop the slide show. Microsoft PowerPoint Viewer supports PPTX, PPT, PPTM, PPSX, PPS, PPSM, POTX, POT, POTM, and ODP file formats.
To remember
To maintain PowerPoint's leadership in the creation of presentations for the general public, Microsoft does not hesitate to offer several solutions to allow everyone to open the files generated with its software. So people who don't have an Office license can at least open presentations as read-only.
The PowerPoint Mobile application is recommended for all Windows 10 users, since it integrates perfectly with this operating system and is simply installed from the Microsoft Store. However, some may find themselves frustrated that it does not allow any changes.
If you have an Internet connection where you will read the presentation and a Microsoft account (even without an Office 365 subscription), you can transfer it to your OneDrive space to open it from your browser, thanks to PowerPoint on the Web. In addition to opening and reading PowerPoint files, the interface of this online service allows you to make all kinds of additions and modifications and to save or download the document.
Finally, if you are not using Windows 10 and you do not have Internet access to read the presentation, there is still the old Microsoft PowerPoint Viewer. Even if it is no longer supported by Microsoft, it allows you to open presentations of various formats on all configurations.
Microsoft's new official viewer supporting PowerPoint presentations, specially planned for Windows 10:
Download PowerPoint Mobile
The old official Windows viewer, whose development has been discontinued:
Download PowerPoint Viewer
The best alternatives to these software
-Prezi, a web service for easily creating online presentations:
Download Prezi
-The Docs PDF/PowerPoint Viewer extension, available as an extension for the Google Chrome browser:
Download the Docs PDF/PowerPoint Viewer extension