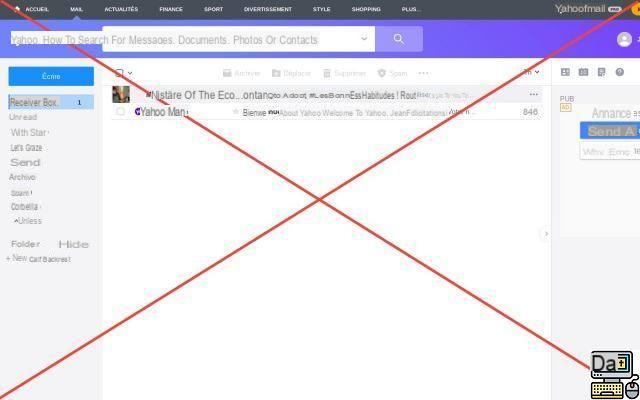 Do you have a Yahoo address but you use it too rarely if ever? Here's how to close your account in just a few clicks.
Yahoo! is a search engine, a portal, an email service… in short, a service that connects the same account to several others, like Google. If you have arrived at this article, it is however that you want to end the service. And you will see, deleting a Yahoo! nothing fancy. Just follow a few steps to cross it, as we will explain in this tutorial.
How do I delete my Yahoo!
Do you prefer other messaging services, leaving your Yahoo account abandoned? The service, which has been declining for a decade, no longer meets your expectations? Here's how to delete your Yahoo! in a few minutes.
From your personal space, click on your avatar then on Account Info.
In the left column, click on the section Help.
Then click on Create or delete an account in the left column.
Point your mouse to the section Close or reactivate your Yahoo account.
A page will detail what closing your account entails. In particular, you will cross off your Yahoo finance emails, files, calendars and portfolios, but also on your Flickr account if you have one.
If you're still determined to take the leap, head over to Log in to the Yahoo account termination page.
Read the warning message carefully then click on the button Continue deleting my account.
Fill in your email address then click on the blue button Yes, cancel this account.
It's over, you've left the Yahoo! ecosystem. It is clear that the termination procedure is much faster on Yahoo than on Outlook. If you finally change your mind, know that you can recover your Yahoo! if you access it during the 30 days following its closure.
The editorial advises you:
WhatsApp: 20 hidden features that will make your life easier
How to delete your Facebook account
Netflix: how to delete a profile or your account?
The ability to speed up or slow down a video on YouTube can be very useful. It was possible to do this in the web version of the platform for a while…Facebook allows you to deactivate the automatic playback of videos in your news feed. It's very simple, even if the path is not obvious to anyone who has never seen it...Google Chrome includes a reading mode that allows you to consult a page in optimal conditions. The functionality, however, is hidden in the bowels of the browser. In this tutorial,…It is easy to know if a contact has blocked you on WhatsApp, but some indicators can also trick you into believing it unfairly. So how do you know...