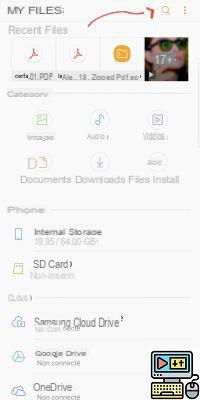 While many apps allow you to read PDF files on Android, not all of them offer the ability to edit them. On a computer, the task is already not the easiest. In this article, we will see how to edit PDF document on Android smartphone.
The PDF format has become one of the symbols of all digital, with a paperwork that is today less intrusive than in the past. Practical, lightweight and readable on all media, PDF is above all a read-only oriented format. But sometimes, it happens that beyond a simple reading it is necessary to edit a PDF document.
Read PDF on Android smartphone
Let's start with reading PDF files on Android first. The system does not have a built-in reader. It is therefore necessary to go through an application from the Play Store. Many of them offer this possibility: Adobe Acrobat Reader, WPS Office, Polaris Office or eBook Reader. But if you don't have any of these apps installed on your smartphone, you should still be able to read PDF documents thanks to Google Drive which is usually pre-installed alongside Chrome, Maps, Gmail, ect.
Android: how to modify a PDF file?
This is where things get a bit tricky, because as mentioned above, PDF files are not meant to be edited. But some edits may be necessary such as adding a signature or text above the document to fill out a form for example. Many applications allow you to edit a PDF in this way. Once again, we recommend the reference: Adobe Fill & Sign.
Download Adobe Fill & Sign from the Play Store
The app allows you to fill and sign any PDF form. It is even possible to take a photo of a paper form, complete it, sign it and share it quickly from your smartphone. No need to print the PDF, fill it in by hand, then scan it again before returning the completed form.
Finally, if you want to be able to modify a PDF from top to bottom as you would with a Word document, there are not thirty-six solutions, you will have to convert the PDF to a Word document, modify it using a office application for Android and then convert it back to PDF if needed.
The editorial advises you:
How to create PDF without installing an application?
How to convert a JPG or PNG image to PDF
How to edit a PDF file for free
The ability to speed up or slow down a video on YouTube can be very useful. It was possible to do this in the web version of the platform for a while…Facebook allows you to deactivate the automatic playback of videos in your news feed. It's very simple, even if the path is not obvious to anyone who has never seen it...Google Chrome includes a reading mode that allows you to consult a page in optimal conditions. The functionality, however, is hidden in the bowels of the browser. In this tutorial,…It is easy to know if a contact has blocked you on WhatsApp, but some indicators can also trick you into believing it unfairly. So how do you know...