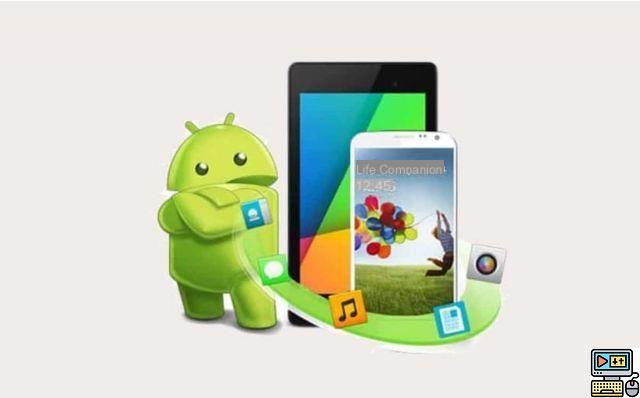 It is easy to recover mistakenly deleted photos and other data from Android smartphone. This can happen to all of us after a bad manipulation or even consciously by a gesture that we end up regretting. But fortunately, a file deleted by mistake can be restored, just like on a PC. We show you how to do it on any Android smartphone.
The advantage of synchronizing your photos in the Cloud is that it becomes easier to recover them when they are deleted locally. However, many users are still unaware of this possibility or do without the backup of their photos. And when the worst happens, the risk of never finding them is great. We have all - or almost - already found ourselves in this moment of solitude when a photo or several photos have been deleted by mistake.
Perhaps you have already resigned yourself to forgetting them several times. Until the day when important images push you to look for the miracle solution, the one that allows you to catch up with the big blunder.
Recover deleted photos and data on Android: is it really possible?
The answer is yes, but on the condition of being responsive. The reason is very simple: if there is no "trash" in Android as in Windows, data deleted from a smartphone does not immediately disappear from the storage memory. The space appears empty, but really isn't until some other data replaces the deleted one. It is therefore possible to recover deleted photos and data on Android.
However, the more time passes after deletion, the lower your chances of recovering the photos with a specialized tool like on iPhone. There are several on the Play Store. Some require connecting the smartphone to a PC. But we will focus on the simplest of solutions. Her name is DiskDigger photo recovery, a free application to recover photos and videos. But for other data types, you have to upgrade to the Pro version.
Moreover, its optimal use requires root. To have a better chance of recovering your deleted photos, follow our tutorial on how to root an Android smartphone before you start.
Recover photos or videos deleted by mistake
You will need to download DiskDigger photo recovery from the Play Store. Then launch the app and follow the steps.
Press Start Basic Photo Scan if your device is not rooted. If it is, the application should allow you to select the memory partition to scan. Your device's internal memory usually appears as «/ data» and the device SD card appears as «/ mnt / sdcard» or something similar.
After selecting the partition to scan, also choose the file types you want to recover. For best performance, please select only the file types you actually need. Eg: JPG.
As the application starts searching for deleted files, the screen begins to gradually fill with recoverable files. The only downside of this application is that it is not possible to display only deleted photos. That is, all images on your device will be displayed on the screen (deleted as well as undeleted images).
To make the search as efficient as possible, you can filter the images to reduce the number. Pressing the "Options" button (gear icon) will allow you to filter recoverable files based on size and type. If you want to impose a minimum size on displayed files, check the box Minimum file size and enter the minimum number of bytes.
Once the photo(s) have been identified, you can select them, press the recover button at the top of the screen and then choose a backup method.
Finally, there is a solution which has, as far as it is concerned, a preventive vocation. You will only need it if your Android overlay does not have a recycle bin. Indeed, if the stock version of Android does not officially offer a trash can, some overlays like MIUI (Xiaomi) are ahead. When you delete a photo by mistake, it is not systematically erased from your smartphone, but will be stored in a temporary directory before a possible permanent deletion.
In case your Android overlay doesn't have a recycle bin, use the app dumpster which a similar operation. After installing and activating it, all deleted photos, videos and other data are first kept for a period that you can define. After this time, the files are permanently deleted.
The editorial advises you:
Android 12: release date, news, all you need to know
Android 12: the list of smartphones compatible with the update
The OPPO Find N, the very first foldable smartphone from the Chinese manufacturer, is having a huge success in China. It's now out of stock as a million users have...The Google Pixel Fold might not have been discontinued after all. A newly discovered benchmark suggests it's still in the works. Google's first foldable smartphone may even be released soon.…A very handy Google Photos feature has quietly disappeared. Android users can no longer disable video backup via mobile data in the Google Photos app. A…Version 97 of Google Chrome is available today. However, one notable feature is a new attribute within the Keyboard API, which turns out to be quite controversial. Up to…