Is your WhatsApp subscription about to expire and you don't know how to renew it? Would you like clarification on the renewal prices and payment methods supported by the service? No problem, I'm here to help you. Let's start immediately to see the prices foreseen for the renewal of the subscription (all quite ridiculous, fortunately).
The renewal of WhatsApp for 1 year costs 89 cents.
The renewal for 3 years costs 2,40 euros (with a saving of 10% compared to the annual plan).
The renewal for 5 years costs 3,34 euros (with a saving of 25% compared to the annual plan).
The payment methods accepted by the service are different: you can use the credit card associated with your smartphone (the one with which you buy the applications, so to speak), a new credit or prepaid card, a PayPal account, or you can scale the WhatsApp subscription from your phone credit. This last option, at the time of writing, is only available for Wind and TIM customers and for users who use an Android, Windows Phone or BlackBerry terminal. Customers of other carriers and iOS users are currently excluded. But now let's ban the chatter and see step by step how to reload WhatsApp. I assure you it's very easy!
Reload WhatsApp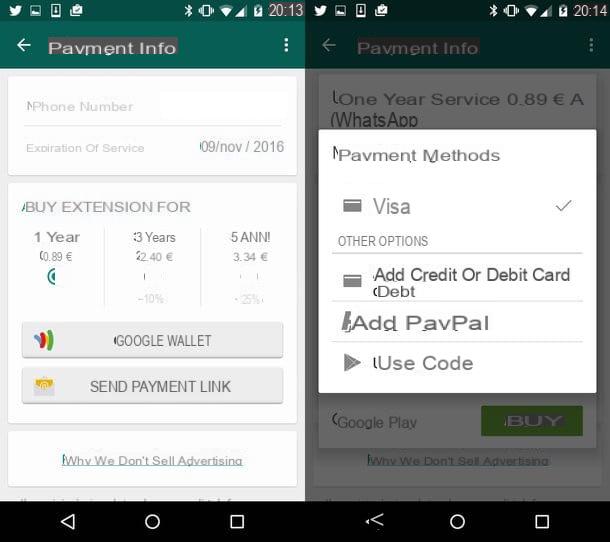 To reload, or rather, renew your WhatsApp subscription you have to start the application and go to its Settings. On Android and Windows Phone this screen can be reached by pressing the button [...], on the iPhone there is a tab called Settings at the bottom right of the screen.
At this point, "tap" on the item Accounti went his Payment info and choose the type of subscription you want to subscribe: 1 year at 89 cents, 3 years at 2,40 euros o 5 years to 3,34 euros. Therefore, click on the button for the default payment method of your smartphone (eg. Google Wallet on Android) and choose the payment method you prefer the most.
To pay directly with the credit (or prepaid) card associated with your smartphone, press the button Buy Now. If, on the other hand, you intend to configure an alternative payment method, first press on price of WhatsApp and then on the voice Payment methods.
A box will open with all the payment options available: Add credit or debit card to add a new credit card, Activate billing [operator name] to pay with telephone credit, Add PayPal to pay with an online PayPal account or use code in case you have a redeem code to use to renew WhatsApp for free (which is quite unlikely). To pay with phone credit, you must be connected to the Internet via a 3G or LTE network.
Once you have chosen the payment method to use, fill out the form that is proposed to you with all the required information (eg username and password for PayPal, name and residential address for payment by telephone credit or credit card number for adding a new card), presses on Buy Now and the transaction will be completed automatically.
To check that everything went well, go back to the menu Settings> Account> Payment Info of WhatsApp and verify that the expiration of the service is set at 1 year, 3 years or 5 years from today's date.
Don't feel like paying for WhatsApp on your mobile? Would you find it much more convenient to renew your subscription from your computer? No problem. You can press the button Send payment link and auto-send you a WhatsApp payment link via email. When the operation is completed, open the message on your PC, click on the link contained within it and make the payment via PayPal (other payment methods are not yet supported).
Please note: WhatsApp renewal is a single payment, there is no automatic renewal like on Spotify, Sky Online or Netflix. At the end of the subscription you will have to renew the renewal "manually" following the procedure we have just seen together.
Recharge WhatsApp to a friend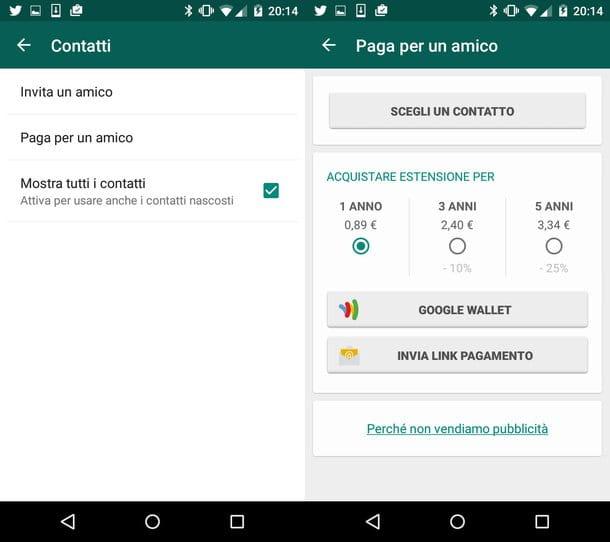 You would like it reload WhatsApp to a friend? If you use an Android smartphone you can do it very easily. All you have to do is start WhatsApp, press the button [...] located at the top right and select the item Settings give the menu to compare.
At this point, go on Contacts, scegli l'opzione Pay for a friend e pulsing sul pulsating Choose a contact to select the person to renew the WhatsApp subscription to. You can only select a person who is on your contact list.
When the operation is completed, choose the type of "top-up" you want to give to your friend: 1 year at 89 cents, 3 years at 2,40 euros o 5 years at 3,34 euros, presses the button relating to the default payment method of your smartphone (eg. Google Wallet on Android) and choose a payment method as we saw in the previous part of the tutorial.
The recipients of the "gift" do not have to be Android users, they can also use iPhone, Windows Phone, BlackBerry, Symbian or Nokia S40. However, they may need to restart their phone before they see their new subscription expiration date.