From OnlyWhatsApps, we want to explain you How to View Old WhatsApp Statuses (or how to see WhatsApp statuses again) for iPhone and Android from the great mobile Application of mobile Telephony dedicated to the Message and now also a little bit to the Photo, because YES YOU CAN RECOVER THEM. Among other things, when you can not recover WhatsApp statuses through your mobile, we will recommend some Apps so you can get it, it can always be recovered! If you want to know how to do it, KEEP READING!
Why my WhatsApp Statuses are deleted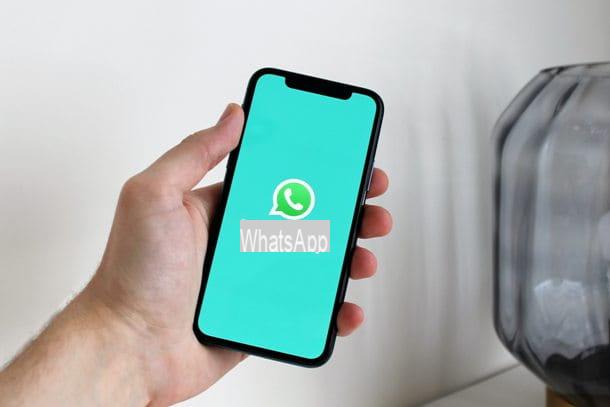 As already mentioned in the opening bars of the post (and as it should be) it is not possible to recoverold WhatsApp statuses. The statuses of the famous messaging app, in fact, are equivalent to Instagram and Facebook stories and were designed precisely so that they are no longer accessible after 24hours; this clearly applies also to your own statuses and not only to those of other contacts.
Anyway, if you've seen a status you'd like to save on your smartphone and regret not having done so, know that all is not lost. In fact, there are a few suggestions I'm about to give you that might still allow you to track down content of interest to you, even if it's no longer officially available in the WhatsApp status stream.
How to Recover WhatsApp Status Photos and/or Videos.
First of all, let me point out the most trivial solution: if the status you intend to recover has been posted by a person with whom you have a minimum of trust, contact him directly via WhatsApp and ask him if he still has the photos or videos he is interested in, so that he can receive them privately.
Alternatively, if it hasn't been more than a day since you saw the status of your interest on WhatsApp and you use an Android terminal, know that by "browsing" through the folders on your device, you may be able to retrieve the content in question, even if it's no longer viewable on WhatsApp. I'll tell you more about it in the Android chapter of this guide.
That said, what I recommend you most is to act beforehand. This means that if you see a status that you like (and this applies not only to WhatsApp), you can take a screenshot, in the case of a photo, or record the screen, in the case of a video. This way, you will have saved your content in the Gallery and you won't have to "cry over spilled milk" or curse your forgetfulness when the content expires. This can be done on both Android and iPhone and in the following lines you will find explained in more detail how to act.
How to View WhatsApp Statuses Again
How to view WhatsApp Past Stories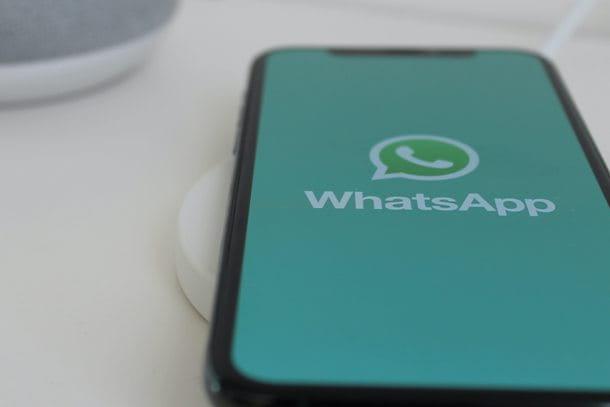 I clarify that see the old WhatsApp statuses is not an operation generally feasible, let's see how to implement the workarounds I mentioned above: the search in temporary files on Android (also valid to retrieve statuses that are no longer available on WhatsApp, but in any case that must have been viewed recently ) and screenshot, which can be done both on Android and iPhone.
WhatsApp Stories/Stats are Saved
How to view the previous or Deleted WhatsApp Statuses on Android.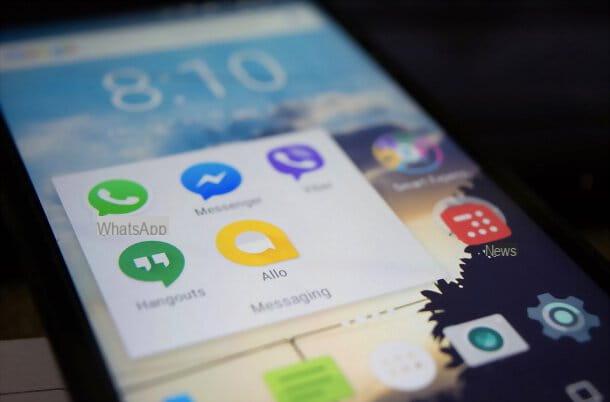 Let's start with Android. As noted above, there is more leeway on Google's operating system than can be done on the iPhone, since, once viewed, a WhatsApp status is saved in a user-accessible folder (.Statuses) and usually remains there until it expires in the messaging app. However, if you do not use WhatsApp and therefore do not update the temporary files of the application, you may be lucky and be able to recover even those states that, in fact, have already expired in the application.
Finding the folder is very simple, and although I'm going to explain you the procedure using a Samsung smartphone with Android 10, know that the procedure to follow is almost the same on the various devices that use the operating system "Big G".
Then start the File Manager you use on your device (for example, the Total Commander app or the default called File or File Manager), select theinternal memory or SD card (depending on where you have WhatsApp) and, if necessary, activate the display of hidden items: the procedure to follow varies from one application to another, for example in Samsung's file manager you have to press the icon with thethree vertical dots atthe top right, select the item settings and press on the item Show hidden system files.
Once this is done, to access the folder with the temporary WhatsApp files, go to the path WhatsApp> Media> .States and, inside it, you should find the temporary states that you can recover, copying them to another folder or transferring them to your PC.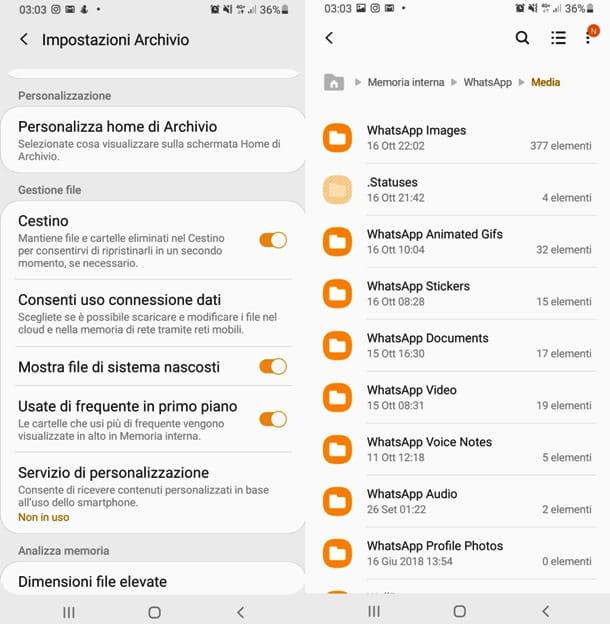 If you have not found the WhatsApp states in the folders of your smartphone or, in any case, you prefer a simpler approach to the matter, let me explain how to record the states that you can currently see by running screenshot andscreen recordings on your device (operation that can be useful to do many other things and not only in cases like this).
Taking screenshots on Android is very simple: if your terminal has the physicalHome key (the one that is usually located on the front of the device, precisely at the bottom), you just have to press it together with the power key, that is the button to turn on the phone. If on the other hand your terminal does not have a physical Home button, you will have to press the power button together with thevolume upkey. Whatever the combination of keys, remember that the device alerts you when you have taken a screenshot as it emits a sound very similar to that of a camera filming. The captured images can be found in the phone'sphoto gallery application.
I remind you that there are many other ways to take screenshots on Android: producers, for example, have come up with very quick shortcuts, as I will explain in detail in this review.
Would you also like to know how to record Android screen because in the state you saw there was a video and not a photo? No problem: first you should see if your device has a built-in application, that is, developed by the manufacturer, to avoid the hassle of downloading third-party applications. Finding it is very simple, and the procedure is more or less the same regardless of the Android model you have: open the application menu and search for generic words like "Screen" or more specific words, such as "Recording screen", "Screen Recorder", etc.. If you find the application in question, follow the procedure indicated and you will see that you can start recording what is happening on the screen (including audio) in no time.
If on the other hand you can't find anything, you'll have to download one of the many apps available on Play Store and alternative stores, for example ADV Screen Recorder, which allows you to not only record the screen but also draw on it, write notes and much more. It is free, however it requires payment of € 1.19 for the removal of advertising banners. Pay attention: you will be able to use it if your Android is updated to version 5.0 or later.
Record videos with ADV Screen Recorder is extremely easy: once you open the app, you will see a'blue-green icon with the + sign in the center; touch it and select the item Start now; at this point, will appear on the screen an option with the camera inside that will be visible until you remove it. If you tap the button in question, four icons will appear: press the one with the dot in the center, to start recording the screen while playing the WhatsApp status you want to keep.
At this point, the icons will disappear and only the initial one will remain, with an inner minute hand indicating the duration of the recording. To stop shooting, tap on the icon, then on the icon with in the center, to stop it permanently, or onthe icon equal to vertical, to pause it.
If you decide to stop it completely, a message will appear at the top allowing you to choose to share the video, delete it or cut it. If you need more information on how ADV Screen Recorder works, you will find everything you need in this guide.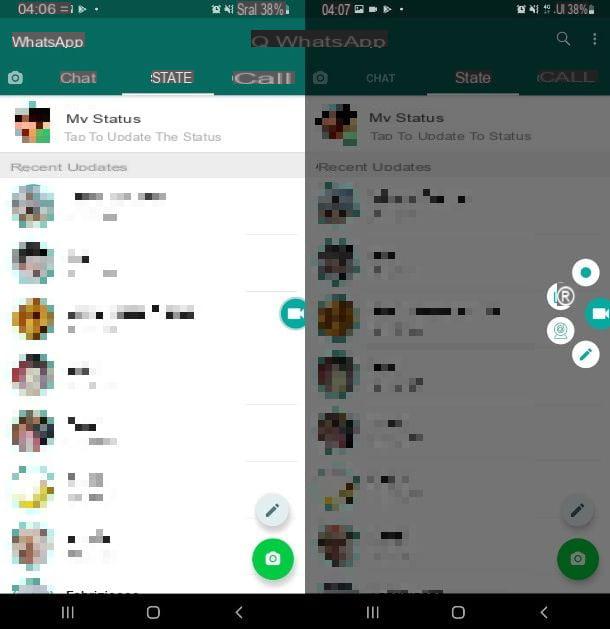 Finally, I remind you that there are also some apps to save WhatsApp statuses that have not yet expired: they may be a solution to consider if you feel that the manual screenshot procedure is too cumbersome; however, I tend to advise against them, as they are often full of ads and are also potentially dangerous for privacy (as they provide access to WhatsApp via WhatsApp Web QR code).
In any case, if you still want to use them, I have listed some of the most reliable ones in this review.
How to view WhatsApp Old Status on iPhone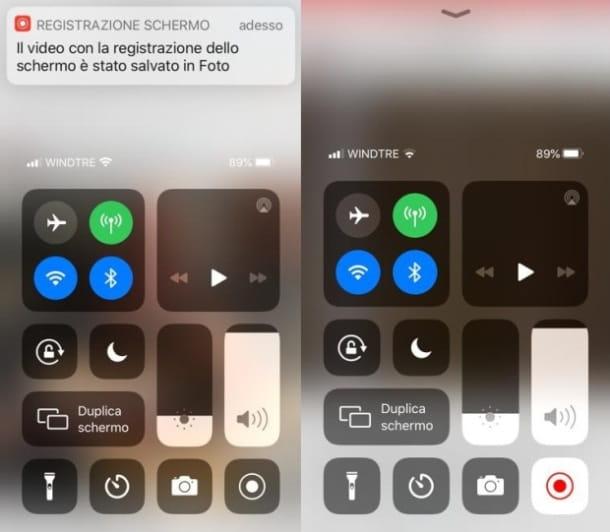 As I told you at the beginning of the tutorial, I can not explain to you how to see the old WhatsApp status on iPhone, since this possibility does not exist and, unlike Android, iOS does not give free access to folders with temporary files of the application. Therefore, I will explain you how to take screenshots and how to save the screen to keep the statuses that have not yet expired.
Take a screenshot on iPhone is very easy: if you have an iPhone with Face ID, press at the same time right side key + Volume Up; If you have an iPhone with Home button, press instead Home button + Power button. You will find the captured images in thePhotos app.
As for screen recording on iPhone, good news: fromiOS 11 onwards, the feature is integrated on all iPhones. How to activate it, really simple! Call Control Center, slide your finger from the upper right corner of the screen to the bottom (if you have an iPhone with Face ID) or from the bottom up (if you have an iPhone with a home button) and press the button with the REC symbol. If you do not see it, go to the menu Settings> Control Center> Customize controls, find the item Screen Recording and tap the + button that you find in its correspondence.
Once you have touched the button with the REC symbol, a countdown will start; when the countdown ends, the button will change color and the recording will start. At the top of the screen you will see a red indicator, on which you will have to tap to bring up the Stop command, in case you no longer want to record.
So, you just have to play the WhatsApp status you intend to keep and record the screen as explained above. If you are looking for what you have recorded, know that you will find it in thePhotos app, precisely in the Videos album.
How to view the old WhatsApp status on PC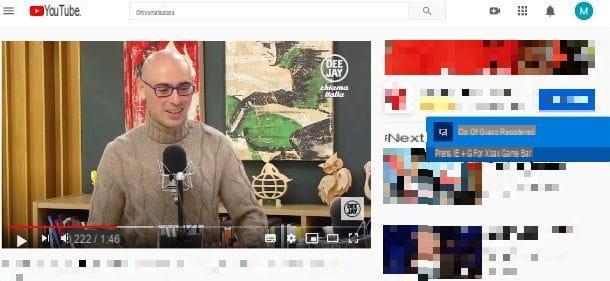 You wanted to know how to view old WhatsApp status on PC and you thought it was possible? Sorry but, as for Android and iOS, also using WhatsApp web or WhatsApp desktop client, there is no way to retrieve the old statuses. However, it will be useful to know how to take screenshots and record the screen on Windows andmacOS to avoid finding yourself in the same situation in the future.
Taking a screenshot in Windows is very easy: if you are using Windows 10 or 8.x, you can capture the image using the key combination Windows + G or Prt Src or Print Screen. If you are using Windows 7 or earlierinstead, you can do so by pressing the Stamp key, or the aforementioned Prt scr or Print screen.
In the first case, you will find your images in the system Images/Screenshots folder; in the second case, however, the image will be saved to theclipboard and then you will have to paste it into any graphics software. In this guide I will explain everything in detail and you will also find other procedures to take screenshots quickly: regardless of WhatsApp, you will see that you will have to learn them!
An equally simple procedure, that of Mac: all you have to do is press the combination cmd + shift + 3 on the keyboard and the image will be saved directly on the desktop; if you also hold down the ctrl button while capturing the screen (the combination, therefore, would be cmd + shift + ctrl + 3), the image will be copied to the clipboard and you can paste it wherever you want by pressing the buttons together cmd + v. In this tutorial I will explain the procedure in detail, showing you also other functions, such as how to take screenshots only on a part of the screen.
Do you also want to know how to record the screen on Windows and macOS? Yes, it is possible: in the first case, if you have Windows 10 you can take advantage of theXbox Playbar functions, otherwise you can resort to really simple to use programs, as I suggested in another review. Equally simple is the screen recording procedure on Mac: even in this case, simply use an integrated application, as I explained to you in this guide.
How to Recover Deleted WhatsApp Statuses
It may surprise you, but when you delete images, videos, files or WhatsApp States, they are not really deleted until you decide to do it. Therefore, recovering it can be simple.

Open the file manager that you usually use to browse the files on your device, and navigate to WhatsApp>Media. From there, scroll through the folders until you find the files you want to recover. That's it.
How to See Who Sees My WhatsApp Stories

The little eye icon at the bottom reveals details about who has seen our status and when. Just swipe up on the icon, to check.
However, there is a catch. You can't see the names of everyone who looks at our stories: the feature only shows contacts who have "read confirmation" of messages enabled in the app (the classic blue tick). Therefore, if the person on the other side has disabled this function, you will not be able to see his name in the list of the stories viewed. But it also works the other way around. If we have disabled read confirmations, we won't be able to see when someone has viewed our story.