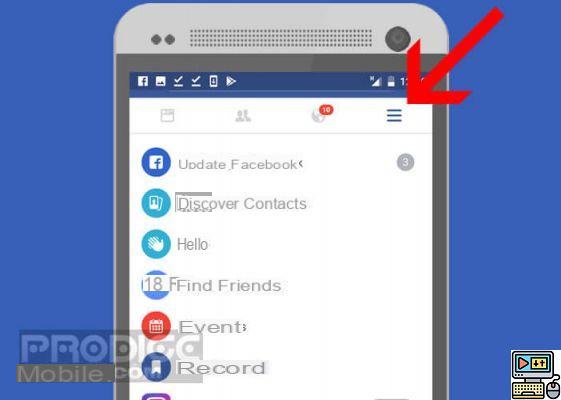 Whether you're on Android, iOS, PC or Mac, here's how to unblock a friend on Facebook. The process is not always obvious to those who have never done it. However, it is achieved in a few steps which are a little more complicated than when it comes to blocking a friend.
One of your friends on Facebook bore you with his publications? Or, for some reason, you might just want to unfollow a particular account. You always have the option of block contact in question. And if it is easily done by going to his profile, the process for unblock a friend on facebook is a little less obvious.
How to unblock a friend on Facebook?
When you unblock someone, that person can see the Facebook posts you share in Public mode. She is not automatically added to your friends list on Facebook. If you want to befriend a user you've unblocked, you'll need to send them an invite.
Click on the small down arrow, at the top right of Facebook
Select Settings and privacy, then click Settings
In the left column of your settings, click Blocking
In the Block Users subsection, you should see the list of people you have blocked. Click Unblock next to the name of the person you want to unblock. Finally, click Confirm to unblock the person.
That's it for this tutorial. Note: If you unblock someone, you'll have to wait a few days before you can block them again.
The editorial advises you:
Gmail: how to block (and unblock) an email address
How to Block and Unblock Someone on WhatsApp
How to Block and Unblock Someone on Instagram
Facebook allows you to turn off videos from autoplaying in your News Feed. It's very simple, even if the path is not obvious to anyone who has never seen it...Facebook Messenger has been using end-to-end encryption since 2016. To take advantage of it, just start a secret conversation with one of your contacts. Still need to know… When you use Instagram, your contacts can know that you are online, a small green circle appearing on your avatar. Except that you might want to survey the application in all… Instagram allows you to activate double authentication so that you no longer depend solely on the security of your main password. A way to significantly strengthen the protection of your account...