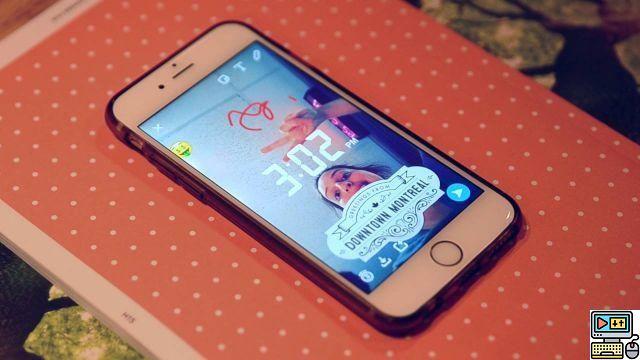 How to best use Snapchat? It's very simple, follow the guide! We detail everything you need to know about the application: photo options, settings, messages, stories, memories... You will now know everything and can send many photos and videos in complete peace of mind, without risking making a mistake!
You finally decide to embark on the adventure Snapchat ? Rest assured, there are still millions of people who unlike Facebook have never used it. Snapchat allows its users to exchange messages, photos and videos which have the particularity of being ephemeral. After a few seconds, you will never have access to it again! The application has many uses and if you want to get started, here is everything you need to know!
How to use Snapchat
The basis of Snapchat is therefore the Snap, the photo or the video which can only be displayed for a few seconds to your correspondent. Many other features have been added over the years, we will tell you about them here.
Create account
To start, you have to install the application from the Play Store or the App Store. You will then have to register, and indicate name, email address, date of birth (the user must be over 13 years old) as well as telephone number. Then choose a password. Please note that the user name to be chosen is unique and will be visible to all. Snapchat will verify your number via SMS.
You will then have to import (or not) your contacts from your address book, and manually add your friends if necessary.
Navigation
Once registered and connected, you find yourself on the main screen which sets the tone since it is the camera tool. It is from this screen that it is possible to switch to one or other of the functions:
For settings, you have to slide your finger from top to bottom
For posts, swipe from left to right
For stories, it from right to left
For the "Discover" tab, again from right to left
For the memories, from bottom to top
We start with what is central, the camera.
The camera
Here's everything you can do from the camera, and after taking the photo. Hidden filters are also available:
Search terms to find stories, we will come back to this (1)
Activate or not the flash (2)
Switch from front camera to rear camera (3)
Access messages (4) and stories (5)
Take a photo or video (hold, 6)
Add text (7) or drawings (8)
Add stickers (9) and create (10)
Adjust the time it takes for the Snap to disappear after opening (11)
Save the snap (12) or put it in a story (13)
Access filters by tapping anywhere once (14)
Send snap (15)
The settings
A swipe up and down and you're in the settings. Here's what you need to know:
This (1) is your snapcode, it allows people near you to add you as a friend by passing this code under their camera, QR code style
You can see who added you recently, and you can add friends (2), via their username, their snapcode
Here are your trophies (3) and the possibility to create a bitmoji, an avatar (4)
Finally, the parameters are there (5)
You can set everything you want from here, whether it's your avatar (6), your password (7) etc.
Be sure to review everything, including displaying notifications and privacy settings
The messages
A movement of the finger from left to right, and here you are in the messages:
Contacts that are discussed are displayed here, with a blue icon if the last interaction is a message, in red if it is a photo
You can make a group message by pressing here (1) and selecting your contacts
At any time, the parameters are accessible here (2)
Tap here to edit name, block, or remove a friend (3)
You can send images (4), make a voice (5) or video call (6) and send a sticker (7)
The stories
Stories (accessible by swiping from right to left) are little stories that are told via multiple snaps. They are accessible for 24 hours and can be seen by everyone or only your friends according to your choices in the settings. The tab "Discover" allows you to view video articles on a bunch of different, timely topics.
From here you can add your friends (1) and create your story (2), it is possible to do it directly or to select the snaps saved beforehand
This (3) indicates which tab items are "Discover" most recent and most consulted
here (4), you have access to the stories of all your friends
The memories
Accessible by swiping from bottom to top, the Memories tab makes it easy to save snaps and access them at a glance later. They are visible to you and your friends depending on your configuration, but you can put the snaps you want in "My Eyes only", where only you can see them thanks to a secret code.
You can also import photos from your gallery (1)
You can select the snap of your choice and modify it in order to send it again (2)
You can transfer this snap to your personal "My eyes only" cloud here (3)
Snapchat is constantly evolving and new features appear with each update. This little guide still defines everything that is most important to know. However, do not hesitate to consult each section present in the parameters, your confidentiality and your security are at stake. And if you are not convinced or that you no longer use it, it is possible to permanently and easily delete a Snapchat account.
The editorial advises you:
WhatsApp Web: how to read and send your messages from a PC or MAC
Do you want to permanently end your Snapchat account? The procedure is not necessarily obvious. We explain how to do it step by step in this tutorial. According to the latest… In 2018, Nabilla Benattia-Vergara had braided the praises of Bitcoin and a trading education service on Snapchat. Except that she hadn't indicated that it was a sponsored post. Sa…How to take screenshots on Snapchat without notification? All users have already asked themselves this question and tricks have existed in the past allowing it to be…Snapchat hides a feature that allows you to find the title of any piece of music and directly access the lyrics. This feature has been available in the app for a while,…