After several months of beta, iOS 15 is finally available in final version. Here are all the answers to questions you might have before doing this update on your iPhone.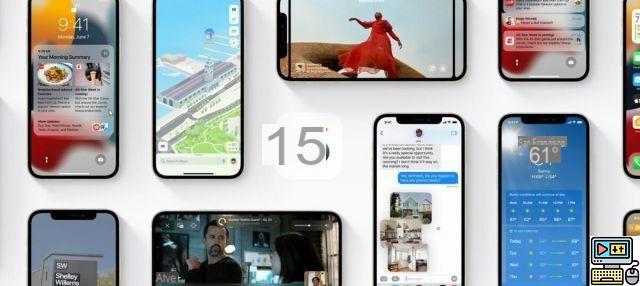 Like every year, it was at WWDC 2021 that Apple presented the first new features of iOS 15. This version, which will natively equip the iPhone 13 and iPhone 13 Pro when they are released, will also be deployed on a certain number of iPhones. already existing on Monday, September 20. Here's everything you need to know about this update.
When is iOS 15 released and at what time?
During the September 14 keynote, Apple confirmed the deployment date of iOS 15. The update date is therefore set for Monday, September 20, 2021.
Traditionally, Apple pushes its updates to 19 p.m. Spanish time. However, it is usual for the servers to be difficult to access at launch. If you have trouble downloading the update, please try again later.
Which iPhones are compatible with iOS 15?
Here is the list of iPhone and iPod compatible with iOS 15:
iPhone 12
iPhone 12 mini
iPhone 12 Pro
iPhone 12 Pro Max
iPhone 11
iPhone 11 Pro
iPhone 11 Pro Max
iPhone XS
iPhone XS Max
iPhone XR
iPhone X
iPhone 8
iPhone 8 Plus
iPhone 7
iPhone 7 Plus
iPhone 6s
iPhone 6s Plus
iPhone SE (1st generation)
iPhone SE (2nd generation)
iPod touch (7th generation)
How to install iOS 15?
Is your iPhone compatible? Perfect ! To start this update, you will only need to follow a few steps, but first of all, we can only recommend you to backup your iPhone data. Even though it usually goes smoothly, you never know what might happen during the process and you might need to restore a previous version to avoid losing all of your data.
Updating an iPhone to iOS 15 // Source: TechnologiesTips
If you want to prepare the update in advance, make sure you already have the latest version (iOS 14.8), you will save time at time T.
Once done, here's how to install iOS 15 on your iPhone:
Check that your iPhone is preferably connected via WiFi. The update weighs in at several gigabytes and you don't want this charged on your mobile plan. And in addition, it consumes less energy ...
See you in the settings of your iPhone, in the tab General.
Click on Software update and wait for your iPhone to search for the latest version available. A block will then invite you to download iOS 15.
Click on Download and install and enter your code. Accept the terms of use and wait.
Once the update is installed, your iPhone will restart to install it. You just have to wait.
What's new in iOS 15?
Let's take a quick tour of what's new on your iPhone after installing iOS 15.
Focus mode
The main addition of iOS 15 is the Focus mode (or Concentration in Spanish). It allows you to better compartmentalize the times of your day and the notifications you want to receive depending on the time and place where you are. During office hours, you can, for example, mute notifications that could distract you and keep in the foreground only those that contribute to your productivity, such as those that come from applications such as Slack, Mail or Trello for example. Conversely, once at home, you will prefer to receive notifications from your favorite social networks instead.
Each morning, your iPhone will also give you a summary of pending notifications in order of priority and relevance. Handy for seeing what really matters to you to start your day.
FaceTime for everyone
FaceTime is surely the application that is experiencing the biggest change with iOS 15. Already because it now allows you to invite people on Android by sharing a simple link, a major policy change at Apple.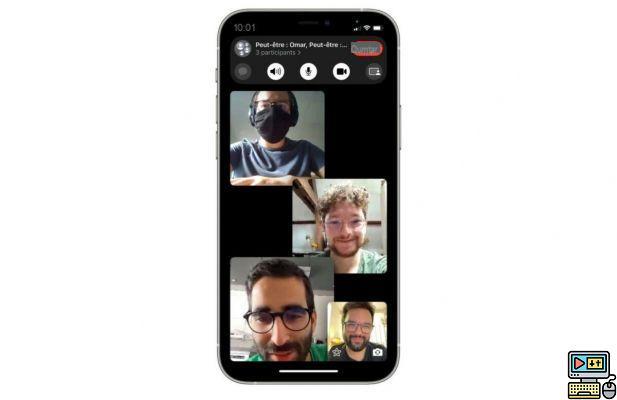 You will also find a video portrait mode to better focus attention on you, an isolation of your voice to reduce noise pollution or a new mosaic presentation during group discussions with a large number of participants.
Even more powerful spotlight
Spotlight, iOS's internal search engine, gets a little more powerful. It can now search your gallery for photos based on their location, people on them, objects, text, etc.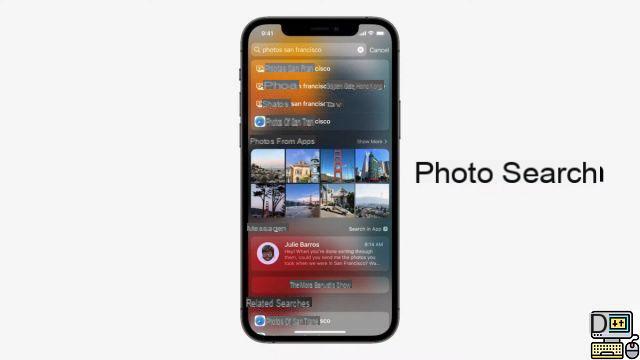 The search engine also integrates more information from the web for searches of actors, musicians, TV shows or movies.
Live text: text recognition
Live Text uses artificial intelligence to recognize text present in an image. Whether it's taken and stored on your iPhone or from the Internet, just swipe your finger over it to analyze, copy or search it.
Safari, Weather and Maps improve
The applications also update. Safari adopts a whole new design that is easier to access with one hand and with an emphasis on the content of the open web page. A tab bar also allows you to easily switch from one tab to another, or create groups of tabs to perfectly segment your activities.
The Weather app shows much more detail and pop-up animations.
Finally, Apple Maps is going 3D in some cities for more detailed views. The roads are also better marked with the indication of pedestrian crossings, bus lanes, tram tracks, etc. What to see more clearly during navigation.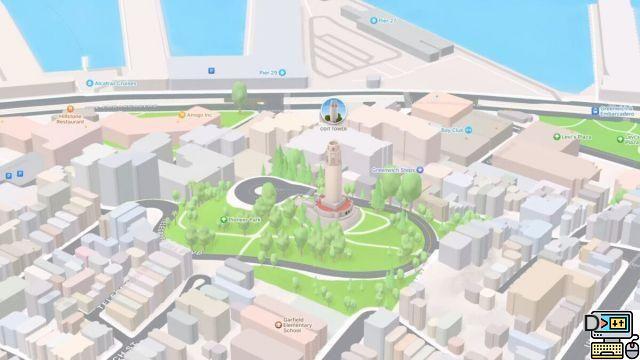 And more
iOS 15 also brings an update to the health application to share data with loved ones, more confidentiality and transparency for the applications, visual search, more keys available in Wallet, new Memoji as well as a section "Shared with you" in the Messages application to easily find media that have been sent to you.
What are you waiting for to install it?