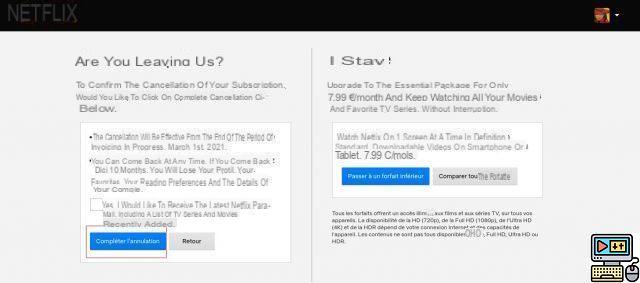 Deleting a Netflix account or simply a profile is not very complicated, you still have to know how to do it. If you want to unsubscribe without leaving a trace, we also explain how to delete the history of the movies you have watched, one or more profiles, or your entire account.
Netflix is ​​a fairly easy-to-use platform. However, some manipulations are not necessarily obvious to detect. After you have detailed how to download a video to watch it offline, here's how to delete a profile, a Netflix account and a viewing history.
How to delete a Netflix profile
Follow these few steps to remove those Netflix profiles that you never use once and for all. You will see, the operation is quite simple, although let's face it, it is easy to miss it completely! If you are using a VPN to connect to the US Netflix site, the menus may be in English.
Open Netflix from your computer (no need to try on your PS4 or from the mobile app).
When the site asks you to choose a user profile ("Who is this?"), Click on Manage profiles. You can also access this menu from the home page by clicking on More (three horizontal bars).
Click on the profile to delete.
Click on Delete profile and confirm.
Delete your movie history
Here again, you will need to connect to Netflix from a device with a web browser to be able to perform the manipulation. As you will see, it is not really possible to delete the entire history at once. But you can at least delete the entries you want, one by one.
Go to Netflix, and choose a user profile (any).
Click on your avatar at the top right, then on Account.
Find the Profiles and Parental Controls section and click History.
You can then hide each content viewed by clicking on the crossed out circle that nestles on the right.
Going down to the bottom of the page, you can also choose to hide everything. Be aware, however, that Netflix's recommendations will be much less relevant as a result of this manipulation.
How to delete your account permanently
Do you find the Spanish Netflix catalog too limited? Whether you subscribed via the website or your Livebox Play Orange, you still have to go back to the website to access your account.
Please note: if you had previously benefited from a preferential rate, say "bye bye" after this operation (in case you finally decide to subscribe again).
Go to Netflix, and choose a user profile (any).
Click on your avatar at the top right, then on Account.
Click on Complete the cancellation
There you go, you now know how to clean your Netflix account or get rid of it for good. If you ever enjoy the platform, here is our latest in-house selection of must-watch movies and series on Netflix. Also note that there is a feature for subscribers who fall asleep.
The editorial advises you:
How to delete your Facebook account
How to delete a Google account on Android
How to delete your Instagram account?
What to watch on Netflix this weekend? Movies, series, documentaries, animated: every Friday, we offer you a spoiler-free, guaranteed home selection of all new releases... After a less trial or several months of sifting through all genres of movies and series on Netflix, you have decided to unsubscribe. Whether it's…You can easily remove an item from recently watched series or movies on Netflix. Or even the entire viewing history. But how to proceed? It's not necessarily obvious… The fourth (and final) season of the drama and detective series on Netflix Ozark will be available soon. Over three seasons, viewers immersed themselves in lies, deception, and…