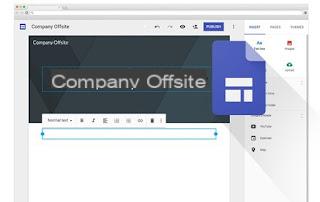 In recent years Google, thanks to its dedicated tool, has allowed many people, even the most inexperienced, to create a basic website that can also be used as a commercial or professional portal.
The Google Sites application
, which allows you to open a site for free and without writing programming code, allows you to take advantage of a powerful and modern tool with which to quickly create a site even without knowing the basics of web programming.
I had already written a guide for Google Sites, noting how it was also possible to use it for
create commercial and professional sites
mainly thanks to its integration with
G Suite
, that is the web app dashboard dedicated to companies that includes a custom domain, the ability to create and manage email boxes and have a cloud space to store files. But Google allows everyone to create
sites with its platform, even for free, without code and without the need to register a custom domain,
using all its tools and thus creating a site complete with everything you need, in a super easy way and with the possibility of doing it together with other people.
How to open a site on Google Sites
Appetizers
, you can open the Google Sites app and log in with your personal Google account to create a new online project.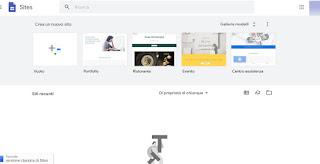 The interface is all translated into in your languagen, so just click on the slide
Empty
to start a project from scratch or take advantage of some of the ready-to-use templates adapted to certain types of activities and potential projects that we can pull out (Restaurant, Event, Service Center etc.).
We can also choose other themes by clicking on the top right on
Template gallery
, so as to immediately find the one that best suits our needs.
Once the model has been chosen, what will then be the first page of the site is immediately displayed with the possibility of giving a title to the site (by pressing on the top left), writing a page title and then inserting contents that can be made up of text, images and embedded elements from other Google apps.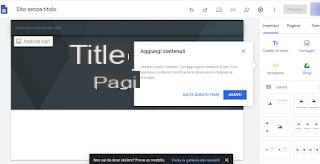 Any written text can be formatted as you like, colored or placed on top of a background.
You can also create bulleted or numbered lists in a simple way and then create navigation bars (even if the navigation bar appears at the top automatically when new pages are added) and can be customized by going over it with the mouse and then pressing the gear key ).
In particular, it is possible to insert Maps, videos from YouTube, calendars, charts, documents, spreadsheets and presentations saved in Google Drive and other files to be downloaded by visitors.
To insert text boxes, images and files into the site, you can use the sidebar on the right of the tab
Inserisci
; the card of
Temi
, on the other hand, it allows you to choose the graphics of the site, its design, while the card of the
Pages
allows you to add other pages to the site, other articles or whatever you want, which can then be accessed via links from the main home page, as is done when building a website.
For each page you can also choose whether to make it accessible from the navigation bar or to keep it hidden even if online. Each page, then, can be published by pressing the Publish button, also choosing the URL, that is the address that can be written on the browser to open it.
NOTE: if we wish to obtain a
custom domain
you need to pay for a G Suite subscription and then change the site address from there (see guide).
Taking into account what it offers, G Suite I can say that it costs quite inexpensive (40 Euros per year or 4 Euros per month).
Features of Google Sites
If we are undecided whether to create our new site on Google Sites or on other platforms, we recommend that you take a look at the features that make this service unique compared to the competition:
It can be added Google Analytics to get all the statistics of the site and know how many visit it and how. To add Google Analytics just press the button with three dots at the top and then on Site Analysis. You will then be asked to write the site tracking ID, which can be obtained by logging in to the Google Analytics site with the same account used on Sites.
Yes they can add modules to receive adhesions or registrations, for surveys, for information gathering thanks to the integration with Google Forms, which I had already introduced and described in another post. Then create a new form from Google Forms, then open Google Sites, scroll down the right column and click on Forms to insert it into the site.
A great feature of Google Sites is the ability to be able to work on a new site in several people. You can then add publishers by pressing the button with the little man you see at the top next to the public button. The addition of the editor can be done so that each person indicated (via his email address at the bottom of the box that opens) can be an administrator or depriving others of the ability to make changes and publish. It therefore becomes a great tool for creating collaborative websites that have no special design requirements.
Embed videos from YouTube so that the videos are directly visible on our website.
Check that the site is also optimized for smartphones and mobile phones. This is perhaps the best news of Google Sites, which now automatically optimizes every site created so that it is also visible on mobile phones. To check if the site is responsive and perfectly rendered even on smartphones, you must use the Preview button and then, at the bottom right, press on the mobile phone icons vertically or horizontally and check that it is visible.
Possibility to also insert Google Adsense and monetize with the visits obtained from our site, since Google will take care of publishing the site and making it available on its search engine.
There are very few sites that combine these features while remaining completely free, so it is better to take advantage of them at least until Google decides to close it or make it a paid tool.
Conclusions
Google Sites therefore remains an excellent Site Builder, easy and complete with the most important and fundamental functions. Considering that it is Google, there is also no need to waste time with SEO and promotion for the search engine, since the sites are, from a technical point of view (obviously the contents make the difference) already optimized.
As the only real free alternative we find only Blogger, also owned by Google but which requires a minimum of knowledge of HTML and programming languages ​​in order to be exploited properly.
If we are looking for other services to create sites that are easy to use and affordable even for novice users, we recommend that you read our guide
Create free websites and make a website without html
.
Do we really want to make money with the Internet? In this case we suggest you read our insights
How to make money with a blog and turn it into a job
e
How to make money on the Internet and make money online in 10 ways
.
Open a new site for free with Google