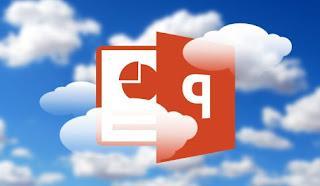 PowerPoint presentations or slides represent today a standard and a multimedia format widely used all over the world, especially in the workplace. But if we find ourselves with a PC with limited account or without Office installed, what can we use to create and edit PowerPoint files?
Compared to the past, we can act on presentations and slides thanks to some online services, able to offer all the essential tools for this type of file.
Let's see together
the best services to create, edit and share PowerPoint online, so you can always manage presentations and slides.
These services can also be used on Linux and Mac, in case we cannot use Office or if the built-in tools are not enough to modify the presentation as desired.
.
1)
Microsoft PowerPoint online
Microsoft offers the best service to manage PowerPoint files online, thanks to Office online (available for free).
To access the service, simply click on the page available here ->
PowerPoint online
.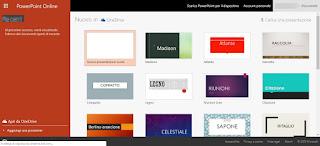 By entering the credentials for our Microsoft account (necessary to access the service), we will have a reduced and minimal version of PowerPoint to use directly within the Web browser. To create a new presentation, simply select one of the templates on the welcome page; if, on the other hand, we want to load an already existing PowerPoint file, we use the key
Upload a presentation
top right. Alternatively, we can upload the PowerPoint file directly to OneDrive and upload it to the site using the button at the bottom left
Open from OneDrive
.
To learn more about OneDrive, we refer you to reading our guide ->
How many things are Microsoft Onedrive and how it works
.
2)
Google Slides
Another free tool that we can take advantage of to create and edit PowerPoint files online is
Google Slides
.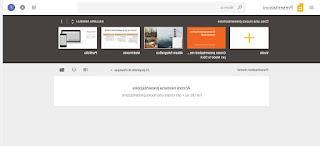 With this service we will be able to create impressive presentations and slides, with a series of professional tools. There are no usage limits and the files are automatically synchronized with Google Drive, so you never lose them. To create new presentations, simply click on one of the templates in the top bar and start creating the work; if instead we wanted to modify a PPT file previously created with Office, we will first have to upload it to Google Drive and then open it through the service (direct upload is not currently available).
If we want to learn more about Google Drive and how to modify the files uploaded within it, we recommend that you read our guide ->
Guide to using Google Drive / Docs as an expert
.
3)
canva
If we are looking for a simple and immediate site to modify or create new presentations or slides without using programs, we can rely on the service offered by
canva
.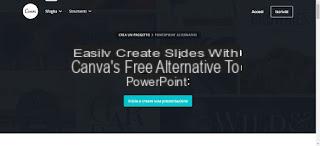 Once the site is open, click on the button Start creating a presentation and, in the next window, create a free account by entering your name, profession and clicking on one of the buttons offered (
Facebook
,
Google
o
Sign up with your email address
). Associated with the account we will be able to create new presentations starting from the models already available on the site and modify them according to our needs.
4)
Slideshare
Another very popular site for sharing presentations online is
Slideshare
, affiliated with Linkedin.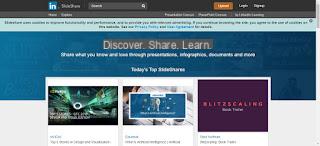 This site allows you to upload presentations and slides and share them with other work colleagues or with a wider audience. The site offers a
direct integration with Microsoft PowerPoint
, with which you can upload
your PPT files on the internet
. Using Slideshare, users can not only
share presentations
in PowerPoint, but also update existing presentations with new content. The presentation can be shared on the Slideshare site but also on blogs and major social networks such as Facebook. The key point of this web application is that now everyone can share their work and use the work of others to take ideas and examples to create beautiful presentations. With this site the work on presentations becomes much more social and modern, without completely replacing the original tools.
5)
AuthorStream
If we want to share presentation files or slides on the Internet, another service we can try is
AuthorStream
.
With it we can
share PowerPoint presentations in live streaming,
as if they were videos on Youtube: instead of videos we can upload PPT files and present them to our audience, as if we were in a large conference room. Also on this site the social component is predominant, so that all users can access numerous presentations made public, classified, rated, commented and divided by category. It therefore becomes very easy to navigate on the contents you want to see and search for them on the site. Obviously, once a presentation has been uploaded, you can decide whether to make it public (accessible by anyone) or private (only by users with authorization). The Authorstream site looks like a blog portal, intuitive and easy to navigate, plus the site offers the ability to convert presentations into other video formats and download them to your PC, so that you can also use them at work or school.
6)
Genial.ly
Genial.ly
is one of the best sites to create Powerpoint presentations or slide slideshows. The site can be used for free and is very powerful in effects and animations that can be customized and made interactive for the viewer. The site has many free templates to choose from, you can then insert text boxes, images and animations of various kinds using the various buttons and editor options.
7)
Pitch
Pitch
allows you to create a collaborative presentation online with other people, together. There is also a video chat that can be used to communicate with others. After registering for the service, an account will be created on the page to save online presentations and add the email addresses of the team members you want to collaborate with to create presentations.
Conclusions
Using the services described in this guide we will be able to create, edit and share our presentations online in a simple and free way.
On another page we talked about presentations and slideshows with zoom, very innovative and beautiful to look at.
In another article we have seen the programs for
transform and convert a Powerpoint presentation into a video
that could be viewed on any PC, smartphone, tablet or console.
Powerpoint online to create, view and share presentations and slides