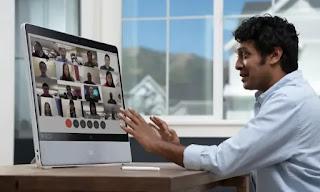 Among the technological advances that are showing their enormous potential these days where most people in the world are forced to stay at home are remote work and video conferencing platforms. They allow friends and relatives to meet, students to take lessons to continue school and people to be able to organize commercial or office activities with colleagues, customers and collaborators.
In recent days we have talked a lot about video communication, with several articles aimed at recommending the use of free platforms:
Smart working programs for working from home
Best free video chat for PC and video conferencing programs
Apps and tools for teamwork, chat, communication and project sharing
How to make free group video calls without limits
Distance learning: programs for online school lessons
In this chapter, let's see
what are the programs
of free videoconferencing that allow you to
fare i Webinar
, that is a web conference where one person is the one speaking on video while the others watch the vision, with
possibility to participate via chat or video
to ask questions or speeches, always managed by the conference host.
For this type of software, it is important to find which ones offer generous free plans (so that they can also be used by non-professional users, teachers and as videochat), which at the same time also offer a good service, a stable connection, a good quality and uninterrupted viewing. but also it is compatible with the maximum platforms. To conduct a webinar is required
an app that supports the connection of many people simultaneously who can follow the meeting or conference
, a text chat and also the sharing of the screen useful for showing data or giving lessons and explanations.
To have online meetings or webinars with many people who can participate
we found the
following programs that can be used for free by everyone
.
1)
Google Hangouts Meet
(up to 250 participants)
Hangouts Meet is the special version of the Google Hangout video chat. While regular Hangout is free for everyone to make video calls with up to 10 people together, Hangout Meet allows you to host meetings and webinars with up to 250 attendees. The service also supports simultaneous voice chat and allows participants to join the conference via email or a shareable link. The most unique feature of Google Hangouts is the screen sharing feature where a single attendee can share the live screen with other attendees. While Hangouts Meet has always been a paid platform, in response to the coronavirus crisis, it is given away to all G Suite and G Suite for Education customers (therefore, all teachers who want to have a videoconference lesson).
2)
CISCO Webex Meetings
(up to 100 participants)
CISCO Webex Meetings is one of the most used webinar platforms by companies all over the world, very powerful and also expensive. Recently, however, a free subscription plan has also been activated with Webex Meetings, which allows you to hold online meetings with 100 participants simultaneously, for an unlimited duration. There is no limit to the number of calls you can make and you also get 1GB of cloud storage with the free account. Conferences include support for screen sharing, video recording and file sharing. Webex allows attendees to connect via telephone and computer.
3)
Zoom meeting
(up to 100 participants)
Zoom Meeting has become very popular these days because it is one of the best platforms for making video calls and video conferencing online. Zoom is free to use for video meetings with up to 100 viewers, for up to 40 minutes per conference. Zoom allows attendees to join the webinar via website, dedicated apps, browser extensions, and apps for iPhone and Android. You can also record video and audio and share screenshots with other conference participants.
We talked about this program in the
Zoom guide
4)
Skype
(up to 50 participants)
Skype is really powerful, because it allows you to make video calls and videochat with many people together from PC or smartphone, even without the need for an account. who hosts the conference can send a link that will then be enough to click to participate and attend.
5)
Microsoft Teams
(250 participants)
Microsoft's video conferencing program, called Microsoft Teams, has adopted the same policy as Google and is free for all at this historic time. Meetings can be held online with up to 250 viewers who can then communicate via chat, video or microphone.
On this program we have written a
how to use Microsoft Teams to organize work remotely
.
6)
Jitsi
(unlimited number of participants)
Jitsi is perhaps the best of the websites for making video calls, which does not require you to download any programs or apps. Jitsi is a completely free (there are no paid plans) and open source project with a fantastic feature set. You can choose whether to use the online version on the meet.jit.si site or download Jitsi Meet, to have full flexibility on your computer. You can share your screen, you can publish live streaming on Youtube to make it easier for those interested to watch and transfer files. Theoretically there is no limit to the number of participants who can follow a stream via Jitsi.
In another article, the
Jitsi Meet video calling platform guide
7)
Freeconference
(5 attendees per video, but 1000 attendees can hear meeting audio)
FreeConference is not a free service, but it does offer a free plan which can be useful in some cases. While only 5 people can follow the videoconference, it is possible to have it heard by as many as 1000 people together.
8)
CyberLink U Meeting
(up to 25 participants)
CyberLink U Meeting is another interesting and professional option to be included among the best online meeting software with excellent video quality. One unique feature worth noting is that it allows users to enhance their appearance so they can appear in a more presentable way on video. U Meeting can be used free of charge for a video conference of up to 25 participants, lasting 30 minutes.
Programs for free webinars and online video meetings with many participants