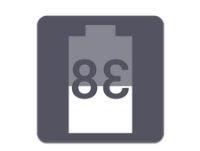 One of the best tricks of the Android 6 Marshmellow version, as seen, is the one for
view the battery percentage number in the small icon at the top
right on the smartphone screen.
The same happens in some smartphones such as the Asus Zenfone, where the battery percentage can be activated via an option.
Knowing this percentage is really very convenient because it allows you to know exactly how much charge remains at any time without having to guess it from the level of the bar.
For me this has always been an important piece of information, so much so that I always keep the Battery Solo widget active on each of my phones to have the charge percentage always under control.
Those who have not yet received the update to Android 6 and those who do not have this option, can still
activate the battery percentage on the notification tray icon
via a simple free app that does not require root permissions.
If you have a phone with Android 4.4 KitKat or 5 Lollipop version can install the application
Battery Percent Enabler
.
This app is nothing more than an option to activate or deactivate the battery discharge percentage number on its top icon.
While on Lollipop it works well, on KitKat there is a small drawback: the writing of the numbers is white and remains not visible until the battery charge drops below 40%. This problem cannot be solved without root permissions so you have to be satisfied.
Once the phone has restarted and the battery percentage is enabled, the app can be uninstalled without any problems. If you decide to remove the percentage number, you have to reinstall the app, change the option and then uninstall it.
See the battery percentage (in Android) inside the top icon