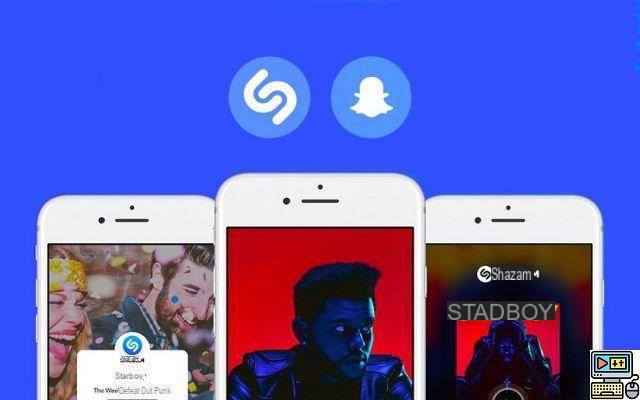 Snapchat hides a feature that allows you to find the title of any piece of music and directly access the lyrics. This function has been available in the application for a while, but is not necessarily known to all users. In this article, we will see how to use it.
Snapchat is full of cool features that make the user experience even more enjoyable. The application is not only used to take photos or videos, to add filters to them before sharing them in status with all his friends. A piece of music is playing on TV or nearby and you want to know the title and the author? Thanks to the integration of Shazam feature, you can get this information in seconds without ever leaving Snapchat.
How to shazam music pieces in Snapchat?
This music recognition feature is the result of a partnership between Snapchat and Shazam. Like Siri and unlike Google Assistant, the app does not use its own recognition engine. But the most useful would you say, it is good to find any title making it listen to your smartphone via its microphone. How to proceed with Snapchat?
In fact, the process is very simple. If you've never done so before, follow these steps:
Open Snapchat
On the home screen (with the camera activated), make a long press while keeping your finger on the screen
Musical notes will begin to scroll around your finger. This is a sign that Snapchat is searching for the track
The operation should last a few seconds as with Shazam. If the song is recognized, a label will appear on the screen with the album of the artist or a photo along with the song title.
Read also : Snap Map: How to use Snapchat's map to locate friends
If you wish, you can also directly access the lyrics of the song in question. Just press the "song info" button in the window that opens. Scroll down to see the lyrics.
The editorial advises you:
Windows 10: how to identify the applications that drain the battery of your laptop PC
Netflix: too many people are using your account, how to identify and block intruders
How to Use the If Function in Excel
Do you want to permanently end your Snapchat account? The procedure is not necessarily obvious. We explain how to do it step by step in this tutorial. According to the latest… In 2018, Nabilla Benattia-Vergara had braided the praises of Bitcoin and a trading education service on Snapchat. Except that she hadn't indicated that it was a sponsored post. Sa…How to take screenshots on Snapchat without notification? All users have already asked themselves this question and tricks have existed in the past allowing them to… How to use Snapchat at best? It's very simple, follow the guide! We detail everything you need to know about the application: photo options, settings, messages, stories, memories……