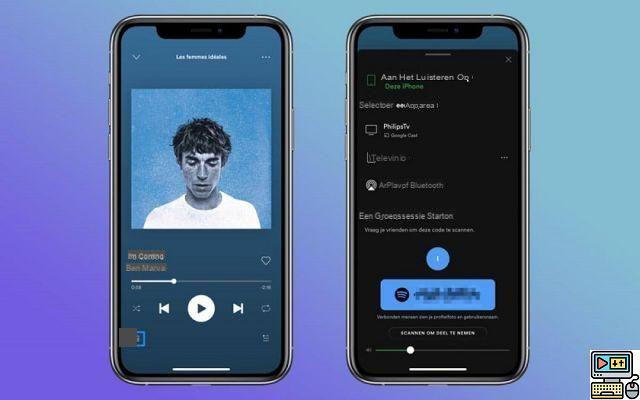 Spotify is launching a new feature that will come in handy for many users in this time of social distancing. You will be able to listen to the same music in real time with your friends or relatives even from a distance.
After changing your look a few weeks ago, Spotify launches a new feature for premium users. It allows you to listen to group playlists in real time and remotely. Coronavirus is forcing, companies offering digital services are stepping up initiatives to help their users around the world to better experience this period of social distancing.
Spain is certainly entering a period of deconfinement, but it will still take time to find all the old habits and thousands of people will prefer to stay at home as much as possible. Do you have your partner, a friend or relatives with whom you share the same musical tastes, but are separated by distance?
Thanks to « Group Sessions », of Spotify, break the limits imposed by the miles that separate you. Concretely, you can create or choose a playlist then invite friends to join it. They will have the same controls on the playlist: choose a song, add titles, pause, modify the waiting list, etc.
Also Read - Spotify, Deezer, Apple Music, YouTube Music: Comparison of the Best Audio Streaming Services
Spotify does not specify the limit on the number of people who can participate in a session. We can therefore assume that it is theoretically unrestricted. On the other hand, the functionality in question is in its infancy and is only available in beta version. You must also be a premium subscriber to benefit from it. If you are, update the app on your smartphone.
The editorial advises you:
Spotify: How to Find a Song Using Its Lyrics
Spotify HiFi: a new "CD quality and Lossless audio format" subscription for 2021
The summer season is coming to an end. The opportunity for Spotify to take stock of the most listened to songs during the summer. A good barometer to get an idea of…You want to delete your Spotify account but you don't know how to do it? Do not panic, we detail the procedure to follow in this article. Platform…Lately, Spotify rolled out a very useful feature. This allows you to find a song on the application by typing an extract from its lyrics. We detail in this article how…Bad news for Spotify users based in Europe. The Swedish firm has just announced an overall increase in its prices, going up to 3 € more per month depending on…