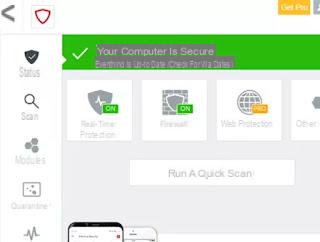 An antivirus is required on all Windows computers as a minimum security measure to protect against malware, computer viruses, and infections from the web. While the more prudent prefer to install professional antivirus, the more naive often rely on free solutions, but both categories of users end up weighing down their computers with tools and
often superfluous and useless software that we can call bloatware
. By bloatware we mean large software full of unsolicited functions, which surround the main one.
A bloatware antivirus is therefore the one that in addition to real-time protection from malware, the main function, also includes many other scanning or security tools that may seem useful, but which in reality do nothing but burden the operations. Furthermore
a flaw of many free antiviruses
is to propose with gods
pop-ups advertising the paid version
continuously, request registration via email, to display banners and advertisements or to be accompanied by sponsoring software (often in the form of extensions and add-ons for the browser).
While we have already seen what the
best free antivirus
, in this list we are going to narrow the field by reporting only the
lighter free antivirus, no ads, bloatware and unnecessary additional tools
.
Basically only antivirus that protect your computer from malware and viruses, with no other side features.
1)
Windows Defender in Windows 10
The first and most natural of these antiviruses is Windows Defender, the antivirus already included in Windows 10, which for most people is all they need.
Windows Defender had some problems a few years ago, but today it has become a respectable antivirus, integrated into the Windows 10 system and including the most modern technology for detecting threats even those not yet discovered. Windows Defender is an invisible antivirus, it never disturbs the user, it has no paid premium versions, it has no ads, it has no popups, it has no different versions for business and home users. Additionally, Windows Defender updates itself via Windows Update, which is automatic in Windows 10.
Windows Defender is also included in Windows 8.1, albeit in a less powerful version. Those who have Windows 10 really have no reason to look further, the antivirus is already present and works great.
2)
Sophos Home
Sophos is not the most famous name when it comes to antivirus, but it remains one of the most excellent products, especially because the free version is as complete as the paid version of any other antivirus, clean, without traps and without bloatware. The only thing required is to register an account before downloading the installer.
Once Sophos is ready, you can manage your protection from a simple ad-free panel. This antivirus is useful in its web filter, if you want to exclude a priori the sites considered violent, those with gambling and for adults, keeping children safe.
3)
Immunet
Immunet is a complete, open source antivirus powered by the ClamAV engine. Immunet has particular characteristics compared to other antivirus: meanwhile it does not have a paid version, then it can coexist with another antivirus, as additional protection. It is also a community based antivirus which means that if an infection is detected on a computer, it is automatically blocked on the PC of other Immunet users as well.
4)
Free Bitdefender Antivirus
Those looking for a free "branded" antivirus, to be more sure of a reliable and guaranteed protection by the brand, can download and install the free version of BitDefender Antivirus, which works very well and is complete, without giving the feeling of having a product limited. After installation, Bitdefender will ask you to log into an account, indicating any email address. After activating Bitdefender, you can click on the gear icon at the top of the window, go to Account Information and disable the option that shows advertisements and special offers to buy the paid version.
5)
Free Panda Antivirus
Panda is a powerful antivirus that can be used without displaying advertisements. To do this, you just need to uncheck the three boxes on the special offers screen that appears when installing the program, avoid installing the unnecessary Panda browser extension and don't change your homepage and search provider. Panda will ask for an email address to create an account upon launch, but you can skip this step without any problems. Once Panda is installed, you can disable all ads in the settings to install the paid version. Panda will now be invisible and will run in the background without bothering unless a threat is detected. The key feature of Panda is that it is a cloud-based antivirus, therefore very light and that takes up little disk space.
6)
Avira Free Antivirus
Avira is the only one of the three great free antiviruses that we mention in this article (the others are AVG and Avast) because it is, to date, the one with less hassle. Avira is lightweight as an antivirus, as long as you avoid including superfluous products and unnecessary extras that accompany it during installation (such as Avira Safe Shopping and Avira System Speedup and extensions).
Occasionally a popup may appear inviting you to install the paid premium version, but not as frequently. Avira is considered one of the best antivirus in the world, on a general level (not only among the free ones). When downloading, choose the antivirus only version and not the suite that includes useless stuff.
While Avira is on the edge, AVG and Avast (the free versions) cannot be included in this list because they include a lot of junk in their installation, are heavy and force users to display advertisements for the paid versions.
The lightest Antivirus, free and without advertising and unnecessary components