We find ourselves in a new tutorial that will undoubtedly please the undisputed fans of the apple company. If you've always dreamed of being able to find an iOS interface from Apple on your Android smartphone or tablet, follow the tutorial because it will explain everything to simulate the system optimally.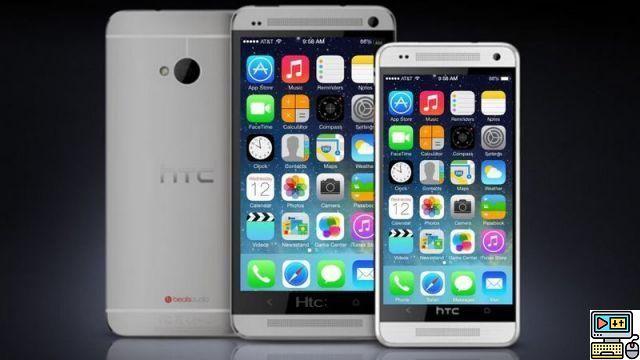 First of all, this is not the real iOS system and the differences will obviously be present compared to the Apple interface. But we will try to customize a maximum of things together for your device, and you will be free to select what interests you. If you have a good few minutes left, then let's do each step together, and you'll be treated to a brand new, beautiful device!
Preparation of the tools necessary for the transformation
As always, so that everyone starts out on the same basis, we will bring together in this part all of the tools and applications needed to achieve this transformation. I remind you that there are many methods to simulate an iOS environment or simply adapt the interface to do so. The solution presented is therefore not the only one that exists.
Once the different steps of this tutorial have been completed, the interface of your smartphone will be as close as possible to that of iOS 9 without being able to be confused with. All the applications we offer below are usable without root and compatible with Android Lollipop.
Converting the device to iOS
In order not to get lost (it must be said that there is plenty to do), we will proceed step by step.
One Launcher
For the launcher we will use the free One Launcher app. This mimics the iOS interface quite well and offers you a lot of customization options. No application drawer but just a desktop containing all the applications, like on the iPhone and icons that adopt the same look and the same layout.

Once the application is downloaded and installed, just launch and activate it to get this beautiful interface. And if you like it, all you have to do is make it your default launcher.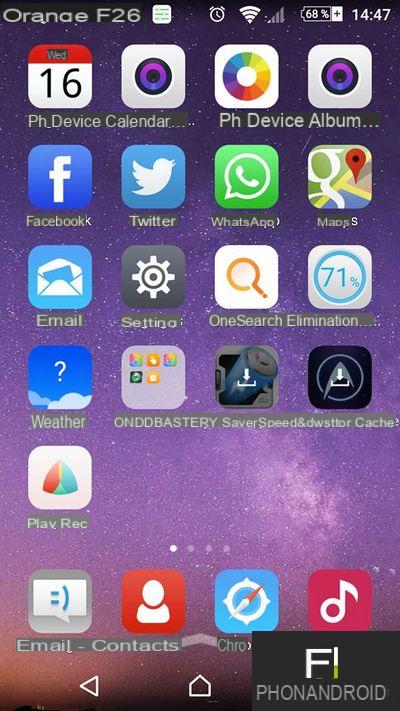 The interface obtained is very similar to that of the iPhone but even better than that. You probably know the way to move icons in iOS ? Well it has come true on your Android device, find out: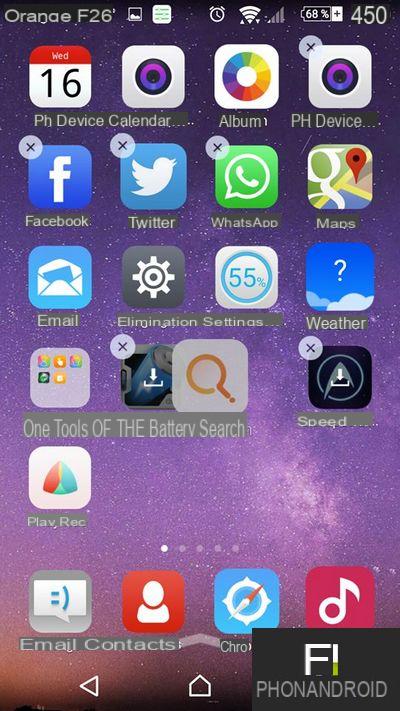 iLauncher
Here it is a paid application, 2,69 €, but it has the merit of being really complete and of being even closer to the IOS interface. We find for example the famous semi-transparent bar at the bottom at the application level, but following a dispute with Apple the icons are not quite the same as IOS, but the idea is there and it is fluid.

Here is what it gives currently: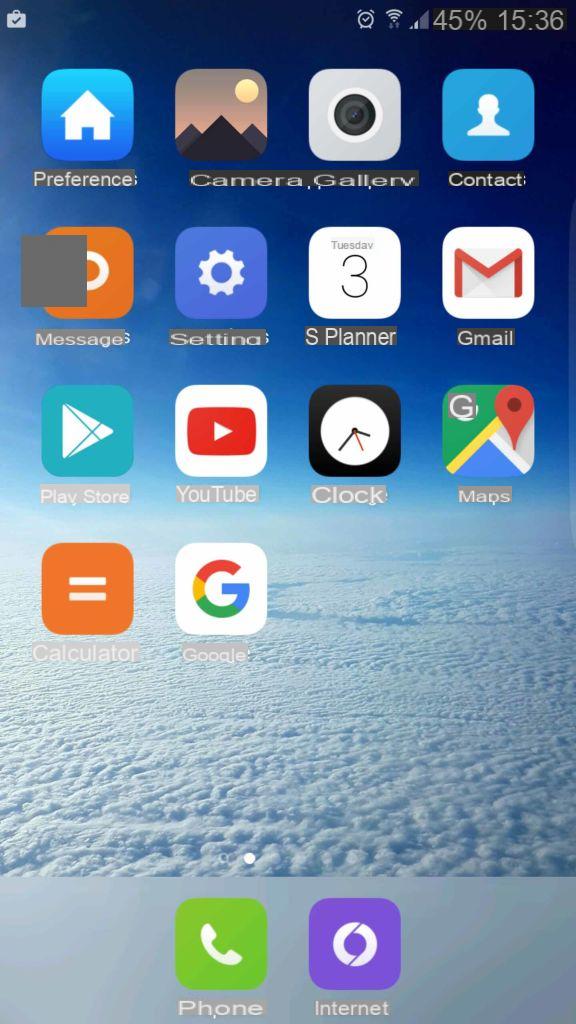 IPhone notifications
To activate notifications like the iPhone, we are going to use the iNoty app. It is unfortunately not free because it is offered at a price of 1,70 euros in the Play Store but offers a notifications panel similar to iOS and it has the merit of being very easy to use.

Once the application is installed, you just have to launch it, activate it and then configure it as below. It hardly takes a few seconds. It will also be necessary activate it in accessibility options from your smartphone to which you will be redirected automatically when you try to access your notifications by clicking on the "All" option.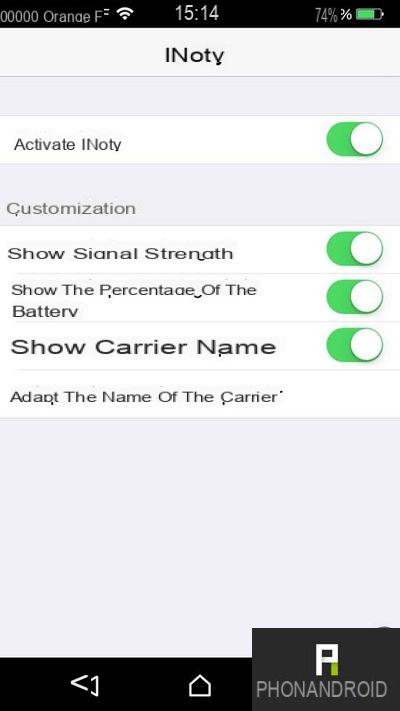 A notifications panel similar to that of iOS will then replace that of your phone. Ditto for the notifications bar which has nothing more in common with that of Android. Once the new notification bar and the launcher are installed, you already have the impression of having an iPhone 6S in your hands.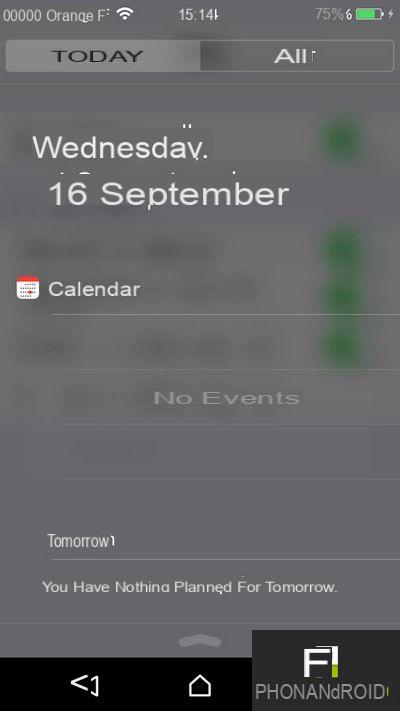 That's done. This system will work for all your messaging, social media, etc. For a received SMS, we find what we like about the iPhone. So happy ? Let's move on.
IPhone Wallpapers & Ringtones
What would the interface of iOS 9 be without its wallpapers and ringtones? For the wallpapers, it will be necessary to recover them directly via an iOS system or by going to wallpaper sites for iPhone / iPod / iPad. For example, you will find a complete photo gallery of iOS 9 wallpapers on this link.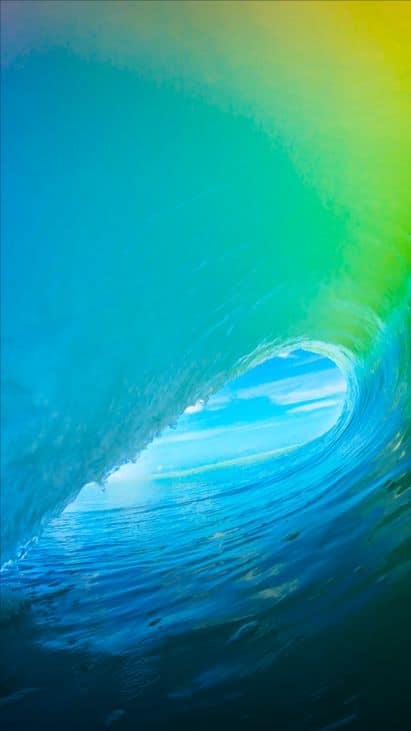 Regarding ringtones, we have installed the app "IPhone Ringtones" to allow you to use them. If the latter does not work properly, then find an Apple device owner who could send you the ringtones (probably will have to be jailbroken).

Lock Screen
Now that we have gone through a lot of interface changes, we can also plan to modify the lock screen, major component of Apple's OS.
We will use the application for this. Lockscreen OS 9 Phone 6 (note the obligation to remove letters so that Apple does not delete the application) to download below. The lock screen looks a lot like that of the latest iPhones and even supports the Control Center which you will install in the next step.

As soon as the application is launched, you activate and configure the lockscreen which will come next replace your current lock screen. Be careful to activate the password lock and choose a code to secure your device, once Lockscreen OS 9 Phone 6S has become your default lock screen.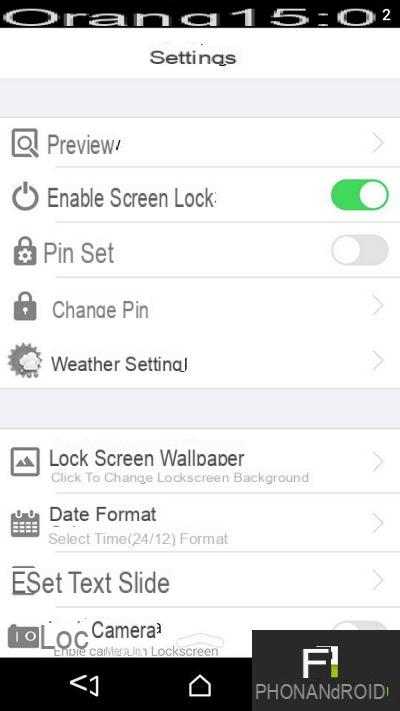 Here's the result. not bad is not it ?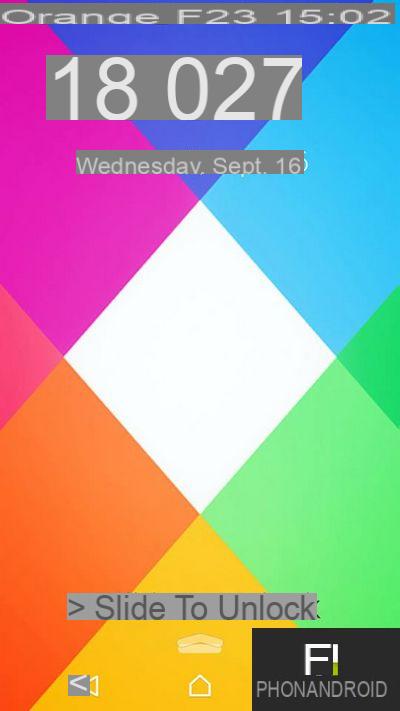 Center de contrôle
Finally, I will show you how to install a nice IOS-style "Control Center" on your phone or tablet. For this, we will use the Control Panel - Smart Toggle application available for free in the Play Store and which reproduces almost identically what we find on the latest iOS devices.

Once the application is installed, the control center will be accessible by swiping the screen from bottom to top, like on the iPhone. You will then be able to activate / deactivate airplane mode, WiFi, Bluetooth, screen rotation as well as adjust the brightness of the latter and turn it into a flashlight if necessary.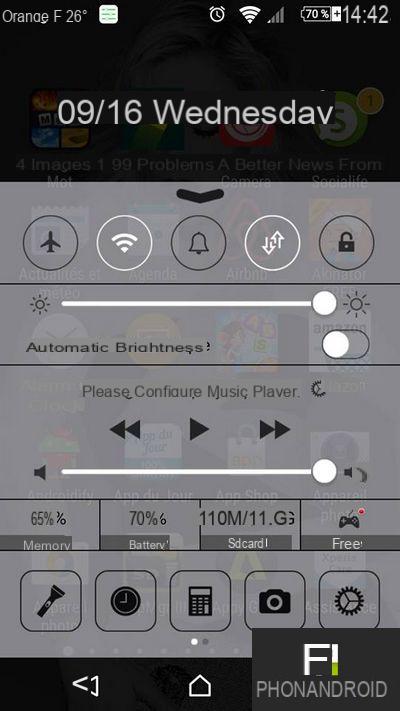 Conclusion
It's all good. Your precious should now look like an iPhone. Note that the interface is not 100% identical to that of iOS 9 but comes as close as possible. In addition, it is only a question of modifying the appearance of the system but not the system in depth.
You have succeeded in changing your Android smartphone into a beautiful iOS device. It wouldn't have been easy, but it was worth a try. No ads or even pop-up notifications will spoil your interface. Everything has been thought out to offer you the best iOS interface on Android.
If you encounter problems during the execution of one of the steps of this tutorial, whether you have questions or other tools to offer to improve the interface, share it all with us in the comments.