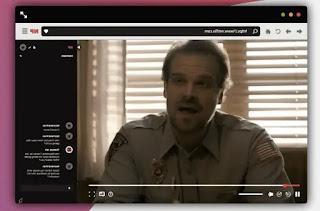 In a situation where you are forced to stay at home, technology is a great support to feel less alone and reunite with others even virtually. An interesting idea is the one that allows you to
see videos and movies together
, even staying in two different houses. Basically you can make sure that the reproduction of a chosen film is exactly the same, perfectly in parallel, for two people who see it from different places. And if one of the two paused the video, the same would happen to the other, in a synchronized way.
So let's see i
best sites and applications to share watching a video or movie, on Youtube or Netflix, both from PC and smartphone
.
1)
The site that allows you to synchronize Netflix for watching movies and TV shows with friends
,
wherever they are
, so you can see them together with other people is
Netflix Party
for PC. Netflix Party not only syncs video playback, but also adds a group chat so you can comment on viewing in real time.
Synchronize playback
means the movie starts and ends at exactly the same time for everyone in the group, with a sidebar for real-time chat that can be used while watching.
The only flaw is that since it is not an official Netflix feature, it can only be used from a computer and only if you open Netflix Party on Google Chrome, by installing the free Netflix Party extension.
To make it work, all you have to do is open the Netflix.com site, choose the movie and then, once the playback starts, press the Netflix party extension button at the top right and start the Party. The extension generates a Netflix link that can be shared to other people who can in turn see the film with us, in a synchronized way. The extension also allows you to choose if only we should have control of the playback or everyone can have it (for example to pause it if one has to go to the bathroom). After trying Netflix Party I can say that it is not intrusive at all and is very simple to use, with a sidebar pinned to the right side of the screen and options to set an icon and a nickname for each person who joins the synced movie viewing.
2) Netflix Party isn't the only website that allows you to remotely sync videos between distant people.
Another site that allows you to synchronize video viewing
to see them together with other people is
Watchtogether
, where it is possible, without registration, to create a new room in which
invite other people to share watching Youtube, Vimeo, Twitch, Instagram, Facebook videos
and several other services. Once the room has been created, you can invite other people by pressing the button with the little man icon with the + at the bottom and then share the link that is generated.
3)
Sync Video
is another online service to watch Youtube videos with a friend from a distance, perfectly synchronizing the videos.
4)
Stage
is an alternative to Netflix Party, another way to watch Netflix with friends online. With this application, streaming in company can be done from a PC or even from an iPhone, up to 10 people together.
5)
DJ3D
is a really fun site, where you can create a room where you can invite friends to watch Youtube videos together. The nicest part is that each person can move like a 3D character, walk and watch the videos as if they were inside a cinema.
6) Another synchronization service, this time for smartphones and tablets
Rave.io
, which instead of running on a PC, must be installed as
app for Android or iPhone
. Rave allows you to
synchronize the viewing of videos from Youtube, Vimeo, Google Drive and Netflix
so you can see them together with friends. During the vision it is also possible to chat and chat with the people who share the vision, as if they were sitting next to us.
7) The app
Airtime
to
Android
e
iPhone
allows you to create groups of people to watch videos on Youtube together. You can create a private room or even a party to which the friends of the invited people can also join.
One of the best sites for making group video calls,
Jitsi
, integrates among its functions the
viewing of Youtube videos together with the participants
. Once the video chat has started, you can share a Youtube video by pressing the button with three dots that appears by moving the mouse cursor down.
Watch Netflix or Youtube with friends from PC and smartphone