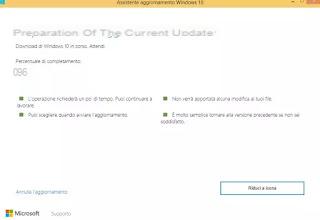 Although I have already repeated this on several occasions, I want to reiterate once again that Windows 10 is free for everyone, even if Microsoft does not say it openly.
Windows 10 free
you can get it if you already have a PC with Windows 7 or Windows 8.1, proceeding with the update.
The operating system download can be done from the Windows 10 direct download page.
While previously you could use the page trick for assistive technology customers to download Windows 10 for free with valid activation and legal license, it is
Still possible to do a free upgrade to Windows 10 from Windows 7 or Windows 8 in 2021
.
There are several
reasons why I recommend everyone to update Windows 10
.
First of all because Windows 10 is the latest operating system released by Microsoft, for PCs, tablets and smartphones.
Before the release of Windows 11, Windows 10 will be updated several times each year with the addition of new features until Windows 11 will be another free update in the future.
This fact is a decisive change of course compared to the past, when to see new Windows functions it was always necessary to wait for the release of a new version.
The consequence of this change of philosophy is that those who install Windows 10 today will immediately download the latest version and therefore will not have to proceed with the installation of heavy updates or service packs as was the case with Windows 7 and Windows 8.
Another reason to download Windows 10 for free is in the
ease of installation, all automatic
in the case of upgrading from Windows 7 to Windows 8.1, where just start the Upgrade tool.
Always speaking in a practical sense, going beyond the main functions of Windows 10, it is also important to underline how
installation via upgrade does not delete any files
and keep
intact the installation of programs already present
.
Certainly some older programs may not work and, in this case, if they are important programs for us, you can still go back and
restore Windows 7 or Windows 8.1 from Windows 10
, in a simple way, returning to the previous situation, as if nothing had been done.
At that point you can also use lo
Windows 10 reset tool
to have a clean installation and delete all programs on your PC
To upgrade to Windows 10 for free
we have seen the specific guide that can still be followed without problems today.
So if we have a Windows 7 or Windows 8.1 computer that complies with the following
Windows 10 requirements
, i.e. at least 2 GB of RAM, at least 20 GB of free disk space, 1 GHz processor, PAE, NX and SSE2 support and a graphics card that supports Microsoft DirectX 9 and WDDM drivers (in practice if you don't have a PC anymore 8 or 10 years old), we can go to the page
https://www.microsoft.com/it-it/software-download/Windows10
, press the Update Now button to download the Windows10Upgrade.exe file.
Start the installation file and let the update tool proceed with the system download and installation, all without the user having to intervene.
After about an hour and a half, you will have a Windows 10 PC, with a genuine copy, with all files intact and running programs, without the need to buy a new license.
Remember that even if you don't upgrade from Windows 7 or 8, you always can
buy a Windows 10 license for a few Euros
and that you can
install Windows 10 on a new PC
even without a license, using it for as long as you want with very few restrictions.
You can download Windows 10 Free with valid activation